Shelby Rognstad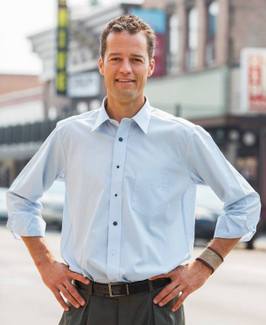 Shelby Rognstad

Age: 41
Years of residence in Sandpoint and Bonner County: Fourth generation Idahoan from Lewiston. Lived in Sandpoint since 1999
Marital status/family: Unmarried, no children.
How can the public contact you?
Website: electshelby.com 
E-mail: vote@electshelby.com
Facebook: Shelby Rognstad

Qualifications
Education: B.A. in General Studies from U of I, 1998
Recent or pertinent employment history:
Owner Rognstad Enterprises: Real Estate investments/management, 2012-current.
Chairman Rognstad Capital:  Private lending, 2012-current.
Founder/owner/operator:  Common Knowledge Bookstore and Café, 2005-2015.
Co-Founder/owner/operator:  The Hive, Sandpiont concert house, 2013-2014.

Public offices held: 
Sandpoint City Council President, 2014-Current.
Sandpoint City Council, 2012-Current
Sandpoint Planning and Zoning, Vice-chair, 2009-2012.
Sandpoint Comprehensive Plan Steering Committee, 2007-2008.
City of Sandpoint Committees: 
- Pedestrian and Bicycle Advisory, 2014-Current.
- Arts Commission, 2012-2013.
- Fire Union Negotiating Team member, 2012
- Downtown Streets Design Steering Committee, 2012.
Trail Mix Committee (regional multijurisdictional advisory body for recreation and  connectivity), 2014-Present

Nonprofit and service groups or relevant professional organizations to which you belong:
Sandpoint Transition Initiative, founding board member, 2007
Public Forum on Sustainability, board member, 2002-2003
Palouse Clearwater Environmental Institute, 1997

Candidate Positions
1. Among the myriad issues facing the city at present, what do you consider the single most important issue, and why? Please also describe any other issues you feel are important.
Engagement. Sandpoint is on the right track in so many ways. This has been my focus throughout the election. But increasingly, there is a public perception that City Hall is lacking in transparency and responsiveness to the public. I've heard the people on this issue. I feel the real issue is engagement. As your mayor, I will work to change the culture at City Hall so that citizens feel heard at meetings and engaged with every important issue. I will initiate a Comprehensive Plan Revision and will make it my goal to bring everyone to the table in an open, transparent process that is undeniably inclusive and considerate of the communities deepest values. This will be the model for how the city operates moving forward. I want to change the image of City Hall so that everyone feels like they have a voice in city government and an opportunity to make a difference.

2. The city for the first time is hiring a City Administrator that will oversee the city's other  department heads and its annual $30 million-plus operations, answering to the mayor and council. Do you support or oppose the addition of this new position? Do you feel the hiring process has been sufficiently robust and transparent?
The city administrator position was a priority goal for Mayor Logan. The position was established with a unanimous vote from City Council and strong public support. Hiring the right person is what will make this the right decision for Sandpoint. I personally asked Mayor Logan to invite public comment in the hiring process and she has agreed. Sandpoint will retain a strong mayor, accountable to voters, while the administrator will provide counsel and facilitation between department heads, Mayor and Council. The administrator will provide continuity through transitions in departments and elected leadership. Perhaps most importantly, they will provide grant support for every department, which will keep outside dollars funneling in to support local projects and industry. This will more than offset any cost of their employment.

3. On the Nov. 3 ballot voters will be asked to approve or reject a 5-year, 1 percent sales tax to replace the aging grandstands for Memorial Field, which are facing condemnation and removal. Do you support or oppose the Memorial Field sales tax ballot measure, and why?
Memorial Field is a wonderful asset for Sandpoint with historical and cultural significance. It is Sandpoint's premier athletic field and hosts the Festival at Sandpoint. I would love to see it improved into a state of the art facility and therefore support the measure. After years of fundraising efforts by Friends of Memorial Field, the local option tax is likely our last great hope to fund the master plan. The resort tax allows the financial burden to be shared by tourists and visitors. Ultimately, it is up to the voters to determine whether Memorial Field is worthy of their investment.

4. Jobs and the local economy are always an election issue, and with the closure of Coldwater Creek last year, plus a large number of vacancies in the downtown business district, the issue is as important as ever. How would describe the economy of Sandpoint today? What role do you see for the City Council/Mayor to play in creating a healthy local economy to foster growth of living-wage jobs in Sandpoint?
When Coldwater Creek closed its doors, our community lost 500 jobs. Despite the setback, Sandpoint has maintained an employment growth rate above the national average, at 2.8 percent. We have maintained employment growth by retaining and supporting companies like Quest, Lead-Lok, Tamarack, Kochava and Litehouse. As a City Council member, I have worked aggressively to retain these businesses by assisting in acquiring grants, tax benefits and land for expansion. As Mayor, I will continue to develop amenities that make Sandpoint attractive. I will ensure the completion of the fiber network, bringing ultra high speed Internet to Sandpoint, an essential amenity for attracting high tech jobs and quality talent. I will support the growth of NIC. Workforce training is crucial for both the economic success of existing companies and for attracting new employers to the region. I will continue to implement the Downtown Streets plan. The plan will not only improve parking and make downtown much more attractive, it will allow downtown business more use of the public space for functions, events and outdoor seating. This will allow our downtown businesses to thrive like never before. Lastly, I will continue to develop amenities that attract visitors and employers, such as the Pend Orielle Bay Trail, the Sandcreek Trail, the Baldy disc golf course and the Watershed Crest Trail. These kind of amenities make Sandpoint very attractive for residents, tourists, and employers who seek an excellent quality of life for their workforce and families.

5. Officials and employers have identified the need for fiber optic or high-speed Internet in Sandpoint in order to attract and retain companies. How important do you feel this issue is, and do you have specific ideas to facilitate or encourage high-capacity Internet access?
Developing high-speed internet in Sandpoint is perhaps the most important thing we can do to attract and retain high tech employers and a talented workforce. This is the new standard worldwide and if Sandpoint wants to become competitive in attracting employers and new residents, it must address this issue. The city has initiated the process by installing a fiber backbone that connects downtown, city hall, and the county Building. The county in conjunction will continue the backbone to the airport and county jail. This backbone is already under construction and is expected to be completed this fall. The city is currently engaging private service providers who are able and eager to extend that service to users citywide. If elected Mayor, I will make it a priority to develop ultra high speed internet throughout Sandpoint by late 2016.

6. Related to the economy is the matter of affordable workforce  housing. Do you feel affordable housing is an issue; if so, do you have plans to address it?
While we grow Sandpoint's economy, it is critical that we develop affordable workforce housing. We need to make sure Sandpoint is an affordable place to live for the workers who drive the economy. Our local businesses depend on a stable workforce. As Vice-chair of the Planning and Zoning Commission and later as Councilman I supported new zoning that allowed for increased density while respecting the traditional character of existing neighborhoods. It allowed for smaller lot sizes, cottage style development, and encouraged residential use above retail use in commercial zones. These new design standards ensure high quality, affordable development that is dispersed throughout the city rather than concentrated into high-density developments. This minimizes the negative impacts sometimes associated with traditional methods of affordable housing development.

7. Another perennial issue in Sandpoint is downtown parking. Do you feel the downtown has a parking problem, in either total available parking or the management and enforcement of parking? How would you address parking issues?
As Sandpoint's economy rebounds, demand increases for parking downtown. It's great to see so much activity downtown and we need to ensure that parking constraints don't hinder that activity. It can also be a challenge to balance the needs of different users. My fellow council members and I have been working with local businesses, workers and residents to understand needs and develop solutions. Business owners and customers want convenient parking to be readily available. Employees need affordable, all day parking. Fortunately, parking relief is on the way. As a member of Downtown Streets Plan steering committee, we were able to create nearly 100 new parking spaces, with initial construction beginning in 2016. This will have a dramatic impact on parking availability. As mayor, I will establish a target of one available parking spot on every block. I will also direct staff to provide sufficient free, all-day parking for downtown workers.

8. Substance abuse has been identified as an increasingly serious problem locally. Do you believe the city government should play a role in combatting substance abuse; and if so, how?
City government does have a role in combating substance abuse. Recently, the city initiated a drug collection program that allows residents the opportunity to turn in their unused prescription drugs. This has the dual benefit of reducing prescription drug abuse and also preventing these substances from being flushed into our water stream.

Our police officers do an incredible job at keeping dangerous drugs out of our city. However, the department's resources are limited. We need to allocate those resources efficiently so we have the greatest impact on public safety. As mayor, I will support prioritizing our precious police and judicial resources towards managing abuse of harmful drugs like meth and heroin and de-prioritizing arresting non-violent adults for simple cannabis possession.

State cannabis laws are quickly changing. Lawmakers are finding they can significantly increase public safety by changing enforcement priorities. Five of Idaho's neighbors allow properly licensed doctors to prescribe cannabis products. We shouldn't waste resources arresting non-violent cancer patients when we can be going after heroin dealers and meth producers. I also want to be clear, I highly discourage any minors from using cannabis and we should continue to invest in drug education and resistance programs for youth.

9. Increasing train traffic, specifically trains transporting coal and volatile oil, has become an issue locally and regionally with citizens who identify environmental and public safety threats. Do you feel  this is an important issue for city officials; if so, what actions to you advocate?
Increased coal and oil train traffic are real concerns for our community. Sandpoint residents and City Council have been very vocal in opposition to these increased shipments. We have passed three resolutions stating as much and have spoken out against additional coal terminals in Washington and Oregon. I will continue to oppose this expansion at every opportunity. I will push for increased safety and containment standards for all rail lines. I will also work with city and county public safety officials to improve our mitigation plan in the case of a disastrous incident.

10. In July 2014, two city policemen shot and killed a troubled 35-year-old pregnant woman when she rushed at them with a knife. They were found by an independent prosecutor to have exercised justifiable use of force, but attorneys for the woman's family and some citizens believe the death was avoidable and have questioned police tactics in volatile situations. Do you feel the city has responded adequately in this case? Do you think police are adequately trained for crisis intervention, and in use of deadly force? More generally, do you see a role to play as an elected official in fostering good relations between police and citizens?
This was a tragic incident for the victim, her family, and the entire community. I watched the videos and I understand the outrage of the many concerned citizens. I feel this incident demonstrates over reliance on aggressive police tactics standardized in statewide and national training protocols. The officers involved followed police protocol. However, this demonstrates that police training is inadequate for dealing with mentally ill and unstable persons who are perhaps not aware of their actions. There were specific steps that could have been taken that could have prevented her death. I have spoken with Chief Coon about this and as Mayor I will insure that the lessons learned through this unfortunate incident will result in better training for our officers in the future. Sandpoint can do better. Secondly, I will push for more collaboration with NAMI, Bonner General, County, State and other interest groups to provide better resources for Sandpoint to manage persons with mental illness.

11. How much time will you devote to your position? How many City Council meetings have you attended in the past two years? Why are you running for public office?
As mayor, one's role is perpetual. As the face of Sandpoint, I will always be "on the clock" and responsive to community needs. I will be out in the community, connecting with businesses, residents, agencies and groups to understand the needs of the community and the opportunities for improvement. I will be an engaging mayor.

I have attended most council meetings in the last four years. My attendance record is among the highest of sitting council members. In addition, I've attended most meetings of the Pedestrian and Bicycle Advisory Committee and the Trail Mix committee. I sit on both as a City Council liaison. I've also attended meetings of the Planning and Zoning Commission and the Urban Renewal Agency over the same time period.

I am running for mayor because Sandpoint needs experienced leadership. Having served on city council for 4 years, we've been successful in attracting and retaining good employers, in creating new zoning which ensures an affordable, beautiful town and in developing improvements in the quality of life for all residents and visitors. My colleagues and supporters have asked me to run for mayor to continue this success. We need someone with experience, knowledge and vision to keep the city moving forward. I am the only candidate with a proven track record as an elected official.