Jeff Bohnhof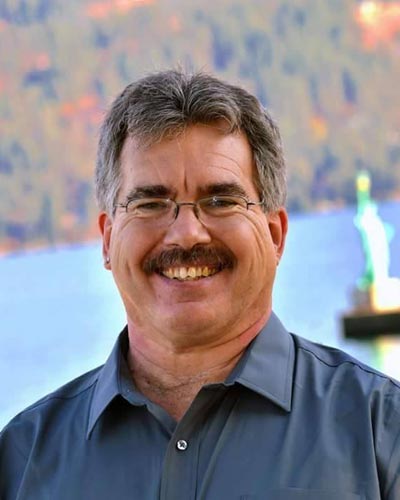 Jeff Bohnhof
Age: 56

Years of residence in Sandpoint and Bonner County: My family and I moved to Bonner County from Minnesota in 1974. I've lived in Sandpoint for the last ten years.

Marital status/family: Single

How can the public contact you? I can be contacted on my Facebook page.

Qualifications
Education: I graduated from Newport High School, Newport, Wa. In 1979.

Recent or pertinent employment history:
My employment history has been in the manufacturing industry at various companies, ranging from electronics and plastics to sheet metal fabrication. I have worked for locally-owned Encoder Products Company for the past seven years.
Public offices held:
I have never held a public office.

Nonprofit groups, service or professional organizations to which you belong:
I and a group of friends resurrected the current PFLAG Sandpoint, and have been a member since 2015. I am also a member of the Bonner County Human Rights Task Force.

Other experiences or skills that qualify you for office:
As President of PFLAG Sandpoint, I learned an invaluable skill: listening. Being President of a non-profit affiliated group required me to listen to members to determine people's needs and wants, and figure out a way to make that happen. I feel this is excellent training and preparation for being a member of our City Council.

Candidate Positions
1. Among the myriad issues facing the city at present, what do you consider the most important issues, and why?
Affordable housing, or the lack thereof, is an issue that definitely needs to be addressed. Many people who want to reside in the community are having a hard time finding affordable housing. I have friends and co-workers who commute to Sandpoint or Sagle from Priest River, Coeur d'Alene, Rathdrum, and even Post Falls.

One option may be offering discounts for mother-in-law cottages (auxiliary dwelling units) or relaxing the zoning rules and compliance rules to allow additional units -- these units are currently popular due to the tiny house craze. You can position them as great for elderly who may need home maintenance assistance and general help. This keeps them living in their homes longer. These units are also an option for adult kids coming home with student debt as a way to live with Mom and Dad, yet be on their own.
2. The University of Idaho has announced that it intends to sell its undeveloped 77-acre property on North Boyer alongside Sand Creek. The city is currently conducting workshops and meetings to collect input on possible changes to the comprehensive plan to guide future development and use of the property. Do you have a position on the use of this property or the process the city has initiated?
I would like to see the property developed with a mix of single and multifamily units, and yet keep as much of it available for a multipurpose rec center type of facility like the Kroc Center in Coeur d' Alene. One suggestion I heard from a citizen was to develop a "destination community" complete with shops and restaurants and green spaces. A bike path was also suggested to connected with the Dover Bay Trail, which ends near Larch Street, and extend it through the property.
3. The new grandstands at Memorial Field were completed this year, but with the dedicated 5-year, 1-cent sales tax for their construction producing revenue for additional projects the city is now considering a replacement of the turf with either upgraded grass turf; artificial turf; or a hybrid. What is your position on the turf question?
This is one issue that I will have to do more research on before I make a definitive answer. I need to a cost analysis, see what other options are available for using that tax money, and consider all the options, while weighing what City residents want.
Regarding turf specifically, I was a band kid in school back in the day, so I can't say what it was like to play on artificial turf versus natural turf. There are pros and cons to the maintenance and upkeep to both natural and artificial turf which will have to be weighed carefully before a final decision could be made.
4. A follow-up on parks: If additional funds are available for park projects, do you have projects you would want to pursue? The city is exploring a new master plan for City Beach; do you have a position or ideas for potential changes, additions or development of City Beach?
As a dog owner, one project I would like to see is the addition of a dog park somewhere in Sandpoint. One thing that has been brought up to me is the need for additional parking at City Beach, although to do that some green space may have to be given up. City Beach is definitely a significant icon of Sandpoint and any development or additions would have to be studied carefully. I think one great addition to City Beach would be the carrousel that is being restored.

5. Jobs and the local economy are always an election issue. How would describe the economy of Sandpoint today? What role do you see for the City Council/Mayor to play in creating a healthy local economy to foster growth of living-wage jobs in Sandpoint?
For the single mom -- or just a single person -- it can be difficult making ends meet. Does that mean Sandpoint's economy is struggling? No, however, bringing more good sustainable jobs that pay a living wage is something that we as a city council should constantly be working on. Improving the economic base of our community should always be in the forefront. Whether that means helping with tax breaks, or finding other incentives to bring companies into the area, full-time, living-wage employment opportunities always need to be pursued.
6. The city has moved toward construction of fiber optic or high-speed Internet in Sandpoint in order to attract and retain companies as well as benefit residential users. Do you feel this is an important project for the city to undertake; if so, do you feel the process to launch the service is satisfactory?
The technology and information age is booming and growing; improved internet access will benefit everyone, from store and business owners to the students in school and the public itself. I haven't really been watching how the process to launch this project has been going, but it is something that I will be researching further.
7. Related to the economy is the matter of affordable workforce housing. Do you feel affordable housing is an issue; if so, do you have plans to address it?
Yes, affordable housing is an issue. Being single myself, finding an affordable place to live was a challenge when I first arrived in Sandpoint. Some people I have talked to in the past have stated that they have had to look in the surrounding communities because they could not find affordable housing here in Sandpoint. As stated in my answer in question one, it is definitely something that needs to be addressed.
8. Sandpoint's downtown has undergone a major realignment of traffic patterns to remove one-way streets and convert virtually all streets to two-way. A downtown redesign to widen sidewalks, add storm water swales and other changes carries on next summer starting with Cedar Street. What is your position on these changes to downtown? Corollary question: As downtown parking is a perennial issue; how do you view changes instituted by the city in the past year concerning the management and enforcement of parking? Do you have other ideas concerning parking issues?
Creating a downtown core that is both pedestrian and car friendly will only add to the charm that is Sandpoint. Yes, it will be an ongoing, lengthy project, but one I believe will benefit everyone. As with the U of I property, community involvement is essential.
Parking has always been an issue that many people have an opinion about, and is an ongoing issue when there is limited space. One idea that I have always thought about is building a multi-story parking structure at the current city lot next to the US Bank building.
9. Increasing train traffic, specifically trains transporting coal and volatile oil, has become an issue locally and regionally with citizens who identify environmental and public safety threats. Do you feel this is an important issue for city officials; if so, what actions to you advocate?
Yes, it is definitely an important issue that city officials need to be aware of and deal with. Especially with the train track running along and over the lake and local streams. Does the railroad reroute their tracks to suit our needs? No, of course that is not going to happen. However, we do need to have an action plan in place in case of any kind of derailment accident. We as a city need to work with the railroad on an emergency plan in regard to potential evacuation and clean up.
10. Here's a final three-part question:
- How much time will you devote to your position? Holding a city council position is an important endeavor. I will do whatever research and spend as much time as needed to become familiar with current and future city issues. I feel that as a council member it is important to be connected to the citizens of Sandpoint. My Facebook page will stay active. The public will be able to contact me through city hall. I welcome the involvement of everyone.
- How many City Council meetings have you attended in the past two years? Two or three dozen, becoming more involved in the recent months.
- Why are you running for public office? Sandpoint is an amazing, eclectic, vibrant community. A wonderful place to raise a family. I feel that as a community, we need to continue to work on creating a strong stable economic base on which to build our future by working toward a stable and sustainable economy and using tax breaks and other incentives to bring in good, viable, living-wage jobs as well as affordable housing for everyone.