We're giving away great stuff every week in July and August!
This week of Aug 15-Aug 22 ... WIN two tickets to Silverwood Theme Park.
Make it a day at Silverwood!

With more than 70 rides from wild to mild Silverwood Theme Park is the largest theme park in the entire Pacific Northwest - just 30 minutes south of Sandpoint. Plus in these hot last days of summer, the Boulder Beach Water Park is a terrific way to cool off with its slides, lazy river and big wave pools. We're giving away two tickets, to be used any day until September 4, or weekends for the fall season September 9-24. See more at SilverwoodThemePark.com ... but first, click button below and enter to win. Cash value up to $102!

Winner will be drawn August 22.
ENTER THIS WEEK'S DRAWING»
More about this contest. Every week in July and August, we're giving away a great prize ... just for fun! We're talking tickets to Silverwood, dining certificates for fine Sandpoint restaurants, tickets to Festival at Sandpoint shows, some terrific local guidebooks. Here's what we're giving away each week this summer!
July 14: Two Silverwood tickets. Winner: Tamara Hitt.
July 11: Two Silverwood tickets. Winner: Kanista Nuxoll.
July 18: $50 for fine food and beer at MickDuff's Brewing Company. Winner: Jay Bickel.
July 25: Set of three terrific guidebooks from Keokee Books: Trails of the Wild Cabinets, Trails of the Wild Selkirks and Legendary Lake Pend Oreille. Winner: Carl Preston.
Aug 1: Two Festival at Sandpoint tickets to Pink Martini. Winner: Suzann Smith.
Aug 8: Two Festival at Sandpoint tickets to Iration/The Wailers. Winner: Melissa Downs.
Aug 15: Win $50 in dining at Ivano's Ristorante. Winner: Lisa Saldana
Aug 25: Win 2 Silverwood tickets
Aug 29: Win $50 in dining at DISH at Dover Bay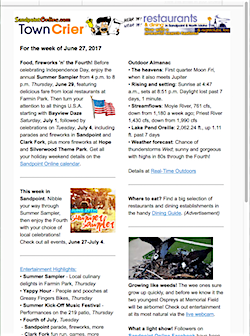 Contest rules. It's FREE to enter, of course! One entry per person per week, please. You must be 18 or older to win. Drawing will be held each Tuesday morning in July and August. Winners will be notified by email each Tuesday.
Each entrant will receive a free subscription to the Town Crier, Sandpoint Online's free weekly newsletter of upcoming events, news, outdoor happenings and more, that emails out every Tuesday. If you don't already get the Town Crier ... you should! Click to see a sample. If you don't like the Town Crier, you can unsubscribe at any time with one click.
And here's an important PS:
We will not share your email address with any third party. Period.