This Week in Sandpoint


Local coronavirus info. The latest local updates, announcements and resources. Go to Sandpoint Coronavirus Update»


Happy Fourth! Sandpoint celebrates our nation's independence with a downtown parade, festivities at Travers Park, and fireworks at City Beach. See all the week's happenings on the Sandpoint Online Entertainment Calendar»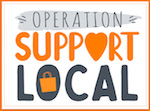 Support Sandpoint. Our restaurants, shops, services, and churches have been hit hard by COVID restrictions. Here's a directory to find updated info on who's open (and all businesses can add their info for free): Support Sandpoint Business Guide»
Upcoming Events:
Civic Calendar Highlights:

Get the Town Crier. Sign up for our FREE weekly e-news and get all the Sandpoint, Idaho events, news and inside info.


Calm after the storm. This photo taken by Pete Comstock captures a rainbow following a series of thunderstorms June 24. For more local photos, plus information on how to submit your own photo, check out the Sandpoint in Pictures page»



New or notable online. Check out these websites from Sandpoint ID and our region.