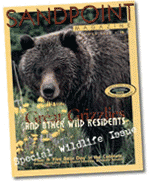 We're talking about the real-life, hard-copy edition. Published twice a year in Summer and Winter editions, Sandpoint Magazine is our town's only color glossy magazine loaded with great stories about Sandpoint, complete information on upcoming events, dining, lodging, attractions, directories to services and more. If you like Sandpoint, you'll love Sandpoint Magazine.
A one-year subscription is only $12! Magazines are delivered in May and November.
Subscribe online: You can order at the Sandpoint Online General Store. Click here to go to the store.
Subscribe by phone: Call the Keokee Co. Publishing offices at 208-263-3573 or 800-880-3573 Monday-Friday 8 a.m. to 5 p.m. Pacific Time to order using your credit card. MasterCard and Visa accepted.
Subscribe by mail: Send a check for $12 to Keokee Co. Publishing, Inc., P.O. Box 722, Sandpoint, ID 83864. Please specify the issue you'd like to start your subscription with.