Michael Boge

Michael Boge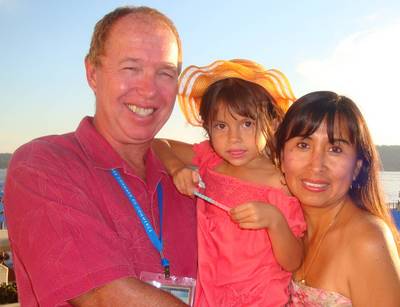 Age: 52
City of residence: Sandpoint
Years of residence: Since 1994.
Marital status/family: Married to Anavel Boge; one daughter, Laura.
How can the public contact you?
[email protected]
208-263-4282
332 S. Euclid, Sandpoint, Idaho 83864

Qualifications
Education:
Spokane Falls Community College, graduated with Associate Arts Degree
Washington State University, graduated with Bachelor of Arts Degree in Communications
Oregon Leadership Institute, graduated
Recent employment history: Owner of four restaurants in North Idaho. I am developing a fifth restaurant on property purchased in Sandpoint. I hope to open this in June of 2008.
Public offices held:
Nonprofit groups, service or professional organizations to which you belong:
Schweitzer Ski Patrol - Current 10-year member.
Classic & Antique Boat Society (Inland Empire Chapter) - Current six-year member.
Satipo Kids - A program my wife Anavel and I started in Satipo, Peru. We are supporting 34 elementary age campisino children that have no opportunity for education by purchasing their books, shoes and the school uniform.
Panida Theater - Former Board member of nine years. Held different positions of President, Vice President and Secretary among others.
Mountain Fever - A production company that is operated with the primary goal of giving back to community groups.
What particular experiences or skills qualify you for office?
1. Extensive business experience:
A. 65 person staff.
B. Budgeting.
C. Managing large projects.
D. Operating multiple business locations.
E. Knowledge of working with different city governments in regards to business within North Idaho.

2. 12 years experience on Sandpoint City Council:
A. Four years as Council President.
B. Four years Public Safety Committee Chair.
C. Two years Administrative Committee Chair.
D. Chaired Sand Creek Master Plan.
E. Past President of Sandpoint's Economic Development Corp.
3. Instrumental in bringing the Wood Boat Show to Sandpoint.
Candidate Positions
1. Among the myriad issues facing the city at present, what do you consider the single most important issue facing the City of Sandpoint?
Growth.
2. Housing prices have increased dramatically in Sandpoint, while local wages are increasing far more slowly – effectively precluding many residents who work in the local economy from purchasing a home. For the past year city staff and a group of local employers have been searching for housing solutions. What are your ideas for creating affordable housing for our residents who work here?
Affordable housing solutions will not be solved with a single solution. It will take multiple solutions. Some of these include:
A. Zoning. Allowing greater density within the four city area (where appropriate).
B. City Taxes. Having a city government that will commit to keeping tax increases to an absolute minimum.
C. Comprehensive Plan. Making sure the upcoming Comprehensive plan addresses the issue of affordable housing in a realistic way.
D. "Mother in-law" cottages within the city that would provide housing for a family member – child, sibling or parent. If allowed this would provide for income for long time residents to remain in the city as well as providing reasonable housing costs for others. This issue would need to be addressed in a way that maintains the integrity of current neighborhoods and homeowners that have invested life savings to live in their neighborhoods.
E. Having a larger percentage of the Bed Tax go towards property tax relief.
3. Two resort city tax proposals will be on the ballot in November. Do you favor or oppose continuing the existing 5% tax on lodging? Do you favor or oppose the new proposed 2% tax on liquor by the drink? And in each case, why?
I support the Bed Tax. Many communities have these type taxes already in place. Our 5% tax is very reasonable and puts the burden on out of town visitors.
I do not support the liquor by the drink tax. It is complicated and will bog down business' in accounting fees thus adding more expense to doing business in Sandpoint. It will penalize locals.
4. What conditions – for example, impact fees or provisions for affordable housing – should the city place on requests by adjacent property owners for annexation into the city?
Both should be used. Impact fees will help the city recoup fees it takes to build infrastructure. Present citizens should not be penalized by having to pay for new development infrastructure. Provisions for affordable housing, while a noble idea, if used, should be structured in a way that will work within the plans of the development community. I think it is important to note that in the 2006 Boge/Newton survey 67% of residents surveyed were against annexation of contiguous properties into the City of Sandpoint.
5. Downtown traffic and parking are two oft-cited city ills. There are efforts currently under way by the City and the DSBA to improve parking. Do you think these efforts are on the right track? What would you do to improve parking downtown?
The City and the DSBA have worked together this year to try to relieve some of the parking problems. At this point I feel we need to give the program a try and work from there. As with most issues the answer is not sitting with one solution. It will take multiple solutions possibly including, smaller, multiple downtown parking lots, looking at restructuring the City Parking Lot to hold more cars. In addition I think with the current problems Panhandle State Bank is having with parking we need to continue to bring them to the table to seek solutions for the problems they face in the future.
6. Although the Idaho Transportation Department was recently granted a permit for the Sand Creek bypass, it has conditions to meet and also faces a lawsuit from opponents. As the bypass will have major impacts on the city, voters want to know where candidates stand. First: Do you favor or oppose the Sand Creek route for a bypass, and why? Second: Among the issues involved, an offer by ITD to give the city land alongside the bypass in exchange for maintaining a new park has been a matter of contention; do you favor or oppose that proposal? Third: ITD has made no commitment to turn control of the Highway 95 route along First, Cedar and Fifth back to the city after the bypass is built; do you believe that should be a condition for the city to support the bypass?
Do I favor the bypass? Yes.
Why? In past years I had been a very vocal opponent of the Bypass. With the work of the Sand Creek Master Plan my views changed as many community groups were brought to the table to voice their concerns. ITD came to the table and met many of the community concerns to make it a better project. These included a lower highway deck, vegetated wall, dollars available for gateway projects, bike and walking paths and the Southbound Off Ramp that was strongly requested (basically demanded) by the business community and is critically needed in Sandpoint. These items became available only because area residents demanded that the project fit in with the community. ITD listened and worked with the community at that point. My support is still with the Bypass provided ITD follows through on it's commitment to the City of Sandpoint on these issues.
Concerning the land exchange with ITD regarding the Lakeside Motel property. I support the proposal as long as there are no strings attached. The proposal as it stands is not even a park as ITD stated originally (August 2007 Public Works Committee meeting) but is instead a possible parking lot. (October 3, 2007 Public Works Committee Meeting). In addition any initial maintenance costs to start plants and landscaping need to be covered by ITD for the same amount of time that is already in place for the vegetated wall. As Sandpoint has a superior Parks Department it is entirely feasible that we could take this on and move forward with a quality job for future residents and visitors.
Turning over the streets. Unless there is a common sense reason for ITD to keep First and Cedar these streets need to be turned over to the City of Sandpoint. Furthermore with decades of use by the state it is only correct for ITD to come to the table and partner with the City of Sandpoint to leave 1st and Cedar in good usable shape for the future. It may not be in our best interest to have ITD turn Fifth Avenue over to the city as it is still considered a state highway with Highway 2 coming through Sandpoint from Priest River.
7. On traffic issues: even if construction of the bypass begins soon, ITD says it will take several years to build. Do you believe the city should seek traffic solutions more immediately – and what would they be?
Yes the city should seek traffic solutions as construction will take multiple years before completion. First and foremost these would include ITD and Sandpoint's Mayor and Council to commit to ongoing meetings before and during construction to address concerns that are bound to crop up. Some of these issues would include construction traffic, access points for construction traffic, keeping the downtown core open, noise, truck and traffic signal coordination. I would also press to turn Highway 95 north out of Sandpoint into a double lane out of town as a local citizen, last spring, pointed out could be easily done. ITD is currently considering this for 2008. This would greatly ease traffic congestion in a very busy part of Sandpoint.
8. Why are you running for public office? If you are elected, how much time will you be able to devote each week to your position?
I am running for office to make a positive difference for our community. I believe in Sandpoint and its residents. As in the past I am willing to put in the time necessary to do a good job. City Council demands that you keep your time schedule flexible as some months demand much more time than others.
9. Describe any other issues you believe are important; why you consider them important; and your position on these issues.
A Other issues that I believe important:
Communication between the mayor and council. The next mayor needs to take steps to communicate with the full council on matters that pertain to Sandpoint. These would include having a retreat in the early part of the year to bring out ideas that council would like to see brought forward. City staff could be involved to discuss feasibility and expense. Council members and the mayor could weigh in on the ideas and make a priority list on how they rate. This needs to be a yearly program.
Continue to move forward on a regional sewer district.
Raise taxes ONLY when necessary. I believe that the past two years tax increases were not necessary and could have been avoided. Keeping taxes in line is another way to help out the issue of affordable housing.
Continue downtown revitalization. When the Byway is finished we need a downtown ready for business, not just pondering on what to do. To not do so could turn the area into a neglected part of town like other communities. It is better to take the revitalization steps now instead of later.
Expand moorage for boats as there is a great need. As the majority of citizens that do not have boats do not want to subsidize this it would need to be done with financial assistance through grants as well as pay for its own way.
With the County explore options for the Sandpoint City Fire Department to transport medical patients. Currently Sandpoint Fire responds to all medical incidents but cannot transport and must wait for the proper transporting authority to arrive. I would even like to explore the option - if it is possible - to transport City residents at no cost. It may not be possible but there is no harm in exploring this possiblity.
Sidewalks. The City of Sandpoint is currently under an aggressive program to replace sidewalks. Overall it is a good program and will make positive additions to the city. The way it is being financed is not the best. I would like to see the Council look at alternate forms of funding. Currently many residents are being hit with bills close to $6,000.00. This amount seriously hampers many people's personal budgets. My thoughts would be to look to a city wide addition of $5 per month on utility bills to go only towards sidewalk projects. Instead of saying this can't be done, why not say "Let's look into ways to make this happen." If it means working with our legislature, then let's get going. This way, new home owners, seniors, folks looking for affordable housing and those on fixed budgets would not be impacted with super high bills. Neighborhoods would instead look forward to getting a new sidewalk instead of dreading sidewalk projects.
Boyer Overpass/Underpass. With the University campus, new businesses and housing moving north it is imperative that the city sit down and work through options on how they can move traffic through these areas. We can save substantial dollars and grief in the future by working on this issue now.
To complete the extension of the Sandcreek Boardwalk from Bridge Street to the Panida. The original boardwalk helped to spiff up the backside of 1st Avenue and added a fresh new side to downtown. Many visitors that come to Sandpoint are now coming by boat as they own property or are visiting other parts of Lake Pend Oreille. The boardwalk fits in with our desire to attract more tourism dollars. Let's continue the original thought and extend it. Funding needs to be searched out with the City Grant Writer to look for granting options.