Paul Gollin
10-11-2007

Paul Gollin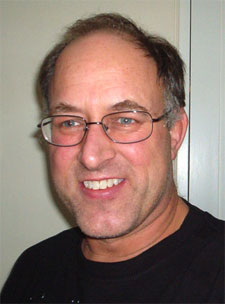 Age: 50
Years of residence in Sandpoint and Bonner County: 9.5
Marital status/family: Single (widowed)
How can the public contact you?
Email: [email protected]
Qualifications
Education:
B.A. Journalism, San Francisco State University
Recent employment history: I own a Web site creation business and work as a waiter and bartender.
Public offices held: None
Nonprofit groups, service or professional organizations to which you belong:
Panida Theater Board of Trustees (8 years)
What particular experiences or skills qualify you for office?
I am a taxpayer, property owner and resident of Sandpoint and a member of the middle class of this community. I am not a developer, realtor or lawyer.
Candidate positions
1. Among the myriad issues facing the city at present, what do you consider the single most important issue facing the City of Sandpoint?
The increase in development while not addressing the infrastructure. The time to address this is now, not later when it's too late.
2. Housing prices have increased dramatically in Sandpoint, while local wages are increasing far more slowly – effectively precluding many residents who work in the local economy from purchasing a home. For the past year city staff and a group of local employers have been searching for housing solutions. What are your ideas for creating affordable housing for our residents who work here?
The recent meeting I attended regarding workforce housing was very positive and inspiring and I feel that we have a lot of good people in Sandpoint with ideas - ready to act on - to create a solution to this problem now, assuming we can match the growth with the aforementioned infrastructure growth.
3. Two resort city tax proposals will be on the ballot in November. Do you favor or oppose continuing the existing 5% tax on lodging? Do you favor or oppose the new proposed 2% tax on liquor by the drink? And in each case, why?
Yes to the 5% lodging; No to the alcohol tax. The first impacts visitors who use our roads, water, waste systems, etc. No to the alcohol tax as it would primarily be paid by all residents who are being taxed plenty. As always I ask: what are these monies for?
4. What conditions – for example, impact fees or provisions for affordable housing – should the city place on requests by adjacent property owners for annexation into the city?
Both are excellent ideas and could really help out our growth. Other than those I would like to see what we come up with as a council.
5. Downtown traffic and parking are two oft-cited city ills. There are efforts currently under way by the City and the DSBA to improve parking. Do you think these efforts are on the right track? What would you do to improve parking downtown?
This is a perfect example of poor planning and too little too late. What options are open to us? A multi-level garage? Meters? It may be time to address some kind of public transit.
6. Although the Idaho Transportation Department was recently granted a permit for the Sand Creek bypass, it has conditions to meet and also faces a lawsuit from opponents. As the bypass will have major impacts on the city, voters want to know where candidates stand.
First: Do you favor or oppose the Sand Creek route for a bypass, and why?
I oppose it as after 50 years and 23 million dollars it is clearly a colossal failure.

Second: Among the issues involved, an offer by ITD to give the city land alongside the bypass in exchange for maintaining a new park has been a matter of contention; do you favor or oppose that proposal?
I oppose it as it is a transparent bribe.

Third: ITD has made no commitment to turn control of the Highway 95 route along First, Cedar and Fifth back to the city after the bypass is built; do you believe that should be a condition for the city to support the bypass?
Third, Yes.
7. On traffic issues: even if construction of the bypass begins soon, ITD says it will take several years to build. Do you believe the city should seek traffic solutions more immediately – and what would they be?
Again I think it is time for Sandpoint, and Bonner County, to begin a look at public transportation. It would be the quickest, and hopefully, most affordable solution to the situation.
8. Why are you running for public office? If you are elected, how much time will you be able to devote each week to your position?
I am running as I feel I represent the working people of Sandpoint. We live here and love what Sandpoint is, not what it could be developed into.
9. Describe any other issues you believe are important; why you consider them important; and your position on these issues.
I would like to see what we can do as a council to attract businesses that offer good jobs to the area.