Jerry Clemons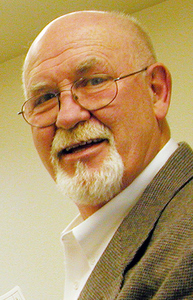 Jerry Clemons
Republican
Candidate for: Bonner County Assessor
Age: 68
City of residence: East Hope
Years of residence in Bonner County and Idaho: 13
Marital status/family: Married to Patti for 35 years, 10 grandchildren and 1 great-granddaughter
Contact information:
E-mail: [email protected]
Cell: 255-8000
Home: 264-5784
Website: jerryclemonsforassessor.blogspot.com
Education: Bachelor's Degree in Business Administration from the University of Missouri, Certified Property Manager designation from the Institute of Real Estate Management, many courses and seminars from the Idaho State Tax Commission and Idaho Association of Counties. I have held a Real Estate brokers license since 1968 in 3 states and Idaho license currently on an inactive status.
Recent or pertinent employment history:
President and owner of real estate management company for 29 years

General Contractor for 29 years

Commercial Account Manager at Rokstad Ford for 2 years
Public offices held:
Bonner County Commissioner from 2001 through 2004

Bonner County Assessor since January of 2007

City Councilman in East Hope for several years
Relevant professional affiliations:
Member of several groups as Assessor
Nonprofit groups or service organizations to which you belong:
I am on the Advisory Board of Kinderhaven and past Board Member, contributor to the Animal Shelter.
Relevant experience you wish to include or mention: Knowledge of County Government from a Commissioner's point of view and as Assessor and Councilman.
Why are you running for public office?
To finish the overhaul of the Assessor's office. It was dysfunctional in many respects when I took over and we are working hard to make everything run smooth and there is still some work to do.
If you are elected, how much time will you spend each week in the office?
Elected officials work as many hours as is needed to run the office and that can be anywhere from 35 to 60 hours per week depending on the time of the year and the problems we face at certain times.
Describe the top three to five issues you believe are most important, why you consider them most important, and your position on these issues.
Produce accurate, fair and uniform assessments. We are in the 2nd year of a 5-year installation period of a computerized mass appraisal system called ProVal, which will save a lot of staff time and make assessments even better.
Continue to make sure all exemptions are deserved before they are given. We just completed a 2-year audit of 12,000 homeowners' exemptions and billed over ˝ million dollars in back taxes. This is the first time an audit of this nature has been done and the Treasurer and Commissioners were partners in the endeavor.
Continue to make sure new homes are placed on the rolls. There was a huge backlog of work in this area when I took over and I have dedicated one full-time appraiser to this function so that everyone is paying their fair share. We have added over $5,000,000 in new construction in the last 3 years, which help hold down everyone's taxes and we have the same number of staff that we had when I took over in 2007.
We have developed a plan to update our mapping process to fit in with the GIS department and move toward having mapping online.
What differentiates you from other candidates? Why should people vote for you?
I am not an appraiser but this job requires great organization and management skills. I manage a staff of 32 people and have 3 separate offices since the Assessor also manages the Motor Vehicle offices. We have a budget of over $1.3 million to administer. I have a Bachelor's Degree in Business Administration and owned and operated a large Real Estate Management firm in Missouri for 29 years and was in the construction business at the same time. I also served 4 years as Bonner County Commissioner and now sit on the East Hope City Council as well. I have the kind of management experience needed to be a successful Assessor. There are 16 Certified Appraisers in the office and we do not need another appraiser trying to manage such a large operation. The Assessor's office needs an experienced manager, strong leader, forward-thinking planner and motivator to have an office that runs properly.