Carrie Logan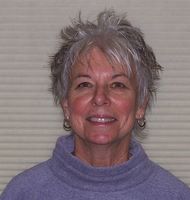 Carrie Logan
Candidate for: Sandpoint City Council
Age: n/a
Years of residence in Sandpoint and Bonner County: Sandpoint became my home in 1989.
Marital status/family: Two of my seven grandchildren live locally, as do two of my sons. My oldest daughter and her family live in Northern California, and my youngest daughter and family live in Oregon. Dan, my husband, works locally in the construction industry.
Contact information:
E-mail: [email protected]
Home: 263-1277

Education: I graduated from college with a Bachelors degree.

Public offices held: I was elected to a four-year term on the Sandpoint City Council in November 2007. As a current City Council member, I serve on the Public Works Committee and act as the Council liaison to the Historic Preservation Commission. I also served as the Council liaison to the Aquatic Invasive Species Task Force for three years and as the Council liaison to the Pedestrian Advisory Committee for two years.

Nonprofit groups or service organizations to which you belong: During my work career locally as a mental health rehabilitation specialist, I was also an active volunteer in the community, including six years on the Sandpoint Planning and Zoning Commission, as a member and chairperson. I also served my community as a board member of Community Cancer Services, a board member of Sandpoint Soccer Association and am a current field coordinator for the Sandpoint Soccer Association TOPSoccer program. I am a founding board member and current officer of a local non-profit focused on the development of a community recreation center. In addition, I recently participated in a local effort that resulted in the provision of concussion baseline testing in Sandpoint.

What particular experiences or skills qualify you for office?
It is important to me that you understand how I do my job as your council person. In addition to reading materials submitted to me, I research, talk with and listen to others point of view, and ultimately try to make the best possible decision to serve the City and its residents. I will always explain my vote, and I don't accept campaign contributions. Please feel free to contact me at home or via e-mail, or when you see me out and about. I look forward to serving you for another term.

1. Among the myriad issues facing the city at present, what do you consider the single most important issue, and why? Please also describe any other issues you feel are important.
I am running for the Sandpoint City Council because I want to finish the work that I started on preserving the train depot, bringing high-speed internet to our region, and restoring local control of our downtown streets. However, the single most important issue that the City faces is jobs. I want the City to develop a climate that encourages the retention and recruitment of businesses to Sandpoint. With the identification of a department head as a Community Development Director, the return of management of the Bonner Business Center to the City and Sandpoint Forward, I believe we are poised to do great things.
2. The city is on the cusp of major change with the Sand Creek bypass nearing completion and likely to be open for traffic ahead of schedule. Concurrently, city officials have been working with the Idaho Transportation Department to facilitate a realignment of Highways 2/200 from Pine to Cedar along the route of the old railroad line, the so-called "Curve." Following workshops and public hearings, in September the Council approved a couplet concept for the realignment, and ITD is now undertaking final design. Do you favor or oppose the Curve project and design, and why? What issues do you see arising for the city from the construction and completion of these two major changes to local transportation infrastructure?
I favor the Curve because it will return control of our streets, increase parking and improve pedestrian safety. I have actively moved this project forward and support the proposed couplet. I believe that if we work hard, the Curve can be finished within the next 4 years. When finished both the Curve and the bypass will benefit town. Traffic through town will lend itself to stopping and staying, and access by locals will be improved. The view of town, the lake, City Beach and the mountains from the bypass is spectacular. If you weren't planning on coming to Sandpoint before, that experience will definitely change your mind!

3. The city's Impact Fee Advisory Committee recently reviewed the city's impact fee structure for recommendations to the city council. Impact fees are levied on new development to help offset costs the development imposes on public infrastructure and services. Do you feel that the city's current fee structure is equitable or would you advocate changes, and why?
The current structure of impact fees was done at the height of the building boom and served their purpose in receiving from new development a contribution to the increased cost of services and infrastructure. Times are different right now, but what isn't different is the feeling I hear from folks that newcomers should contribute to the increased cost of services that they create; in general, that makes a lot of sense to me. In November the council will be having several meetings to review the proposal sent forward to us.

4. Following two public hearings, on a 4-2 vote the City Council recently approved purchase of the first of two parcels of lakefront property at $400,000 each, in cooperation with the City of Ponderay and a nonprofit group to acquire nearly a mile of waterfront and create the Pend d'Oreille Bay Trail over a four-year period. Do you favor or oppose the trail acquisition, and why?
I favor the trail. In 2010, the City surveyed residents for the Parks Master Plan. Residents' top priorities were natural areas and waterfront. This purchase fits that preference to a "T". The purchase plan that was created represents the first time that all of those properties that create the POBT were addressed at once. There are significant negotiating benefits to such a proposal. The largest share of the funding came from Parks Funds that are identified for land purchases and developments. Our other park commitments, such as Memorial Field improvements, are untouched and will go forward as planned. I support obtaining an appraisal for the second piece that the city will consider purchasing next year.

5. The city in 2009 adopted major changes to its comprehensive plan. The city's planning staff and commission has since been reworking zoning regulations to carry out the comprehensive plan, including newly proposed changes for residential zoning. Are you satisfied with the new comprehensive plan and zoning regulations? Describe your own posture toward managing growth in Sandpoint.
I believe in retaining the small town feel of Sandpoint while being efficient with our utilities, police, parks, streets and fire. Sandpoint hadn't significantly changed its zoning in 20 years. The city staff and planning commission have done a lot of work with a terrific outcome for our new commercial and industrial zoning. Our new zoning protects historic structures, allows smaller buildings and encourages mixed uses. We will be reviewing and making a decision on the residential components in the next 2 months, and that will be very exciting work.

6. The mayor and city staff have been participating with Sandpoint Urban Renewal Agency and Downtown Sandpoint Business Association in an economic revitalization effort called Sandpoint Forward. How would you describe the economy of Sandpoint today? What role do you see for the City Council/Mayor to play in creating a healthy local economy?
The Council and Mayor should work to coordinate community interests and resources. For too long we have had a disjointed approach towards economic development with disappointing results. I am encouraged by the cooperative efforts of Sandpoint Forward, SURA, BCEDC, DSBA and the City. The Mayor's recent outreach to Quest – with more business contacts to follow- is a huge step in developing partnerships locally. The City also recently expanded the City Planner's job description to include "Community Development". I believe that this is a step in the right direction. In addition, the City should be looking for services that are valuable to businesses, such as fiber optic internet in the downtown (see #9).

7. The City Council in September approved an ordinance banning hands-on cell phone use while driving. Do you favor or oppose the ordinance?
As the council person who brought forward the ordinance, although in a slightly different form, I support the ordinance. The science is very clear that hands-on cell phone use while driving is very dangerous. Hopefully, the Idaho State Legislature will follow through this session on legislation to make this a state law.

8. Segways: The city police tested them this summer for use in downtown parking enforcement. What do you think of Segways for use by city police?
I am opposed to the use of Segways by our police department. One of the goals of the Police Plan that was adopted this last year is to increase interaction between the citizens and their police; riding a Seqway is counterproductive to this effort. I also have concern about how long the units could be used during the year, battery costs and response times of Municipal Enforcement Officers to dog incidents.

9. Describe any other issues you believe are important; why you consider them important; and your position on these issues.
I am working to bring the fastest internet possible to Sandpoint by installing fiber optic for our residents. We have created a plan and begun the process. The increased capacity will be a terrific contribution to our community's ability to attract and retain businesses. I have actively supported this project. As a result of successful negotiations that I participated in with Amtrak and BNSF, the depot will remain in its current location, be remodeled and once again serve as a passenger depot. In addition, if we are successful with a grant, this location will serve as the hub for bus service in and out of county, and offer space for other compatible businesses.

10. How many city council meetings or city committee meetings have you attended in the past year? Why are you running for public office?
Public service is a big part of who I am. I believe in citizens giving to their community in the form of public service. As a current City Council person, I have been able to preserve our train depot, work on bringing fiber internet to our downtown and form the Curve concept. These are important projects that I want to finish. During my service to the City I have attended 46 Council meetings, 45 Public Works meetings, and 103 special meetings. This doesn't include the numerous committee meetings that I attend regularly, including the Historic Preservation Committee and the Sandpoint Urban Renewal Agency. I have attended more committee meetings than any other current Council member because I want to stay informed and participate in the public discussion at all levels of our City government.