Aaron Qualls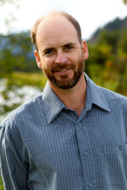 Aaron Qualls
Candidate for: Sandpoint City Council
Age: 39
Years of residence in Sandpoint and Bonner County: 6
Marital status/family: Not married but with a great girl—who has a wonderful daughter.
Contact information:
E-mail: [email protected]

Education:
University of California Santa Cruz - Anthropology 1995
Jupiter Resource Management - HERS home energy auditor training 2009
Currently attending classes for an MS in Urban and Regional Planning through EWU

Recent or pertinent employment history: Independent web designer

Public offices held:
City of Sandpoint - Planning Commissioner 2009-present
City of Sandpoint - Impact Fee Advisory Committee

Nonprofit groups, service or professional organizations to which you belong:
Helped create the Festival at Sandpoint "Going Green" program
Sandpoint Growth Task Force Participant
Sandpoint Comprehensive Plan Participant
Building and Community Design STI Working Group Member

What particular experiences or skills qualify you for office?
Experiences:
• My experience with and dedication to the Planning and Zoning Commission these past two years
• Sandpoint Comprehensive Plan Participant
Skills:
• Effective Communicator
• Very detailed and thorough
• Great listener

1. Among the myriad issues facing the city at present, what do you consider the single most important issue, and why? Please also describe any other issues you feel are important.
The single most important issue is the economy. These are difficult economic times for individuals, businesses, and local government. Working to strengthen a diverse and vibrant local economy is the most important thing we can do for Sandpoint at this time. Towards that end, there are specific projects that I would like to help further:
1. Transforming downtown from a highway into a destination. Sandpoint has a special uniqueness about it that draws visitors, new residents, and businesses. Over the next few years, we have the opportunity to reclaim the heart of our city—our downtown—and transform it into a vibrant, exciting place for all ages.
2. Bring Broadband Internet Service to the Area. Broadband Internet service poses a unique opportunity which could create high paying jobs, make Sandpoint more competitive for business relocation and provide unique business startup opportunities.
3. Encourage Higher Education in Sandpoint. Sandpoint has often been referred to as "A college town without the college." The economic and social benefits to having higher education in Sandpoint are many and would be a great fit for our town.

2. The city is on the cusp of major change with the Sand Creek bypass nearing completion and likely to be open for traffic ahead of schedule. Concurrently, city officials have been working with the Idaho Transportation Department to facilitate a realignment of Highways 2/200 from Pine to Cedar along the route of the old railroad line, the so-called "Curve." Following workshops and public hearings, in September the Council approved a couplet concept for the realignment, and ITD is now undertaking final design. Do you favor or oppose the Curve project and design, and why? What issues do you see arising for the city from the construction and completion of these two major changes to local transportation infrastructure?
I am in favor the currently approved concept of the Curve and look forward to working with ITD during the design phase should I be elected. This is a very important project for Sandpoint because it will allow us to reclaim our downtown. The first issue that will pose a challenge, moving forward, will involve pedestrian accessibility and safety. It is important that all areas of town be safely accessible to pedestrians. Secondly, we have to ensure that businesses are not adversely affected during and after construction. The intersection at Boyer and Highway 2 will likely be a focal point of both these concerns.

3. The city's Impact Fee Advisory Committee recently reviewed the city's impact fee structure for recommendations to the city council. Impact fees are levied on new development to help offset costs the development imposes on public infrastructure and services. Do you feel that the city's current fee structure is equitable or would you advocate changes, and why?
I think the proposed fee structure does a much better job in terms of equitability. What I object to, however, is a drastic raise in fees at this time. Builders have been hardest hit during this economic downturn and I don't think it is fair to ask them to shoulder large fee increases in this difficult economic climate.

4. Following two public hearings, on a 4-2 vote the City Council recently approved purchase of the first of two parcels of lakefront property at $400,000 each, in cooperation with the City of Ponderay and a nonprofit group to acquire nearly a mile of waterfront and create the Pend d'Oreille Bay Trail over a four-year period. Do you favor or oppose the trail acquisition, and why?
I am committed to furthering this longstanding vision and think it will be a great asset to our community; however, I think it is extremely important that we perform due diligence and make sure that taxpayers are getting the best possible deal; especially in this economic climate.

5. The city in 2009 adopted major changes to its comprehensive plan. The city's planning staff and commission has since been reworking zoning regulations to carry out the comprehensive plan, including newly proposed changes for residential zoning. Are you satisfied with the new comprehensive plan and zoning regulations? Describe your own posture toward managing growth in Sandpoint.
As a planning commissioner, I helped draft these ordinances - so I may be a little biased. We live in a very special place - unlike any other - and I think it is important that we protect the qualities that make Sandpoint unique. The intent of the draft residential zoning ordinances I believe reflect the community's vision for growth as embodied by the Comprehensive Plan which I wholeheartedly support. I look forward to further public input on these ordinances and invite everyone who is able to attend to our public forum on Oct. 25th.

6. The mayor and city staff have been participating with Sandpoint Urban Renewal Agency and Downtown Sandpoint Business Association in an economic revitalization effort called Sandpoint Forward. How would you describe the economy of Sandpoint today? What role do you see for the City Council/Mayor to play in creating a healthy local economy?
I would describe today's economy locally and nationally as: terrible. For Sandpoint, this is evident in the vacant storefronts downtown, the lack of building going on, and the number of foreclosures happening across town. What elected officials can do specifically is further projects that can help revitalize downtown; leverage Sandpoint's unique qualities to attract visitors and businesses; support Sandpoint's legacy of small business innovation; and support existing manufacturing, health, professional, retail and tourist industries.

7. The City Council in September approved an ordinance banning hands-on cell phone use while driving. Do you favor or oppose the ordinance?
I would prefer a ban on cell phone use while driving statewide but sometimes you have to take the initiative to do what is right—which wouldn't be a first for Sandpoint. I support the ban.

8. Segways: The city police tested them this summer for use in downtown parking enforcement. What do you think of Segways for use by city police?
I am open to the idea if it could be proven to save the city money but the return on investment would have to be in the short term for me to support such a purchase at this time.

9. Describe any other issues you believe are important; why you consider them important; and your position on these issues.
Protecting our lake from pollutants, untreated storm water runoff and invasive species. The lake is our most vital asset to our economy and our way of life.

10. How many city council meetings or city committee meetings have you attended in the past year? Why are you running for public office?
Too many to count! I am running for office because I want to protect the qualities that make Sandpoint unique while working hard to maintain and strengthen a diverse, local economy; and because I think I could do a damn good job.