World-Record-Setting Swimmer to Attempt Lake Pend Oreille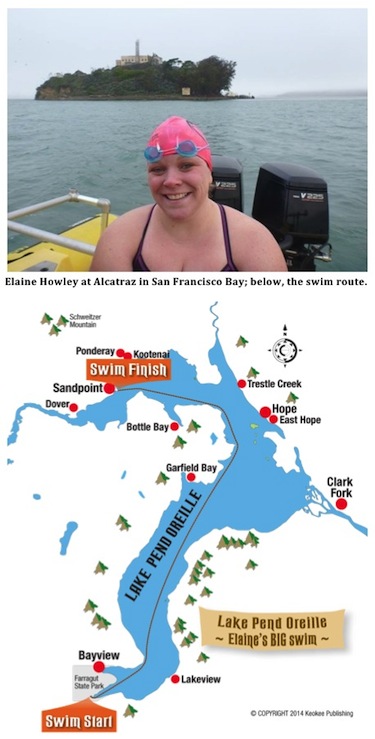 SANDPOINT, IDAHO -- This Wednesday, July 30, Boston-based ultra marathon swimmer Elaine K. Howley will attempt history with a solo non-stop, 34-mile swim the length of Lake Pend Oreille in northern Idaho. This will be the first time a swimmer has attempted to traverse the entire length of the lake in a single swim. An 84-mile circumnavigation of the lake was completed in 2011 by a team of 10 relay swimmers.
Update, July 31: Howley successfully completed the swim at a bit after 4 p.m. today, following a start at 7:50 p.m. Wednesday, July 30, from southern-most Buttonhook Bay, for a finishing time of 20 hours, 25 minutes, 55 seconds. Her swim was reported with frequent photo and video updates via Facebook; scroll down to the dated posts to see photos, videos and the in-progress reports at Sandpoint Online Facebook»
Howley was invited to take on this long-distance challenge by Eric Ridgway, who is the founder and organized the annual 1.76-mile Long Bridge Swim in Sandpoint, Idaho, for 19 years. Ridgway, a Sandpoint resident, has stepped back from his race director duties this year and will be focusing on supporting Howley in her historic marathon swim, which is timed to fall a few days prior to this yearís Long Bridge Swim event. Her swim will help promote the Long Bridge Swim and draw attention to the aquatic recreational opportunities in Greater Sandpoint.
"We have such an incredibly beautiful lake here that I am sure that we are going to have many more open water swimmers coming in the years ahead to take on the challenges of this fresh water playground," said Ridgway. "I have been involved with three prior ĎBig Lake Swimsí in Lake Pend Oreille, but all of those were as part of a relay team. I knew that someone would eventually come along to do it as a solo swim, and after talking with Elaine several years ago, I thought that she would be the ideal swimmer to accomplish this feat first! She is not only an amazing athlete, but she does so much to inspire and support others in the swimming world. She is going to open up a whole new venue for big open water swims in the Pacific Northwest."
The big swim will begin at Buttonhook Bay, the southernmost point in the lake and progress northward to the intended finish line at Sandpoint City Beach. Howley expects to cover the 34 miles in 17 to 20 hours if weather conditions are fair. If conditions prove rough or windy, the swim could take upwards of 24 hours or more. A veteran marathon swimmer who has completed the Triple Crown of Open Water Swimming, which consists of solo crossings of the Catalina and English Channels and a solo circumnavigation of Manhattan Island, Howley is also a certified ice swimmer who completed a 1-mile ocean swim in Boston Harbor in December 2012. The water was 41 degrees during that swim, and Howley did not wear a wetsuit. She also recently completed a 24-hour training swim in Lake Cochituate, Mass., in which she covered more than 38 miles.
"After that most recent great experience, Iím feeling really confident about this upcoming big swim," Howley said. "Itís a total privilege to be invited to do this swim, and Iím very grateful for the community support Iíve already had in planning the logistics."
Howley, who works as Associate Editor for U.S. Masters Swimming, will be supported in this adventure by a highly experienced crew that will shadow her from a powerboat. Ridgway will be joined by Howleyís husband, Mark Howley of Waltham, Mass., and sports nutritionist Sunny Blende of Sausalito, Calif. Randy Hixon of Sausalito, Calif., will also be offering kayak support.
The swim will be conducted under the auspices of the Marathon Swimmers Federation following the official Rules of Marathon Swimming, of which Howley was a co-author. Fellow co-author Andrew Malinak of Seattle ó who is also a marathon swimmer and recently became only the third person to complete all seven stages of the 8 Bridges Swim down the Hudson River and undertook a highly publicized attempt to swim the Strait of Juan de Fuca in 2013 ó will also be on board to observe and document the swim. The rules state that the swimmer may not touch the boat or any of the crew and may not wear a wetsuit. The water is expected to range between 65 and 70 degrees.
Howley, who is sponsored by womenís clothing company Athleta and sports nutrition product company UCAN, says this swim will be a real test of her skills and endurance. "And from what Iíve been told, itís one of the most beautiful places on the planet to swim. So, sign me up! Iím excited to be embarking on this amazing journey!"