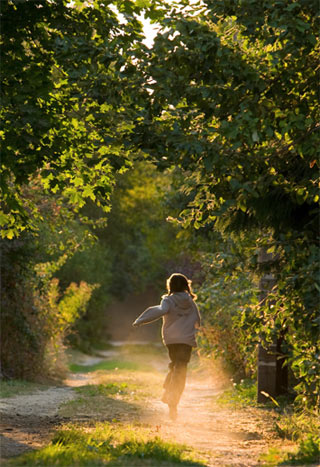 On the cover of "The Alleys of Sandpoint" is "Sunlight Skipping." The photographer wrote: "The late-afternoon light was perfect, and the innocence and freedom of this skipping kid made me want to run and jump as well, just to get a taste of my carefree childhood once again."
The Alleys
of Sandpoint
One photographer publishes a
yearlong sojourn
By Carrie Scozzaro

There is an Old World elegance to Marie-Dominique Verdier, known to friends as Do (pronounced doe). Maybe it's because she's French, speaking rapidly in animated sentences punctuated by an accent lilting and fluid. Maybe it's her beauty, brown-eyed handsome with model features, understated in khaki pants and oversized sweater on a chilly, not-quite-spring morning as we sit in the front room of the home she shares with husband Scott Kirby and their two daughters. Maybe it's the way she contains herself – contemplative, with a watchful photographer's eye.

An interview with Verdier is more like visiting with a long-lost friend, the kind where conversation flows into pathways as unexpected and delightful as those featured in her recent project, "The Alleys of Sandpoint." The book of 114 photos highlights her yearlong sojourn through Sandpoint's back porch entryways and secondary routes, a journey that may have defined a turning point in her artistic career as well.

"I was just back in Sandpoint after spending 10 months in France," said Verdier, explaining what led up to the project. Nostalgic for old buildings, she asked a friend's husband to keep an eye out for an old barn when he went hunting. That friend, Doris Fuller, suggested she check out Sandpoint's alleyways instead.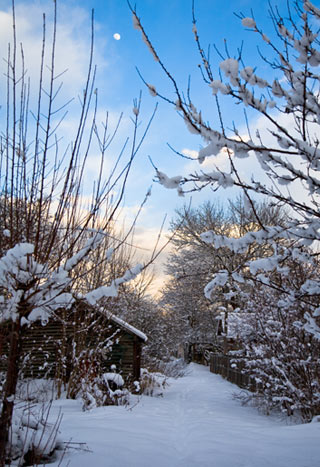 Under The Moon – "I still see something magical in the quietness of that scene."
"I often walked them to journey into the past," said Fuller, who describes Sandpoint's alleys, in the book's preface, as the place "where time stands still."

Verdier agreed, saying she "occasionally felt transported into another era" while taking photos. Drawn to Sandpoint for its "hidden history and the people," as well as its beauty, Verdier explained the personal impact the project had on her, one she hopes will be shared by others.

"There is a real sense of community here," said Verdier, unlike any other place she had lived, including France, which she left at age 18, and New Orleans, where she lived and worked before meeting Kirby and eventually moving to Idaho in 2000. We talked about the similarities between Sandpoint's alleyways and New Orleans, especially the Southern sense of "back door life."

"We only let our family and friends go through our back doors. Going through the alleys felt like entering my new home through the back door," she said, reflecting on her newfound appreciation for the town that became home.

Serendipity played as much a role in determining the content as it did the process of creating the book.
Although she has more than 17 years of photography experience and does Web design for such clients as artist Catherine Earle and Redtail Gallery, Verdier had never published a book before. She had researched the idea for a client during a "trash-the-dress" session, an innovative component of her SandpointPhoto.com business. Trash-the-dress involves photographing the bride after the wedding in what can best be described as candid, free-spirited and celebratory – a way of honoring and creating tradition, not unlike the alley photos. Verdier discovered software for print-on-demand publishing and envisioned pairing her alley images with text, something she later determined was not financially feasible.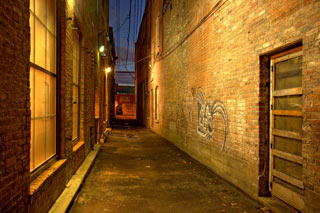 "This alley looks so different from all the other ones, and it's without a doubt the most photographed of all in Sandpoint.
Similar to developing an exhibition, Verdier culled from 2,000 images the 100-plus photos that comprise the book, many of which were featured in a February 2008 exhibition at Stage Right Cellars. The images in the book are not chronological; rather they are meant to be viewed as successive two-page spreads.

Her photos extend from the familiar, offering us a view that we might know if we would stop and notice. The child's toy forgotten in a muddy puddle. A slit-eyed feline lounging on the deck of an old boat. A ladybug poised for flight.
Ever the analytical one, Verdier wonders at the distinction of an "art" photograph, and we debate the age-old question of why photography sometimes doesn't get the same reception as painting or drawing. By contrast, Verdier points to the vibrant watercolors her husband, also a musician, has been developing over the past few years. They're amazing, she said, especially Kirby's inspiration. As does Verdier, Kirby builds on the familiar, particularly landscape, like those featured in his self-published book, "Visions of the Great Plains."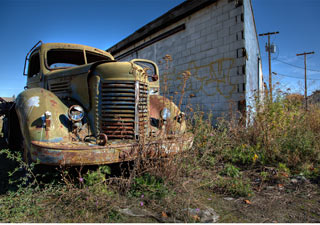 Last Ride – "I love the looks of old cars, but I especially like this picture for its location and its underlying contrast: It's only half a block from a major avenue, with its new, fancy buildings."
I would argue for the artistic merit of many of the images, especially the two that conclude the book, which happen to be Verdier's favorite as well: "Sunlight Skipping," which is also the cover image, and "Morning Stroll," a subdued black-and-white of an older man walking his dog. Being able to make an emotional connection and impact others is yet another discovery Verdier made along the way. Response to the book has been positive, making her realize how the images could touch people.
"As a photographer, creating emotions is what I yearn for," she said.

Some of the framed pictures as well as the book are available in Sandpoint at Great Stuff (313 N. First), Timber Stand Gallery (corner of Cedar and Third) and Foster's Crossing (504 Oak) for $49. Verdier is participating in the Artists' Studio Tour the last two weekends of July. For more info, go to www.SandpointPhoto.com or www.ArtTourDrive.org or call 946-9308.