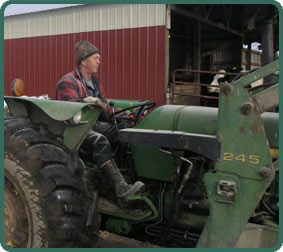 Randy uses the tractor to take feed to the cows.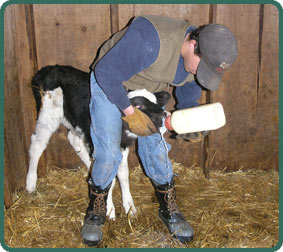 Garrett bottle-feeds a two-day-old calf by hand.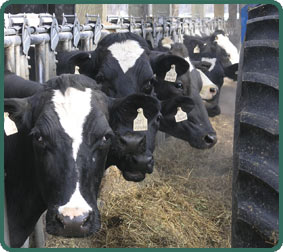 Dairy cows feed after the morning milking.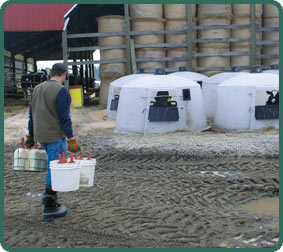 Garrett carries bottles of milk to feed calves living in PolyDomes.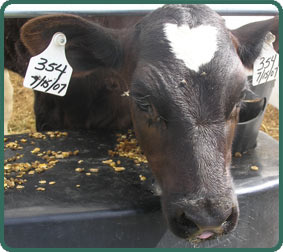 A calf peeks out of its PolyDome hut.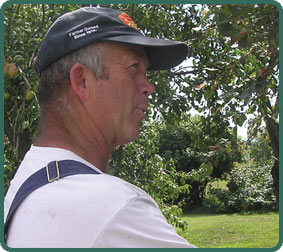 Randy walks past the orchard behind the farmhouse.
The last dairy farmers
Poelstras carry on family tradition
By Billie Jean Plaster

Bonner County used to have dozens of dairies, but a steady decline since the end of the last World War has brought the number down to just one. The Poelstra family has been dairying since 1944 when Cornie and Fran moved here and bought 160 acres on East Shingle Mill Road. Today their son, Randy, his wife, Carla, and their son Garrett carry the torch in what has become a vanishing way of life, the family-run dairy farm.
Cornie, originally from South Dakota, met his wife in Belgrade, Mont., and eventually moved to Sandpoint, buying the farm that was first homesteaded by Charles Selle. When they bought it from the Martin family, only about 50 of the acres had been cleared. The rest was logged over and left as a "stump farm." Randy remembers blowing stumps with war surplus dynamite and pulling the remaining chunks out with horses, later using dozers, to clear the rest of the land, a process finished in the early '70s.
Cornie started his Grade A dairy with a herd of brown Swiss cows purchased from a farmer in Belgrade. The herd is all Holsteins now, although Randy has been experimenting with cross-breeding them to a registered milking shorthorn bull, to produce a calmer cow that converts grass to milk better. Father and son formed a partnership in 1971, when Randy came home after a year and a half of college. Randy had always liked farming, and he "didn't fit in" at college.

Later, he started his own family, marrying Carla in 1983, and raising two sons, Garrett and Glen. Carla admits she never thought she would be doing what she's doing now – milking cows. Today with her husband she does the morning milkings that start at 5:30 a.m. and every other evening milking, which begins at 4:30 p.m. Garrett milks with his dad on the other evenings. Each milking session lasts two and a half to three hours.
Randy's last vacation was three years ago when he and Glen went to salmon fish in Alaska, while Carla and Garrett stayed home and milked cows. The pair spends more time together than the average working couple, but it is mostly in working hours because there is not much leisure time. Randy's last day off was to attend a Darigold meeting in Seattle in March 2007. When there were other dairies here, neighbors would relieve each other, so they could take vacations. That all changed when Jim Hickey closed his farm six years ago, and the Poelstras became the last dairy farmers in Bonner County.

"There's no support without other dairymen," Randy said.

The difficulty of the work and the increasingly stringent environmental regulations is discouraging. Every other dairy farmer in Bonner County has called it quits.

But the good still outweighs the bad in Randy's mind, even as the cost of feed, fuel and other supplies goes up. It's simply been a way of life for all of his 57 years.

"You're your own boss. It's a lot of hard work," he said. "It's satisfying watching the crops grow. We do all our own breeding by AI (artificial insemination) and get to see the babies grow, and it's gratifying."

Carla, 55, sees the stress her husband is under, though, and she worries that they won't retire soon enough to enjoy traveling together. Cornie, now 86, only just retired about six years ago. Fran died in 1988, and although he remarried and did a little traveling, he never fully enjoyed the so-called "golden years." Randy says he finally had to tell his dad he couldn't milk anymore. "He felt obligated," he said.

Both Carla and Garrett have second jobs, working for Oden Water, as part-time secretary and full-time water master, respectively.

Cornie, now suffering ill health, lives in the next house down, a newer manufactured home, while Randy and Carla live in the farmhouse built in 1960, replacing the original house. Garrett lives in their former home at the corner down by Selle Road.

Meantime, Randy is trying to save the historic barn built on cedar blocks in 1910; it used to house teams of horses used in logging camps. He and his son are jacking it up and building a concrete block foundation underneath, but they find little time to work on the project. They plan to remodel the milking parlor, too, into a double, six herringbone design that will allow Randy to milk alone.

Garrett hasn't decided whether he will continue to milk cows when his parents retire. He loves farming but doesn't especially enjoy milking cows. Mom says she makes him milk anyway because it "builds character." Garrett thinks he might turn the farm into a heifer breeding operation someday.

Dairy farming can be dangerous work. They've all been kicked, especially when they're breaking heifers to be milked for the first time. "It can get hairy sometimes," Randy said.

"Some will tear the whole stall down when you touch them," Carla added.

Randy describes a trick known as the "Texas strangle," holding the tail up over the head. Some heifers might take two months and "a few cuss words" to train. That's where crossbreeding with shorthorns might help. The method is getting popular in the United States, as purebreds are starting to have problems, Randy explains.

Each day starts at 4:30 a.m. with breakfast. Randy says they learned years ago to eat before they do the milking "because you never know what's going to happen." Starting at 5:30 a.m., he and Carla milk about 80 cows, and then clean the milking parlor and all its equipment. Randy fills plastic bottles with fresh milk so when Garrett arrives at about 8:30 a.m., he can go feed the young heifers, who live in PolyDomes – plastic huts shaped like an igloo – for their first two months. Meantime, Randy mixes ground corn, hay and supplements and feeds the cows. As Garrett heads to his full-time job, Randy continues with chores around the farm and works on remodeling the house.

He takes a midday break or perhaps takes care of business in town, which sometimes includes Co-op board meetings. After eating an early dinner, the whole milking process starts over at 4:30 p.m. About three hours later, the day is done – that is, unless something unexpected happens.

The milk truck arrives every other day to extract milk from the bulk tank. Coming from Dairygold's plant in Spokane, it first goes to Boundary County, where there are two dairies, then to Poelstras' and on to Elk, Wash. Poelstras' milk – about 68,000 pounds, or 1,200 gallons – fills half the truck.

Although regulations don't allow selling raw milk, Randy drinks it and enjoys the full-bodied taste. "I have a neighbor who comes and begs for a glass of milk," he said.

Having raw milk to drink may just be one thing that keeps this dairy farmer going. While it's tough work, and he rarely gets any time off, Randy said, "Ultimately, I like what I do."

"It's all he knows," Carla added.