Fewer families, less funds
Social changes challenge educational system
By Carrie Scozzaro

Education is more journey than destination, a job never completed, and that may be the only thing about education that will never change. Kids change. Communities change. Laws change. What hasn't changed are the challenges faced by educators as far back as 1886 when Sandpoint's first recorded school session was taught (according to a 1951 Sandpoint News-Bulletin). Back then the rugged, burgeoning community of Sandpoint faced funding issues, enrollment changes and conflicting priorities for who, how, what and where school should be taught.
Fast forward 100-plus years. Many issues still prevail, added to which is the three-way tug-of-war between local, state and federal entities. What does that mean for Sandpoint's communities in general and the educational landscape in particular? And why should we even care about education in Sandpoint, especially public education?
First, it is the "cornerstone of our democracy," according to Dick Cvitanich, superintendent of Lake Pend Oreille School District (LPOSD). Or, as the former United Nations Secretary-General Kofi Annan said: "Education is a human right with immense power to transform. On its foundation rest the cornerstones of freedom, democracy and sustainable human development ... the premise of progress, in every society, in every family."
Second, good public education makes good economic sense, ranging from the impact of a large, successfully run school district – staff and students live, shop, work and spend in the area – to attracting prospective home buyers. Statewide, public schools comprise more than 95 percent of overall pre-kindergarten through 12th grade enrollment, according to the Idaho State Department of Education. Last year, LPOSD reported a $37 million budget. The district is the largest public employer in Bonner County with more than 500 employees serving about 3,850 students, making it the 19th largest district in Idaho. With 2009 graduation rates at 85 percent, LPOSD high schools provide a ready workforce.
About 5.5 percent of those graduates attend North Idaho College in Coeur d'Alene. Locally, NIC's Ponderay Center is serving an increasing number of students, both recent high school graduates and other adults, with overall enrollment up 59.4 percent since moving to the Bonner Mall in 2006. Although people do care about public education, its shortcomings and struggles must be acknowledged. In Sandpoint, throughout Idaho and across the nation, public education is beset with challenges.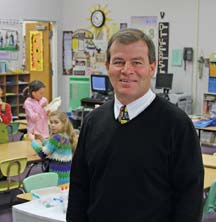 Lake Pend Oreille Schools Superintendent Dick Cvitanich: "We're in an enviable position compared to most school districts in the state of Idaho."
(PHOTO BY DAVID GUNTER)


Enrollment
Statewide, nearly half of all districts report declining or flat enrollment (Idaho State Department of Education). Although Bonner County's population growth from 1997 to 2007 increased 17 percent (Idaho Department of Labor) – 6 percent more than the national average – school enrollment is down. This may be due to a number of factors.
Escalating housing prices force families to either rent, move farther away or leave altogether, while a shift from higher-paying jobs to service industries exacerbates the problem.
Further, with a lack of viable jobs, young people may not remain in the area post-graduation nor return after completing college or other post-secondary training; thus, when they're raising their own families, they're doing it elsewhere.
Because enrollment drives public school funding, the impact of rapidly rising housing costs and the changing demographic of residents can profoundly affect education. The median price of a home in Bonner County was $250,000 in 2008 versus $146,000 in 2002.
"I think we've been slow to react to the demand for affordable housing, and it does affect our ability to attract teachers as well as people who want to work, live and raise children in our small town," said Alan Millar, principal of Sandpoint Charter School and a Bonner Community Housing Agency board member.
The projected population figures for 2010 predict that the youngest generation, age 15 and under, is shrinking, while the age segments of 45 to 64 and 65 and over are seeing the most growth. The generations in between, ages 15 to 44, remain relatively flat. With fewer families and working-class residents, and more retirees and "amenity migrants" populating Bonner County, the school-age population is guaranteed to continue declining.
"A challenge unique to Sandpoint and other resort communities," said Mindy Cameron, LPOSD School Board trustee since 2004, "is the growing gap between haves and have-nots." She notes that "Sandpoint has an uphill road to get the necessary votes (to pass levies) because many residents are retirees who have little direct interest in funding schools."
Cvitanich added, "I am concerned about the affordability of homes for young families. As the housing costs have gone up, it's become more difficult for families to move into our community. With the price of homes, it does seem to have become more of a community for those with the means."
The perception that levies raise taxes (although the most recent levy did not) is what Cvitanich sees as a greater factor in who votes yes or no. "I do not," he said, "think this is related to income level."

Funding
There's also the perception (sometimes warranted) that if districts managed their money better, levies would not be needed. In 1999, for example, the failure to pass levies contributed to a contentious split of Bonner County School District into West Bonner County and LPOSD. Yet public education increasingly relies on voter-approved levies, especially since 2007 state legislation removed property taxes as a source of stable funding for education. Levy money bridges the gap for healthcare benefits, equitable teacher salaries, transportation, technology upgrades, extracurricular programs, utilities, even classroom supplies.
To help bridge the gap, organizations like Panhandle Alliance for Education (PAFE) have galvanized businesses and citizens alike. Cofounded by Cameron and Bill Berg in 2001, PAFE has since awarded $608,000 in district grants.
Similar efforts by Citizens for Better Schools helped swing voters toward approving in February a critical, two-year supplemental levy for $10.95 million. "I get up every day thinking I am the luckiest person in the world to be able to do a job I love in a community that cares about their children," said Cvitanich. "We're in an enviable position compared to most school districts in the state of Idaho in that our board and community continue to have great opportunities during this economic downturn."
Unfortunately, decreased enrollment, when combined with increased expenses – food, gas, supplies, labor, even snow removal – and decreased revenues will still necessitate cuts (on top of 60 positions lost in the last three years), as well as scaling back programs. The Upper Quartile Program, for example, has been reduced from seven teachers to four, and elementary counseling will cease to exist.
Against national averages, Idaho ranks 47th in per pupil spending, 6th highest in class sizes and 41st lowest in teacher pay. This last fact forces most Idaho districts to get creative when attracting and retaining teachers, especially when neighboring states – and other professions requiring comparable education and experience – pay significantly more.
Since salary usually accounts for close to 80 percent of district expenses, what the district receives from the state is critical. The state itself gets federal dollars with lots of strings attached, assorted monies like lottery and tobacco, and revenues, which have declined in Idaho as throughout the nation. For fiscal year 2010, that's forcing significant cuts, including legislation that allows districts to declare a fiscal emergency and freeze/cut employee pay.
Sen. Shawn Keough, R-Sandpoint, who serves on the Joint Finance and Appropriations Committee, said, "Idaho is using the federal stimulus money and our so-called rainy day money in this school year to make sure that K-12 schools will finish the school year without cuts." Those same funds will be used in the 2009-10 school year, and the small amount left after that is earmarked for 2011. "This three-year action has been taken to cushion K-12 in this historic economic downturn and anticipates that for much of Idaho this recession will last well into 2010 and very possibly 2011," Keough added.

Alternatives
Like a sparrow in the storm, Sandpoint Charter School is nonetheless forging ahead with plans to build a high school to initially accommodate grades 9 and 10, the construction of which will be funded through loans. Two hours longer than the current middle school day, the new high school program will still "emphasize small class sizes, an advocacy/mentor program for each student and a rigorous, project-based academics and behavioral standard," said Principal Millar.
Often mistaken for a private school – they require uniforms and tend towards cooperative, project-based instruction – charter schools are actually publicly funded, semi-autonomous and governed by a separate board. Opened in 2001 with enrollment that continues to increase, Sandpoint Charter receives state funding, limited federal dollars and some grants; it does not have access to levies but partners with LPOSD to pay for busing and dual enrollment.
Public reaction to charter schools is mixed. In a recent Coeur d'Alene Press editorial, former Superintendent of Instruction Marilyn Howard says they slice "the monetary pie even thinner." Her successor, Tom Luna, disagrees and would like to see current limits on new charter schools removed, a sentiment recently echoed by President Barack Obama.
Charters include virtual academies, which are the fastest-growing public schools in Idaho and nationwide. This segment of education is a $50 million business expanding 30 percent annually, according to the International Association for K-12 Online Learning (iNACOL). As of 2007, there were 173 virtual charter schools spread throughout 18 states serving more than 90,000 students, with 44 states overall having or developing online programs.
Locally, said Millar, his research showed 289 addresses in Bonner and Boundary counties for a single virtual academy for 9th and 10th grade students. Such academies may make homeschooling increasingly attractive, further drawing down public school enrollment. Clearly, families want choices. "We've got to get away from the notion that one size fits all," said Millar.
That philosophy also permeates Lake Pend Oreille Alternative High School, an LPOSD facility that serves about 130 students, grades 7-12, considered to be "at-risk" of not completing their education.
One of the challenges the alternative school faces is misconceptions, said teacher Randy Wilhelm. "We are not a school of 'bad kids,' " he said, but rather "some of the brightest and nicest students in the district. If anything, our students have had more obstacles and barriers to overcome at a young age than a lot of adults encounter in a lifetime."
"Our greatest challenges will be to continue to do more with less in this current economic climate, be willing to do more for ourselves (pass levies), be individually involved ... and have a system which can be flexible and meet the educational needs of our students."
– Sen. Shawn Keough
Those obstacles include non-traditional learning styles, especially kinesthetic learners; addiction issues; physical, emotional or sexual abuse; excessive absences and/or lost credits; and teenage pregnancy. And, with teenage pregnancy, domestic violence and other issues affecting student learning on the rise, LPOSD – as with other districts – may need to expand its alternative school as an increasing number of kids suffer the peripheral issues affecting their parents. Others, including those old enough to work or beyond compulsory education requirements, may opt to drop out altogether in order to support the family and/or themselves.
Similar to charter schools, alternative schools affect attendance and, ultimately, overall district funding at "mainstream schools" because they are funded using different formulas than, say, Sandpoint High School. A greater impact, however, is caused by private schools and, to a lesser extent, homeschooling.
Homeschooling has deep roots in Idaho, which historically supports vouchers as recently as March 2009 when U.S. Sen. Jim Risch, R-Idaho, voted to extend a controversial, publicly funded voucher program. While some public school advocates denounce homeschooling, it occupies only a small segment of the population. More important is that they have the legal right to "dual-enroll" in any LPOSD program, including extracurricular, something Cvitanich said he welcomes although their inclusion is likely underfunded.
Formed by parents, educators and, in some instances, religious organizations, private schools have advantages and disadvantages depending on which side of the desk you're sitting. While they don't receive state funding, neither are they required to provide such things as special education services, busing or meals. Tuition is supplemented by community grants, fund-raising and volunteers. At Sandpoint Waldorf School, for example, pre-school starts at $1,600 per school term (two days/week) to $4,650 per term for grades 2 through 8, and parents participate to help lower costs.

Future
Interestingly, in a downward economy, more parents may send their children to public school, which may alleviate enrollment decline. Yet, if that happens, LPOSD may find itself scrambling to handle the influx, having based their budget and staffing on existing numbers.
Unfortunately, public school funding throughout Idaho is in jeopardy with the governor, state superintendent of instruction and legislators grappling with the trickle-down effect of the economic woes.
Sen. Keough said, "This year, with 50,000 Idahoans out of work, with an unemployment fund going broke, with having to cut $451 million out of the state budget and with K-12 taking almost half of our general fund budget, we have had no choice but to cut all budgets." Compared to other state agencies cut at an average of 12 percent, public education was cut around 7 percent. She added, "While these cuts will be difficult for some districts, Idaho schools are in better shape than schools in Washington, Oregon and California, where cuts are in the double digits and thousands of teachers are losing their jobs."
As of press time, the Idaho Legislature and governor had not yet formally agreed on the proposed cuts.
One thing is for sure. Come September, kids will return to school from Sagle to Sandpoint, from Clark Fork to Kootenai. While students will be welcomed with open arms, teachers may be paid less, classes may be more crowded and some programs may just not be there, yet Cvitanich remains optimistic. "Our teachers accomplish more with less than any place I have ever worked," he said.