Librarians Regina Mosher, left, and Mary Sindelar check books out at the East Bonner County Library, in 1966, in its second location above City Hall. Photos courtesy of Bonner County Historical Society Museum
100 years of grit and glory
Three local centennial celebrations
By Jennifer Lamont Leo
The year was 1910. William Howard Taft was president. The Boy Scouts of America lit their first campfires. Silent films were all the rage. Aviation was just getting off the ground. And here in northern Idaho, two towns and a public library were born.
If you had lived in northern Idaho then, you likely would have worked in the timber or railroad industry. Or maybe you would have operated a saloon or taught in classrooms bulging with new students as the population boomed. Or maybe you wrestled a living from the land on a stump farm.
Change was in the air. In 1910, you could catch up on your reading at Sandpoint's new public library. Then you could catch a shiny new streetcar to that bustling boomtown, Kootenai – maybe even dine at the hotel there. Later you might take a steamboat excursion to the south end of Lake Pend Oreille and the attractive waterfront town of Bayview.
What a difference a century makes! The steamboats and streetcars are gone, but Kootenai, Bayview and the East Bonner County Library District are all celebrating their centennials this year.
Kootenai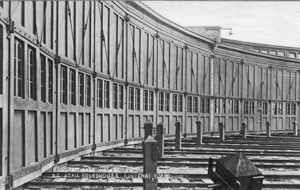 The Northern Pacific Railroad roundhouse in Kootenai,
circa 1915
In the early 1900s, a stretch of land northwest of Sandpoint drew the attention of both the Northern Pacific Railroad, which built a division point at the site, and the Humbird Lumber Company, which purchased a sawmill there. Around these two ventures a town sprang up: houses, a three-story hotel, bank, church, school, stores and the ubiquitous saloons. For a decade or so, Kootenai thrived, buoyed by timber, tracks and taverns.
You would never know it today. The church still stands. Some of the houses remain. The school is there, although it looks completely different. Everything else from the glory days is gone.
To mark the memory of Kootenai's boom years, the Bonner County Historical Society erected interpretive signs on the old railroad property, on the south side of Highway 200.
"Our history is rich, and our roots run deep in the timber and railroad industries," says Kootenai Mayor Maggie Mjelde. "Early on, two major fires, the Depression and the closure of the mills slowed our little town down. It took a while for Kootenai to bounce back."
That renaissance began in the late 1980s and 1990s, when local landowner and businessman Floyd McGhee envisioned the rebirth of Kootenai as an industrial center.
"Today our industrial/commercial areas employ almost as many people as we have living in Kootenai," Mjelde says.
Kootenai's centennial celebration will take place at City Park on July 24, including a Shriners' pancake breakfast and a barbecue lunch, a car show, music, games, and a historic walking tour and photo display.
Bayview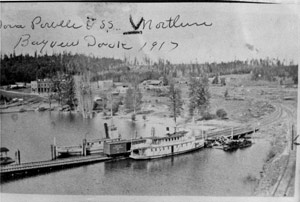 The Dora Powell, left, and the Northern steamboats dock at Bayview in 1917
Bayview's story begins with a tiny settlement called Squaw Bay, formed on the shore of Lake Pend Oreille. In the 1860s a larger settlement, Pen d'Oreille City, was established by agents of the Oregon & Montana Transportation Company at nearby Buttonhook Bay. The advent of steamboat travel coincided with the gold rush, and Pen d'Oreille City became a connection point along the route between Walla Walla and White Bluffs to the mines in Montana and British Columbia. After the rush, traffic quieted down, and Pen d'Oreille City became a sleepier place. In the 1880s it was known as Steamboat Landing and continued to serve as a key connection point between the railroad, a stage route and steamboats.
Meanwhile, Squaw Bay's reputation grew as a summer resort, and by 1894 was known as "Bayview." The town of Bayview was officially platted in 1910 by the Prairie Development Company of Spokane and thrived as both a tourist destination and a launch for steamboats. Bayview was also known for its lime kilns, used to process limestone discovered at Lakeview in the 1880s and mined until the 1930s.
The area boomed during World War II with the establishment of Farragut Naval Training Station – the second-largest naval recruit training facility in the country. From 1942 to 1946, nearly 300,000 recruits and 850 German prisoners of war passed through its gates, as well as an army of civilian workers. Today much of the site is Farragut State Park. The U.S. Navy still maintains an acoustic research detachment at Bayview.
The Bayview Centennial Committee has events planned throughout the summer. A community-wide celebration is scheduled for May 29-30, including historic tours and a family barbecue with games and music. An ice cream social will take place at the Community Center on June 19, an Arts Festival on July 17, and a Centennial Finale on Sept. 5.
East Bonner County Library
In Sandpoint in 1910, it seemed easier to get a shot of whiskey than a good book. Edifying reading material, beyond the Bible and the local newspaper, was in short supply. Back in 1905 a few concerned citizens had sought to remedy this by opening a free, public reading room in downtown Sandpoint. A newspaper editorial of the day was effusive in its praise of this "first-class free reading room, where those who live in our city, as well as those who tarry but a few hours within our gates, can spend their time profitably as well as pleasantly." How long this first reading room lasted is not known, but the vision for a public library had been cast.
In 1910, committees from the Women's Club and the Commercial Club joined forces to organize a library, which initially occupied two upstairs rooms at 325 First Ave. (now the south half of Larson's Store). Within months, the library moved to the second floor of the newly built Sandpoint City Hall at Second Avenue and Main Street. In January 1969 it opened in what is still known by locals as "the old library building" – a former federal building at 419 N. Second Ave. This graceful 1927 building housed the library until 2000 when, plagued by shortage of space and chronic problems with the aging structure, it moved into the current facility at Division and Cedar.
To extend library services beyond Sandpoint to greater Bonner County, the East Bonner County Library District had been formed in 1974. After operating under two separate library boards, the Sandpoint Library became part of the district in 1984. The new Clark Fork Library joined the district in 1985.
From 400 books at its founding, the library's collection has grown to more than 120,000 books, plus films, CDs, games and online resources beyond the imagination of even the most visionary 1910 librarian. Wayne Gunter, director of the East Bonner County Library District, acknowledges that the strength of the library lies in the community.
The library is planning a float in Sandpoint's Independence Day parade, held July 3 this year, a special Abraham Lincoln display from July 23 to Aug. 20, and a centennial celebration on Sept. 19.
Whether you arrived here last century or last week, the heritage of the region belongs to us all. Come join the centennial celebrations!