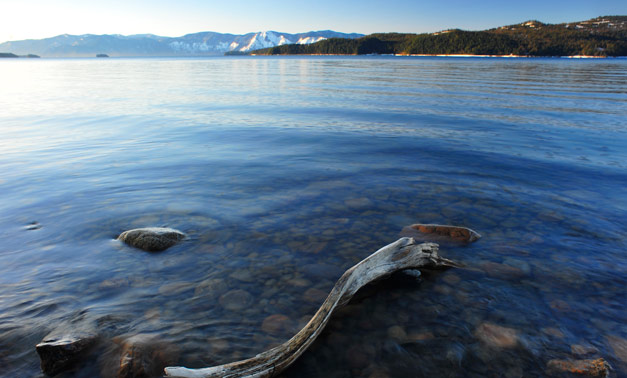 PHOTO BY MATHEW HALL
Loving the lake
Lake conservancy top priority among local groups
By Amie Wolf
On a recent spring hike along Mineral Ridge overlooking Garfield Bay, I was (once again) awestruck by the majestic beauty of Lake Pend Oreille. Watching the early morning sun reflect off the calm undulation of the water, I was filled with an unconditional, almost maternal love for the lake – a love that gave rise to protective feelings of care and concern for this long-revered part of our community. I'm not alone – love for the lake has motivated a growing number of area residents to devote countless hours and abundant amounts of energy to preserving and protecting Lake Pend Oreille. A whopping seven groups focus all or part of their work on lake conservancy. From nonprofit groups to state-funded commissions, these groups not only share a common goal, but a passion and dedication that is evident from the moment one inquires about their cause.
Formed in spring of 2009, Lake Pend Oreille Waterkeeper (LPOW) hasn't wasted any time in stepping up to protect the lake. LPOW's main priority is reducing wastewater, storm water and pesticide pollution through the monitoring of facilities and construction sites for discharge permits and compliance.
"We are working toward the time when every discharge of pollution into Lake Pend Oreille is regulated and in accordance with the law," says Executive Director Jennifer Ekstrom.
The group advocates for a comprehensive, ecologically based plan to control the lake's invasive weed problem in lieu of aquatic pesticides. LPOW not only monitors the lake via an on-the-water presence, but it also provides a pollution hotline (208-597-7188) for citizens to report any water quality concerns. President of the international Waterkeeper Alliance, Robert F. Kennedy Jr., will speak at a breakfast event in Sandpoint supporting LPOW May 21, the day after his Spokane appearance. To learn more, look up www.lakependoreillewaterkeeper.org.
A public service sponsored by the Bonner Soil and Water Conservation District, Lake*A*Syst's mission is to protect water quality in Bonner County through education and on-the-ground activities that prevent pollutants from entering the lake.
"These projects not only demonstrate to the public solutions they can incorporate on their own property, but they immediately solve a problem," says Molly McCahon, Lake*A*Syst coordinator.
Past projects include a mushroom-based storm water filtration system at Memorial Field's boat launch and installation of vegetative buffers at Memorial Park and Dover Public Park. This summer Lake*A*Syst will partner with other agencies on quagga mussel prevention by encouraging lakefront landowners to install monitoring devices on their docks. Lake*A*Syst provides free land use consultation to shoreline landowners in Bonner County and offers a free water quality guidebook for landowners and managers. Although the program does not seek members, McCahon encourages community involvement by making changes in land use practices that may have been adversely affecting water quality. Visit www.plrcd.org/lakeasyst to learn more.
Created by the Idaho Legislature in 2003 after community outcry and concern about the lake, the Pend Oreille Basin Commission (POBC) is a unique organization focused on monitoring, protecting and enhancing water quality and quantity of the Pend Oreille Basin, encompassing Lake Pend Oreille, Priest Lake and Upper Priest Lake, and portions of the Clark Fork and Pend Oreille rivers. POBC, or the "Lakes Commission," covers issues such as the lake level, aquatic invasive species, sustainable fishery management, aquifer protection and promotion of citizen activism through public events to name a few. The POBC welcomes the public to contact them with inquiries and holds quarterly public forums based on current issues, concerns and information. Run by a board of seven voting members originally handpicked by Gov. Dirk Kempthorne, the POBC puts the valuable information they collect to good use.
"The commission, when appropriate, makes recommendations to local, state and federal managers and entities to protect Pend Oreille to the highest extent possible," said Kate Wilson, POBC coordinator. For more information, visit www.lakescommission.com.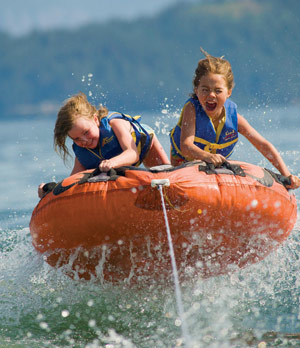 Children have enjoyed recreating in Lake Pend Oreille for centuries, and several groups are working to preserve it for generations to come
PHOTO BY DOUG Marshall
Protecting a 26,000-square mile watershed spanning across three states may be a daunting and impossible job, but the Tri-State Water Quality Council does just that. The nonprofit organization formed in 1993 to oversee the implementation of the Congress-recommended Clark Fork-Pend Oreille Basin Management Plan designed to protect and restore water quality from nutrient pollution in Idaho, Montana and Washington.
The council has focused recently on impacts specifically related to the area's growing population and residential development, including storm water runoff, improving municipal wastewater treatment, septic system impacts to drinking water and preventing the spread of aquatic invasive species.
Executive Director Diane Williams said, "By working on the 'big picture' of our massive 16 million-acre watershed, we can design and implement proactive, innovative solutions to water quality issues that have long lasting and far reaching positive impacts." To volunteer or make a donation, go to www.tristatecouncil.org.
The Clark Fork-Pend Oreille Conservancy (CFPOC) is a nonprofit land trust formed in 2003 to help landowners permanently preserve natural areas, forests, lakes, streams, farms, ranches, and wildlife and fish habitat in Bonner County and Sanders County, Montana. The CFPOC helps private, willing landowners obtain conservation easements, design preservation plans and get federal tax incentives. In regards to Lake Pend Oreille, the CFPOC aims to educate landowners along the lake, as well as the streams and rivers flowing into it, on the importance of conserving land from development.
Why? "Protecting these ecologically critical lands from development is essential to protecting the water quality of our lake, waterways and drinking water," said Nancy Dooley, CFPOC's assistant executive director. With a knowledgeable board of directors comprised of conservation experts, biologists, land use planners and real estate agents, it's no surprise the group is making headway. "To date we have permanently conserved over 1,000 acres of important wildlife habitat, farmland, and scenic and recreational open space," said Dooley. Visit www.cfpoconservancy.org to learn more about the CFPOC.
Primarily focused on stopping the development of the Rock Creek Mine in Montana's Cabinet Mountain Wilderness, the Rock Creek Alliance (RCA) works continuously to protect Lake Pend Oreille from perpetual pollution caused by mining upstream. Formed in 1997, RCA boasts approximately 800 members and has achieved two favorable court rulings that resulted in mining companies losing their permits to discharge waste into the Clark Fork River – major victories considering the river provides more than 90 percent of the water that enters Lake Pend Oreille. Their litigation has also prompted the Montana Supreme Court to conduct a review examining the environmental, social and economic impacts of mine pollution.
"Our role would be to ensure that Idaho citizens have a voice in the process and to make certain that the impacts to Lake Pend Oreille are adequately considered," said RCA co-founder and Executive Director Mary Costello.
Currently, RCA is poised to file an injunction to prevent Revett Minerals from breaking ground this spring. To become a member and learn more about their cause, go to www.rockcreekalliance.org.
Founded in 1973 to represent Idaho's voice for conservation, the Idaho Conservation League (ICL) has participated in every legislative session since. The statewide organization with about 9,000 members has made several accomplishments since its creation. They include the preservation of the 2.3 million-acre Frank Church Wilderness, assisting communities with growth and prosperity plans, guaranteeing enough water for recreation in Idaho's rivers and streams, and creating the Idaho Clean Lakes and Water Quality Anti-degradation acts.
"Locally we are active on the Bonner County Aquatic Invasive Species Task Force, where we've advocated for an integrated management approach to milfoil control to reduce the reliance on herbicides," said ICL North Idaho Associate Susan Drumheller.
The collaborative organization also participates in the Bonner County zoning code committee, negotiates on rules and regulations regarding septic systems and quagga mussel prevention, and fights to reduce nutrients in the lake's nearshore areas. For additional information, visit www.idahoconservation.org.
While seven groups devoted to one lake may seem like overkill, protecting and conserving the 43-mile long, 1,158-foot deep Lake Pend Oreille is no small feat.
"Each one of us is approaching this important issue from a different angle. It is a collaborative effort that effectively leads to the same result – a clean lake for present and future generations," said Lake*A*Syst's McCahon.
---
Lake Pend Oreille from A-Z


A resource for recreationists and conservationists alike
As the fifth-deepest lake in the country, Lake Pend Oreille now has an in-depth guidebook devoted to all aspects of the watery wonderland. Recently released by Keokee Books, "Legendary Lake Pend Oreille: Idaho's Wilderness of Water" is the most comprehensive resource available on the lake. Penned by environmental journalist and historian Jane Fritz, along with several contributing authors, the book contains 450 pages of activities, facts, photos, maps, lore and history.
With the numerous recreational opportunities covered in "Legendary Lake Pend Oreille," it may be hard to decide what to do first. Here are some of the top favorite activities of locals and visitors alike.
A multitude of great hikes surround the lake, but Mineral Point Trail merits mention. The well-maintained trail boasts amazing views of the lake and the Green Monarchs. At one end of the trail, hikers can recreate at pristine Green Bay; and at the other end, they can watch wildlife at Lost Lake. This family-fun hike is suitable for mountain biking and horseback riding as well. The Mickinnick Trail, located north of Sandpoint on a ridge between Syringa Creek and Little Sand Creek, is also popular with hikers. The difficult trail offers abundant viewpoints of the lake and surrounding areas.
For a quick dip or to spend the day by the water, Sandpoint's City Beach is the most popular swimming spot on the lake. South of the Long Bridge, Springy Point is another great spot to swim and camp.
For motorized boating, plenty of public access points exist, as well as chartered trips with Lake Pend Oreille Cruises and boat rentals from many marinas and resorts around the lake. The town of Hope is a great place to start, with four islands to explore and everything needed for a boating adventure. Johnson Creek Access Area just outside of Clark Fork is a spectacular place for those traveling by canoe or kayak. Paddlers can easily access the islands and channels of the Clark Fork River Delta in this no-wake zone.
Located south of Sandpoint off Highway 54, Farragut State Park is the lake's activity mecca. Biking, hiking and horseback riding trails abound in the park's 4,000 acres of forests, meadows and lakeshore. The former naval base has a visitor center, museum, campgrounds, cabin rentals and picnic areas and is open year-round.
"Legendary Lake Pend Oreille: Idaho's Wilderness of Water" retails for $24 and can be purchased online at SandpointOnline.com's General Store or at local area bookstores and other retailers. To learn more, visit www.keokeebooks.com.
–Amie Wolf