Sandpoint's flourishing equestrian scene Story by Marianne Love
Photos by Marie-Dominique Verdier
Northern Idaho contains a vast network of scenic trails, teaching and training centers, fairgrounds facilities, boarding operations and a whole lot of enthusiastic horse lovers. Recreational possibilities for equestrians are, quite simply, unlimited.
It's no coincidence that a recent issue of American Cowboy magazine ranked Sandpoint among 20 of the "greatest places to live in the West." The writer pointed out: "History, the great outdoors, and the unparalleled natural beauty of northern Idaho converge here. … The art scene and antique shopping are vibrant, and there's no lack of skiing, hiking, and horseback riding."
Lynn Wells, an active backcountry trail rider and associate broker at Evergreen Realty, says 25 percent of her inquiries mention horse facilities. They're either retirees planning for a few saddle horses or parents hoping to get their kids out of the city and involved, Wells says.
Opportunities here for horse lovers truly abound. Take typical summer days, for example. Barbara Tibbs and Roxane Conrad give horsemanship/riding lessons and train horses at their well-equipped Selle Valley ranches. Gail Redinger, also in the Selle Valley, and Cocolalla's Marian O'Conner coach dressage riders. At Hooten's Hollow, north of Bonners Ferry, Marv Lagerwey puts on reining clinics.
Bonner and Boundary counties have active, successful 4-H horse programs and numerous other clubs. Pony Club members, for example, can gather at Marcy Neher's indoor arena.
Trail riders can set off on scenic rides, and those without their own mounts can take to the trails with Matt Smart's Mountain Horse Adventures at Schweitzer. Over at Gold Creek's Western Pleasure Guest Ranch, seasoned wranglers guide visitors down the Cowboy Trail to beautiful Grouse Falls, as well as taking them on horse-drawn wagon rides and, in winter, sleigh rides.
Every Tuesday evening June through August, the Bonner County Fairgrounds is alive with fast-paced North West Barrel Racing Association competition. The facility also hosts numerous open horse shows, a horse expo, a PRCA rodeo, a weeklong horse camp and the annual Idaho State Draft Horse & Mule International.
Local horse fanatics also spend days with their horses, grooming and training for competition, both home and away. Experts in various disciplines often visit the area, providing clinics or private lessons to enhance skills in riding styles, judging, training, etc.
More and more horse facilities continue to spring up – many with indoor arenas allowing year-round riding activities.
Best of all, northern Idaho offers an invaluable bonus universally appreciated regardless of age, expertise, professions or interests: a magnificent landscape.
Horse ownership requires a substantial financial and personal commitment. In the minds of most horse lovers, though, the rewards and the emotional attachments to their horses far outweigh the investments. This prevailing passion is evidenced by the reflections of six residents, introduced here, as part of this series on the immense amount of equine activities and opportunities in Greater Sandpoint.
---
Equestrians vie in varied arenas
When an animal can shift into several gears including reverse, turn 360s, dance, pull, scale high mountains, maneuver through tight spots, pack heavy objects, jump, race, and even walk on water, there's great potential.
Many area horse owners and their mounts have used that potential to excel in local, regional, national and even world competition.
Locally, 4-H members have won state horsemanship awards, taken national first-place trophy saddles as judges and consistently cleaned up while performing at district shows.
For more than 60 years, open horse shows have provided generations of riders opportunities to compete for ribbons and prizes while learning lifetime skills. See www.co.bonner.id.us/fairgrounds/fairgrounds-events.html.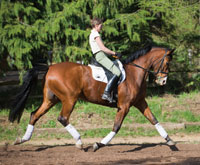 Dressage instructor and competitor Gail Redinger (photo by Doug Marshall)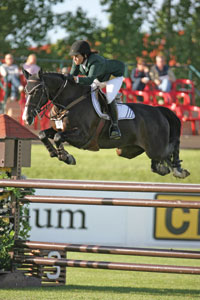 Jennifer Crooks and SF Sadin compete in the international ring at Spruce Meadows, Calgary, Alberta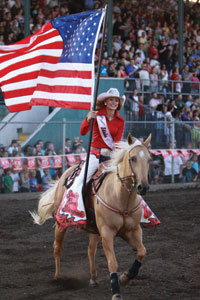 Freya Ford as Miss Rodeo Idaho
"My children had a good time learning about horses … responsibility and gracious winning and losing in competition," says Spots of Fun Show organizer Moreen Leen. "Now, they have passed the passion on to some of the grandchildren."
Other competitive equine events – some new to the area – are gaining popularity, such as extreme trail riding and reining.
Bonners Ferry trainer, clinician and competitor Marv Lagerwey and his wife, Tish, have won more than a dozen silver belt buckles aboard their MT Pockets Ranch quarter horses (www.mtpocketsranch.biz) at Northwest and Canadian reining competitions.
"You can win a lot of money – into the millions – with a good reining horse," Lagerwey says. "We aren't hell-bent to make money … we're more into it because we like to play." Lagerwey trains and teaches at Hooten's Hollow north of Bonners Ferry. Owner Maureen Palmer-Hooten has taken up the sport that requires stock horses to perform maneuvers while following a prescribed pattern.
"It's a wonderful partnership between a horse and a rider," Palmer-Hooten says.
The same is true for dressage. Horses can work their way through skill levels while demonstrating their ability at several gaits and transitions within dressage rings. Longtime instructor/competitor Gail Redinger (www.redingerdressage.com) of the Selle Valley has won numerous regional medals herself, including last year's Northwest Intermediate I Freestyle championship.
"Several words are important in dressage: relaxation, obedience, patience and expectation," Redinger says. "Through a time-honored process for their development, the horses' movements, under their riders, become quite sophisticated and very beautiful."
New area residents Mike and Jennifer Crooks have taken their Stella Farm (www.stellafarm.evergreenequestrian center.com) show jumpers to the highest level. Dual citizenship has allowed Jennifer to compete as a Grand Prix rider on the Irish Show Jumping team since 2005.
The Crooks average 15 to 18 weeks a year, competing with their own horses and those of clients at events in the United States, Canada and Europe.
Mike says 2011 will be a key qualifying year for Jennifer, who hopes to represent Ireland on the four-member 2012 Olympic Show Jumping team.
Samantha Jo Carter typifies competitors who have grown up competing in North West Barrel Racing Association-sanctioned barrel racing at the Bonner County Fairgrounds. Riding her AQHA mare Nifty Drifty Chex aka Beaner during the summer sessions, she has earned the right to compete at Nationals in Gillette, Wyo., for the past two years, calling it "an incredible experience."
Sandpoint's Freya Ford has enjoyed an incredible run in rodeo queen competition. In addition to Bonner County Rodeo Queen in 2006, Freya reigned over the 2007 Pro West Rodeo in Omak, Wash. Her neighbors, Alexcia and Leigh Livingstone also reigned over Pro West Finals in 2006 and 2008, respectively.
In 2009, Ford, a Washington State University graduate, represented the state as Miss Rodeo Idaho and finished as runner-up in the Miss Rodeo America pageant at the National Finals Rodeo in Las Vegas.
When snow flies this winter, yet another equine competition will hit the local scene. Called skijoring, it involves a horse, a rider, a rope and a skier.
Stay tuned. Sandpoint Magazine's winter edition will feature former elephant trainer Matt Smart of Mountain Horse Adventures who plans to introduce the age-old sport during next year's Sandpoint Winter Carnival.
For now, enjoy the summer and plan to take in some horsing around.
–Marianne Love
---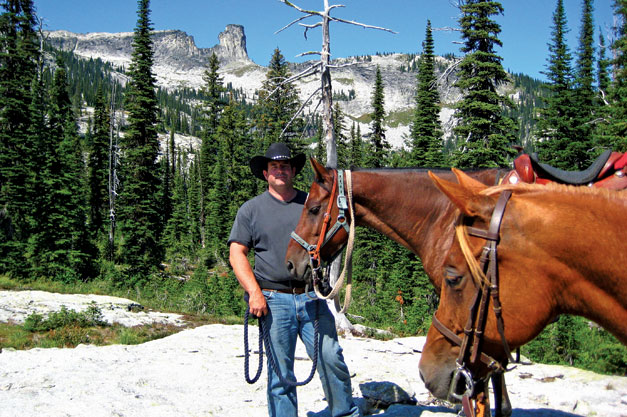 Mark Plaster on Chimney Rock Trail 256 (PHOTO BY BILLIE JEAN PLASTER)
Riding the Trails
By Billie Jean Plaster
Three-quarters of the way to Divide Lake, we stopped for a short trail break and gazed west at Boulder Mountain. Aptly named, Boulder Mountain is mostly rock and almost devoid of trees. That's why it was easy to see the large, hulking body of a black bear bounding across the mountainside. This is just one vivid memory from our four seasons of backcountry trail riding in northern Idaho.
In our first season we rode into one of the most beautiful spots in the Selkirk Mountains, Fault Lake. We tied our horses in a meadow below the last ascent and walked on foot to the lake. Dotting the precipitous, gray cliffs above the lake were the unmistakable white bodies of mountain goats. Glacier lilies were in full bloom this last Saturday in July, and I marveled at their spiciness the first time I tasted them.
After hiking, picnicking and fishing at this alpine beauty, we started the seven-mile descent back to the trailhead. Shortly thereafter, a coyote appeared and followed us like the family dog for the first mile or so. The horses were not alarmed as he padded alongside them.
On other rides, we may only hear the shuffling of hoofs, the crashing of brush or the blowing of nostrils from nearby wildlife. Rarely do we see fellow bipeds.
In the few short years that we've been trail riding, I've become convinced that we could spend a lifetime exploring just the two northern counties of Idaho and never get bored. Each summer we test out more trails. Last summer it was Green Monarch Divide, Peewee Creek, Boulder Meadows and Chimney Rock. Two summers ago it was Ruby Ridge and Sidehill in the Purcell Mountains around Moyie River. Three summers ago it was up Grouse Creek on Wiley Knob, Strawberry Mountain and Hemlock trails. We also ventured onto popular trails around Lake Pend Oreille, Mineral Point, Gold Hill and Maiden Creek, where we did cross paths with hikers and mountain bikers, even boaters at Maiden Rock. And then there was camping at Lunch Peak Lookout and riding Pend Oreille Divide and down to Lake Darling in our first season.
Trail riding is more than a preferred form of summer recreation. It's a lifestyle that becomes a year-round passion for everything equine. Horses and the backcountry get into your blood and leave you yearning for those overpowering sensations – the rich smell of the woods, scenic vistas opening up and the thrill of reaching the top. When horseflesh is under saddle, the cares of the world truly fall away.
And the backcountry is a whole different world, one with massive chunks of granite, talus slopes, alpine lakes, lush creek bottoms, remains of long-lost lookout towers, great big trees and gnarled gray snags. Huckleberries lining the trails tease riders out of their saddles. And the screech of hawks riding a thermal draws up primordial joy. There is no finer place, in my humble opinion, to spend a summer or fall day than the backcountry. Once you go there on a horse, you're hooked and it's a good addiction.
Bonner and Boundary counties have hundreds of miles of trails. Check with local ranger districts for the latest trail conditions: Sandpoint, 263-5111; Bonners Ferry, 267-5561; and Priest Lake, 443-2512. Farragut State Park's equestrian facilities are renowned; call 683-2425 or look up parksandrecreation.idaho.gov. Following are three great Bonner County trails:
1. Ginter WMA
For a leisurely ride along the Pack River, try this new trail in the Ginter Wildlife Management Area between Ginter and Trout Creek roads. From the trailhead just off Rapid Lightning Road, the trail goes through a forest and then reaches the river where there's an old homestead. Beyond that, it crosses Trout Creek and goes through another meadow before reaching the other trailhead. Estimated time: 3 hours roundtrip.
2. Peewee Creek
In the Priest River valley off Peninsula Road, the well-manicured Trail 178 network climbs above the river valley for some beautiful views and meanders through the woods. Riders will encounter at least four bridges. At the trailhead, you'll find water for horses, campsites, vault toilets, a central fire pit and large, open spots for parking. Recommended for moderate to experienced riders with shod horses. Estimated time: 1-5 hours.
3: Wylie Knob
Found on Grouse Creek Road, Trail 483 leads to scenic Wylie Knob and beyond to Grouse Mountain. A gentle climb through the woods turns steeper and more rocky closer to the top. The trail has a couple of small bridges, a creek crossing and some boggy spots. Recommended for moderate to experienced riders with shod horses. Estimated time: 3-5 hours. Other great trails here: Strawberry Mountain No. 355 and Hemlock No. 488.
---
Greg Hargadon, farrier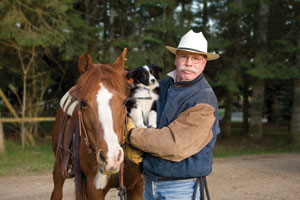 A longtime horseshoer, Hargadon, 59, moved to the West from Philadelphia in the 1970s. He started out as a logger, but after trying his hand as a farrier, he never looked back. Hargadon offers hot shoeing (applying heat to the shoe and molding it for accurate fitting). He also provides his clients with sage advice about hoof care, along with a lot of friendly conversation.
"I've been working around and shoeing horses for 35 years. I have four horses of my own, three in their 20s and one a yearling.
My satisfaction comes from a combination of things: driving around the county, looking at the countryside, most of the people, the kids, the pets, and, of course, the horses.
This job is mental, physical and emotional, like watching a horse I've been trimming and shoeing for 27 years be put down. It was sad to see, but at 34, she was not doing well and was ready to go.
I've been very fortunate to have worked with the best (farriers) in the business like John Fuller, Tom Selberg, Tom Wolfe, Bill Miller, Bob Marshall and many more in the Pacific Northwest.
I'm always learning. You just can't know it all."
Marcy Neher, Eventer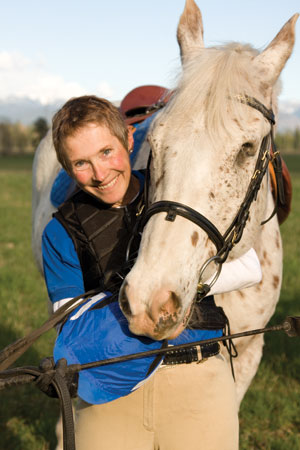 A retired Sandpoint High School drama/English teacher, Neher is an eventer in the triathlon of the equine sports – dressage, show jumping and cross-country jumping. A southern Idaho native and a longtime Appaloosa owner, Neher, 61, always finds a way to work with young people. She now advises neighborhood youngsters on basic horsemanship through Pony Club. She and her husband, Dr. Rich Neher, a well-known local surgeon, own a horse farm, including an indoor arena, on Gooby Road northwest of Sandpoint. They have lived here for 29 years.
"My daughters were all involved in the United States Pony Club. They had so much fun eventing that I wanted to do it, too!
Cactus, my first horse, was truly ugly … an infinitely kind and ancient Appy gelding (and) safe transport for a girl, crazy in love with horses. From the moment I awoke until I was dragged off to bed, I'd ride him through the sagebrush country, bareback, with a sandwich shmooshed in my pocket.
My event horse, Exploding Poptart, and I had perfect rides at Rebecca Farm Horse Trials a year ago, especially cross-country. I loved splashing through the water jump and sailing the last steeplechase style jump on course. Heavenly! It is the best feeling to have a wonderful animal who gives you everything he has, just for sheer joy!
Horse ownership has given me divine moments. I helped our first homebred foal emerge during a difficult birth. It has also given me great heartache. I had to lead my best friend to have his eye removed, knowing we would never get to jump together again."
Leonard Wood, Rancher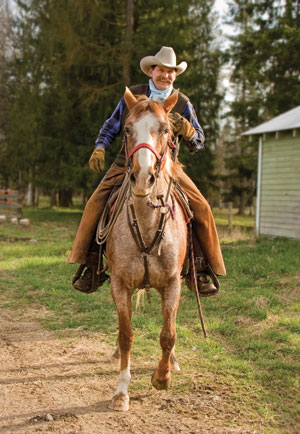 Co-owner/full-time operator of Wood V Bar X Ranch, home of purebred and commercial red Angus cattle, Wood has 47 years of horse involvement. His family's legacy in Bonner County dates to the early 1940s when his grandparents left Colorado and settled in Gold Creek. From that spot, where his sister and brother-in-law now run Western Pleasure Guest Ranch, the family holdings have spread to the Selle Valley north of Sandpoint. Family members raise cattle and crops, run an asphalt company and a meat-packing plant. Wood, 53, and his wife, Naomi, specialize in cattle.
"When I began to ride solo, Patchy, a Shetland pony, was my mount. I was about 10.
Every horse experience has been memorable, from the early 4-H trail rides to Boulder Creek, the horse shows at the old fairgrounds, riding in the 4th of July parade to countless days spent checking cattle on Gold Creek and local cattle drives ... the gratifying experience of breaking a new colt and watching them learn and grow into a trustworthy companion with all the heart and soul imaginable in an animal willing to give their all ... the heavenly release from pressure and complications as you ride into the mountains with nothing but you and your horses as companions as you embark on yet another adventure.
Probably my favorite place to ride is in the Frank Church River of No Return Wilderness. The Frank is special to me because of its vastness and openness that enables you to ride somewhat unobstructed for great distances. You can usually ride for days and never see another soul."
Myra Lewis, retired guest rancher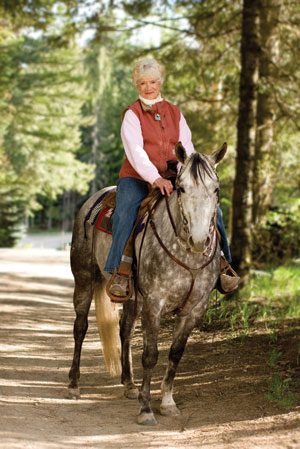 Myra and her husband, Byron, moved here from Aspen, Colo., in the 1970s and developed the Diamond T Guest Ranch along the Clark Fork River east of Clark Fork. They later sold the business, moved across the road and built another beautiful horse facility and home. Both are retired educators and involved Clark Fork community members. Myra, now 74, taught business courses at Sandpoint High School; she also coached school athletic teams.
"My mom carried me on a horse before I was born. As a baby, I rode in the saddle in front of my mom when she rode for the cows.
My first horse was a beautiful quarter horse mare named Cindy. My folks acquired her for me when I was about 13 for 4-H. I still had her when I got married.
I love riding trails with timber and views. Just out my back door I find water to cross, enormous old timber and views of the Cabinets.
I am blessed to have a husband that helped me keep my horses no matter where we lived, so I have had beautiful country homes, with horses at my door steps. Horses have also been a contribution to some of my occupations.
My mom was a horse lady. Now my three daughters own, ride and show horses as do my two granddaughters. A great-granddaughter is in training!"
Cherise Neu, veterinarian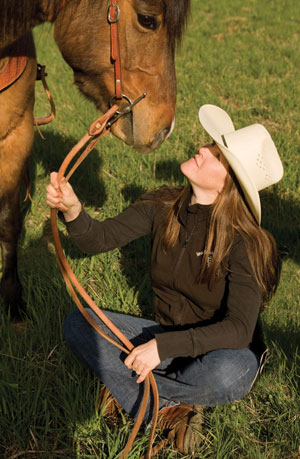 Neu, 36, has longtime roots in the area. Her grandfather, Sam Wormington, worked as the first manager of Schweitzer Mountain Resort. Horses have played an important role in her family for generations. Cherise and her husband Eron Singleton have two children who will, no doubt, continue the horse legacy.
"We (Neu Equine Services) serve approximately 1,000 clients, each averaging two to six horses. We make 1,200 ranch calls per year.
I love being close to horses. I love their smell. I believe horses communicate clearly if you pay attention to their body language. On the down side, there's always the risk of being injured or having non-horse people say you smell at the end of the day!
Before purchasing a horse, I suggest a pre-purchase exam. Unfortunately I've seen too many cases of vast age discrepancies, undiagnosed lameness issues, ophthalmic disease, heart problems, etc.
My favorite place to ride is up the Bull River Highway (56) north of Noxon, Mont. Trails in this area are rugged, quiet, beautiful, long and usually have a lot of water. It takes about one hour or more to get to the Dry Creek trailhead (No. 1020). Dry Creek connects to Star Gulch (No. 1016), Napoleon Gulch (No. 1035), Pillick Ridge (No. 1036) and Star Peak Lookout. St. Paul Lake (No. 646) off of road 407 is also a nice Bull River area trail. Most of these trails are not for the faint of heart.
My favorite horse, EC, was named after my much-loved grandmother, Elsa Catherine Wormington. He's a big, husky 14-year-old palomino gelding … my equine soulmate. He specifically seeks me out and seems to truly enjoy being around me and vice versa."
Bill Berg, Attorney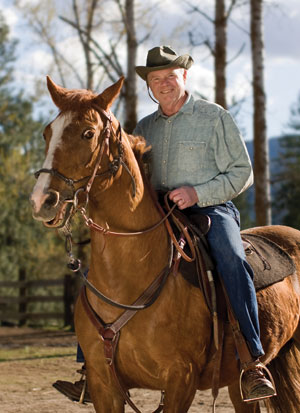 Bill Berg, a Sandpoint attorney, and his wife, Mindy Cameron, moved here from Seattle in 2001. They're the masterminds behind Panhandle Alliance for Education. The organization generates and awards thousands of dollars to local educators each year. The couple also enjoys the farm life at their home near Gamlin Lake. Bill, a 65-year-old Los Angeles native, is a first-time horse owner and loving it.
"My 14-year-old Morgan mare, Ramie, is my first horse. I've ridden horses all my life, starting at age 7 at the Calamigoes Star C Ranch in Malibu Canyon, Calif., a day camp for kids.
My dad and I also did a lot of fishing in the high Sierras out of Bridgeport, Calif., where we'd horse pack in and then fish for a week. There's a big difference between mounting some bombproof old nag, saddled up by a weathered cowhand, and managing your own spirited equine.
After moving to my 25-acre spread at Gamlin Lake, I ached for my own horse. I got to know a neighbor named Edward Miller who breeds Morgans. He introduced me to Ramie. She's a sweetheart that expects her owner to have at least half the horse sense that she does. She's a boss mare, but, after a dozen lessons with Lexie De Fremery and learning a little something about ground work, I'm now the boss. Ramie has made me a better, more confident rider.
I like to ride on old skid trails between Sunrise Bay and Bottle Bay. There are some magnificent views across Lake Pend Oreille, back to the Clark Fork, up along the Purcell Trench, and across to Sandpoint. There's Forest Service land up at the top, but you have to be careful not to notice the "No Trespassing" signs, getting there. However, on the rare occasions when I've run across a landowner, I've been treated very kindly.
There's hardly anything better than coming home after a tough, frustrating day of work, purposely calming down so you can effectively work your horse, and then mounting up for a short, lonesome ride in the dwindling light. It's at that moment you really appreciate your choice to live in North Idaho."
---
The Bonner County Fairgrounds is a clearinghouse for equine activities. Horse shows begin in May and end in September. Barrel racing runs almost every Tuesday at 6:30 p.m. beginning in June and ending Aug. 25 at the Bonner County Fair. Also that night is a reining competition and a Rhythm Riders Vaulting Team demonstration. The 4-H Horse Camp June 21-25 ends with a drill team performance on the evening of its last day, at 7 p.m. Carter Country and the Co-op Country Store help sponsor numerous events at the fairgrounds, including one Carter sponsors, the Horse Owners' Workshop, held annually in March. To learn more about horse events at the fairgrounds, see calendar, page 19, or www.co.bonner.id.us/fairgrounds/fairgrounds-events.html.
Riders are invited to hit the trails for good causes: St. Jude's Ride, June 6, to benefit St. Jude Children's Research Hospital, sponsored by Western Pleasure Guest Ranch, 263-9066; and the Elizabeth O'Brien Memorial Cancer Ride at Kelso Lake (lunch catered by Litehouse!), Sept. 26, to benefit Community Cancer Services, contact Mary Miller, 263-4806. A weeklong event also benefiting cancer programs, The Week of the Cowgirl, July 3-7, features a poker ride, trail horse challenge, painting and fly-fishing clinics, Dutch oven cooking school and Juni Fisher concert; sponsored by Janene Grende, phone 263-6210.
HORSE CLUBS
About eight 4-H clubs involving 100 or so children offer the horse project in Bonner County. Leaders take youth on trail rides and teach jumping, equitation, horsemanship and more. To learn how to get involved, call Nancy Wright, the 4-H coordinator at Bonner County Extension, 263-8511.
As for other clubs, Sandpoint has a satellite of Coeur du Cheval, a U.S. Pony Club chapter based in Deer Park, Wash., that teaches horsemanship, teamwork and eventing. Local contact is Marcy Neher, 263-1696.
Back Country Horsemen of Idaho (www.bchi.org) has three chapters in Bonner and Boundary counties working on trail maintenance and advocacy as well as planning rides: North Idaho (east Bonner County), Debi Gullo, 290-2910; Priest River Valley (west Bonner County), Dale Schrempp, 448-1255; and Selkirk Valley (Boundary County), Bud Bailey, 263-0758. The North Idaho chapter is hosting a National Trails Day Ride, June 5; see calendar, page 19.
The North Idaho Appaloosa Club is a regional club affiliated with the international organization and has members in all the northern counties; the focus is on youth and promoting the Appaloosa horse. It's not a prerequisite to own an Appaloosa. Local contact is Moreen Leen, 265-7286.
The Inland Northwest Dressage Association (www.spokanedressage.org) is based in Spokane, Wash., and holds dressage schooling shows at regional riding facilities and sponsors local, national and international riding instructors at clinics. Local contact is Gail Redinger, 265-0280.
RIDING AND LEARNING OPPORTUNITIES
Several businesses offer guided experiences for those without their own mounts. Western Pleasure Guest Ranch plans trail, wagon and sleigh rides, plus horse camps at their fourth-generation ranch; phone 263-9066 or look up www.westernpleasureranch.com. Mountain Horse Adventures takes folks out on summer trail rides at Schweitzer Mountain; phone 263-8768 or the Schweitzer Mountain Activity Center at 255-3081, or look up www.mountain horseadventures.com. Guide Matt Smart also offers spring/fall rides at Sugar Mountain in the Cabinets. Stillwater Ranch in Sagle offers wagon and sleigh rides in a scenic country setting; 263-0077, www.stillwatershires.com.
Numerous facilities offer lessons, training, boarding, clinics and/or play days, including Carol Norton with Brad Beal at Gypo Meadows, 265-2593, www.gypomeadows.com; Gail Redinger at Redinger Dressage, 265-0280, www.redingerdressage.com; Barbara and Laurie Tibbs at Tibbs' Arabians, 265-4084; Play Day in Athol, www.playdayinathol.com; and Roxane Conrad at Shadowland Sport Horses, 946-1672.