Best-selling author and humorist may be Sandpoint's most famous native son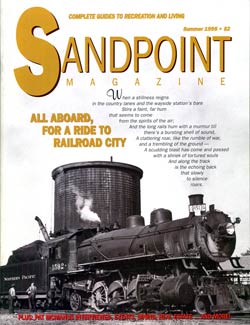 Reprinted from Sandpoint Magazine, Summer 1995.
By Billie Jean Plaster
The childhood experiences of a young boy growing up a half-century ago in Sandpoint have become the building blocks for one of the funniest writers in the country, Patrick McManus. With more than 3 million books in print, ranging from his first, A Fine and Pleasant Misery, to his latest and 11th book, How I Got This Way, McManus is often hailed as the nation's leading writer of outdoor humor.
Born in Sandpoint in 1933 and raised on the banks of Sand Creek, McManus speaks glowingly of a childhood that by today's standards would be seen as hard times. But even as a youngster, he was free to play outside all day while his mother taught school. At age 12 or so he and best friend Vern Shulze would go on camping trips into the mountains around town. Those adventures are the basis for many of his stories.
After graduating from Sandpoint High School in 1952, McManus went to college and then worked as a newspaper journalist. He returned to Washington State University to seek a master's degree, and ended up as a full professor at Eastern Washington University. His career as outdoor humorist was launched in 1968, when he sold a piece to Field & Stream magazine. He later became — and still is — an editor and columnist for Outdoor Life. With his writing career booming, he took early retirement from EWU in 1982.
The Sandpoint area is again home to McManus and his wife, Darlene, although they spent much of the last year traveling. Their itinerary included an author tour for the latest book and productions of McManus' one-man play in Wyoming.
A very funny man in print, McManus was more serious and introspective in person. He can talk philosophically on such topics as convergence theory, and waxes nostalgic about the past, when life was simpler and slower.
Q. When you were a kid, what did you want to be when you grew up?
A. Mostly I thought about being an artist. As I was growing up, I painted all the time — all through grade school, all through high school. I did a lot of drawing, and so my ambition up until my first year of the university was to be an artist.
Q. What was it like to grow up around Sandpoint in the '30s and '40s?
A. They were simple times, and everything seemed so well defined. We had a sense of continuity and community. I almost never think of the really hard times we had, and I suppose that's because I've written about them and transformed them into something else. I can remember the isolation of living out on a little farm and everything being extremely hard and miserable. But I don't tend to think of it that way, and I think it's because of the writing and transforming my early situation. Nobody really had a lot of money, but they seemed to have fairly good lives. They had little houses, and they had a radio. There was no television. Once in a while, somebody would buy a new car, but hardly ever. It was possible to live a very satisfactory life at that time even though you were fairly poor. That would not be the case today. Like everyone else, we had chickens and a cow and pigs. We raised our own food and went hunting and fishing. We got our water out of the creek with a bucket with a rope on it. Something has happened in our society, where in a sense almost everybody is poor now. I had a wonderful time as a child growing up. I was down by the creek all the time and had all this freedom, running around all these mountains. Vern and I took off one time and wandered around those mountains for a week. That's not a bad way to grow up.
Q. Did you think your first book, "A Fine and Pleasant Misery" would sell so well?
A. Oh, of course I expected "A Fine and Pleasant Misery" to be a runaway bestseller. Unfortunately, it wasn't. (Laughs) Though it did very well, actually, for that first year, because even in that first year the publisher made money on it, which is very unusual for a first book. In the meantime, I wrote a children's book called "Kid Camping," which was actually the second book. But the second collection that came out was "They Shoot Canoes, Don't They?" and right at the start it sold 12 or 15,000 copies, as I recall. At the same time, then it lifted "A Fine and Pleasant Misery" up, and then (it) started selling 50,000 copies. Typically now it sells around 30,000 copies, which is pretty good for a book that has been out now for nearly 20 years.
Q. Did you have any idea that you would eventually become America's foremost author of outdoor humor?
A. No. And especially, first of all, not humor and secondly, not outdoor humor. The outdoor humor thing is always kind of a problem in selling books and expanding the audience to a more general kind of audience. For a long time, the audience was primarily people who did hunt and fish. Now it is spread out and the audience is very general for the books — lots of kids now read the books — teenage girls for example that would not necessarily be interested in hunting and fishing. I think the appeal of the books is simply the humor.
Q. You've said that writing humor is harder now than when you first began in 1968. And you claim that humor is the most difficult form of writing.
A. Let me explain real briefly why humor is the most difficult form of writing. And that is because a very well-defined response it intended — and that is to make people laugh. You have no leeway. Either the people laugh or they don't. It's a very existential thing. And you don't ever really know what is going to make people laugh.
Q. Do you have to be self-disciplined?
A. I think it's probably more of a compulsion to write rather than discipline. I wouldn't say I'm self-disciplined at all, but I feel compelled to write. Sometimes when I'm writing, I can go for five, six or 10 hours without hardly even noticing that the time has gone by. ... Writing is probably the best occupation there is because you can live anywhere you want. You have a great deal of freedom, and you have a great deal of security that other people don't have because you can't be fired. You might be fired by one magazine, one publisher or something like that, but typically there are always other magazines, other people to write for.
Q. You've said that you resist the urge to win notice as a "serious" author. Why?
A. Oh, I wouldn't say that I resist the urge. I would love to win notice as a serious author. It's a little different in that you become part of the literary establishment if you write serious novels. In writing humor, it's a whole different kind of situation. Humor writers simply are not taken seriously. I'm not so sure that they shouldn't be. People respond to my stories with much more complex emotions than I would imagine, rather than simply laughing at a joke. People will come up at book signings and start telling me something, and then they'll burst out crying. I think there's something there — nostalgia, perhaps. There is something emotional going on with these readers that I certainly didn't intend in my stories.
Q. Your father died when you were only six years old. Did you have any male mentors that you looked up to as you were growing up?
A. Yes, lots of them. I think one of the most important was Paul Croy. He was a high school teacher, but summers he was out packing things into the mountains. At the same time he was extremely well educated. But he could go out and work with his hands, and he could build a log house himself, and then he wrote poetry. I've always thought of Paul Croy as a very good example of a complete person. There was a Catholic priest who I greatly admired. Others I didn't (laughs). Father Patrick Dooley was an enormously well-educated person, but also a person of the people. I think he set a great standard in Sandpoint. There were other people around: Vern's father, Frank Shulze, and Mr. Plumber, Vern's grandfather. We'd go out trapping with him through the woods. And, of course, Vern was a good friend of mine. He often shows up in the guise of Crazy Eddie Muldoon and sometimes as himself. He was kind of a bossy little kid. We had great adventures, and we had a very keen sense of adventure, which ultimately gave me lots of things to write about. Unfortunately, in recent years I haven't had very many adventures, but I plan on starting again.
Q. In your stories, you call your sister "Troll." What's your relationship with her today?
A. Good. We even did a book together ("Whatchagot Stew"). It's a cookbook. She did the recipes, and then I wrote the little essays to go along with it. Those recipes are deadly (laughs). I mean they're old family recipes, a lot of them, and they're loaded with butter and fat and so on. Just reading the book will give you serious heart problems. It was kind of a fun book to do.
Q. How have you dealt with success?
A. Well, it's not something I'm even very much aware of. I get letters from Africa and South America. We do get an awful lot of letters from children. I do try to get letters out to all these kids, and that's real time consuming. Technically, I'm not aware of any great success to speak of. I suppose that my only awareness of it is that I get to do what I want to do when I want to do it. And that's more what I would regard as success. There's always that little burst of something — elation or something — when you're off somewhere and someone recognizes you. To get that little bit of recognition is fun.
Q. Would you reveal your favorite local fishing holes?
A. That would be up on Sand Creek, though I haven't fished there for years, and up on Schweitzer Creek. Vern still fishes them, though.
Billie Jean Plaster is senior editor of Sandpoint Magazine, and has done some funny writing herself over the years.
---
Go to Sandpoint Magazine contents
Go to Sandpoint Online
---
COPYRIGHT by Keokee Co. Publishing, Inc., of Sandpoint, Idaho. Reprinted from the Winter 1996 edition of Sandpoint Magazine. Sandpoint Magazine is published twice a year, in Winter and Summer editions, by Keokee Co. Publishing, Inc. Call 1-800-880-3573 to subscribe.