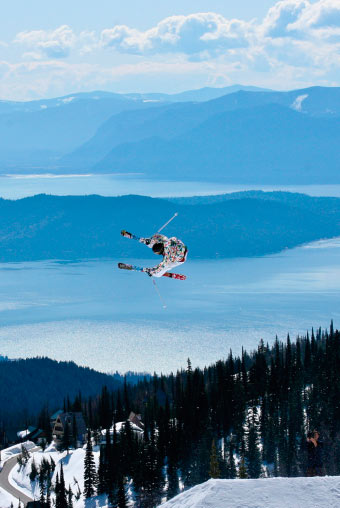 Extreme skier Sammy Carlson launches off a huge gap jump – at least 60 feet wide – at Schweitzer during the shooting of the new Poor Boyz Productions film, "Yeah Dude." Photo by Cory Murdock
Schweitzer: Taking a
giant leap

As Chair One is retired, Schweitzer debuts two
high-speed lifts
By Cate Huisman
Back when it was called Schweitzer Basin, Sandpoint's ski area was a locals' favorite because of its steep chutes, powder-filled bowls and glades for tree skiing. Then it grew into Schweitzer Mountain Resort and acquired high-speed lifts, a high-profile reputation and Idaho's only high-speed six-person chair, but its flaws became more evident: It had minimal options for advancing new skiers and riders, and ridgetop winds occasionally closed lift access to much of its best terrain. When it added two new lifts last summer, however, Schweitzer went a long way toward erasing those shortcomings. No wonder the readers of Skiing magazine have ranked it among the top 25 ski areas in North America this winter.

"One of our biggest weaknesses was the gap in terrain from Chair Two (the beginner hill) to the next step," said Schweitzer President and CEO Tom Chasse. New skiers and riders had two options as they worked to develop their skills: They could make the longish trek to the Great Escape Quad, from which there was no descent without at least a short segment of intermediate difficulty. Or, they could make the difficult climb to Chair One and ride it halfway to the top to reach the moderate slopes of Midway, but to get off they had to negotiate a legendary off-ramp that was far more challenging than any slopes they had yet encountered (see story, page 80).

"I've had students who saw that off-ramp and just wouldn't get off," said longtime ski instructor Beth Artner, who has watched her fledgling students continue on to the steep slopes above without her. Even those who did manage to escape were too terrified to remember how to turn and, hence, plowed into whatever or whoever was directly in the fall line below them. Often this was the body of a previous victim.

Of course, this wasn't even a question when high winds shut both lifts. Schweitzer regulars knew to check the ski report early, while they were still making coffee and rummaging through the dryer for their long johns. If the dreaded words "wind hold" or "possible delayed opening" appeared, they began to consider spending the day cleaning the attic.

Schweitzer invested $6 million last summer to ensure that the future holds more opportunities and fewer quandaries for mountain visitors. A high-speed detachable quad called the Basin Express now flies aspiring skiers and riders to Midway in four minutes, depositing them slightly above and to the north of Chair One's late but not lamented Midway unloading station. Users of the upper mountain have a new, faster lift as well: the Lakeview Triple, a fixed-grip chair that follows the upper portion of the route of the old lift.
Chasse is enthusiastic about the opportunities that the new lifts provide: "That beginner-to-intermediate level of family skier might come here once and say, this is a little bit too much for us. This new lower lift is going to give all of these people the opportunity to ski in a lot of low-angle terrain." To ensure a more comfortable transition from the beginner hill, the loading station has been moved down to village level. At the top of the new quad, "We blasted the knoll down quite a bit," said Bill Williamson, mountain operations director, to make for an easy exit from the chair and a comfortable descent back to the village.

The ride is also faster: Chair One was capable of carrying 660 people per hour to Midway in seven minutes and to the ridgetop in 11 minutes. In contrast, the detachable chairs of the Basin Express can take three times as many people per hour (2,000) to Midway in just a bit over half the time (3.7 minutes). The Lakeview Triple carries another 1,200 people from there to the ridgetop in 4.5 minutes.

To think of the chair as "detachable" can be a little disconcerting while sitting in such a chair many feet above the snow. But it is their detachability that enables the Basin Express chairs to speed riders up the slope and then slow down for loading and unloading. While the main lift cable continues to travel at high speed around the bullwheels at the top and bottom of the lift, the chairs rounding the top and bottom detach from the cable and travel on a slower track. Skiers and riders can amble on, drop their poles, fumble with their bindings, and still be seated safely before the chair rejoins the cable and speeds up. New skiers and riders will find the Basin Express easier to get on and off than even the slow-moving Musical Chairs lift on the beginner hill.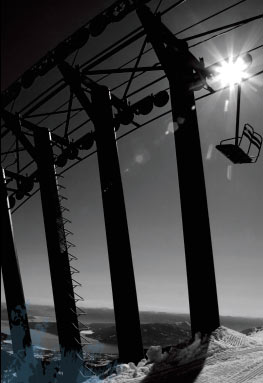 Although Chasse believes that Schweitzer's growth potential is in providing more opportunities for new visitors, he has more in store for its more advanced patrons as well. "There's a tremendous amount of high-angle skiers that are looking for the trees and the steeps," he said. "We won't forget about them. We did some more glade work this summer, and this upper lift will give them a chance to do a lot of laps up there."

Best of all, for new and experienced skiers alike, the new lifts have much better odds of running in high winds. The Basin Express is down in the trees and isn't exposed to ridgetop winds, and the lowering of the knoll at Midway reduced its exposure to winds in the basin as well. And even the Lakeview Triple will be able to run more often. Its chairs are heavier than double chairs, and Williamson has added extra weight to give them added stability. In addition, the unloading station at the top has been redesigned to end right at the lip of the bowl, eliminating one reason that the old lift was so vulnerable to wind closure: Its top towers were set farther back on the ridge, putting the moving chairs into the path of the highest winds.

While the new lifts are the biggest and most obvious change at Schweitzer this year, visitors will notice other changes as well. Probably the first one they'll see is Schweitzer's new logo and Web site, both of which debuted this past Labor Day weekend. At the new site, www.schweitzer.com, skiers and riders can buy their lift tickets, find out what lodgings are available and book them in real time, and confirm that the ski report doesn't say anything about a delayed opening.

On their way into the village, they'll find a new entrance area and traffic circle as they round the last corner into the basin. In the village, the old ski check area with the dining deck atop it has been removed, revealing the appealing original facade of the Lakeview Lodge. In its place, a new dining patio at ground level puts diners closer to the action around the lifts; its best configuration will be determined this winter, and then it will be enclosed with a low stone wall and glass windbreaks.

Snowmaking and grooming investments are on tap as well. Two new groomers have been purchased at a cost of $250,000 each, and towers have been installed along the ridgetop to anchor them so they can work steeper slopes. Plans are to buy more snowmaking equipment next year: Chasse is looking to be able to make snow from the top of the new quad all the way down to the bottom of the beginner hill. "What we're looking for there is to guarantee a Thanksgiving opening," he said.
Photo by Doug Marshall / El Photo Grande
One change that skiers and riders are not likely to notice is still perhaps the most important: $2 million of Schweitzer's $10 million total investment last summer was used to extend and upgrade its sewer system. The improvements will serve not only resort operations but also the real estate development that is intended to turn Schweitzer into a major destination resort. The new lifts are an early and essential step in a long-term plan to tap the potential of Schweitzer's extraordinary size: With 2,900 lift-served acres, Chasse notes that Schweitzer has twice the area and yet only half the visitors of nearby Stevens Pass. Williamson mentions an even starker contrast with Breckenridge in Colorado, where up to five times as many skiers congregate on 18 percent less land.

In addition to improvements being made for skiers and riders, another essential aspect of this development is expanding year-round activities. "We consciously decided not to do a lot of marketing for this summer because of the construction," Chasse said in the waning days of August, but nevertheless, summer traffic was "way ahead of our projections. We feel like we have an opportunity to grow our summer business, and we're starting to focus more on summer as we move ahead." The increasing number of summer amenities will include more options for mountain biking, with the emphasis again being on maintaining opportunities for advanced riders while building more alternatives for moderate bikers and families.

"Our mountain biking as it's laid out right now is for high-angle bikers," Chasse said. "You have to have some skills. We're trying to identify a lower-angle lift-serviced trail."

In fact, Chasse has a route in mind for this trail, although he's not yet ready to divulge what it is. But the emphasis will be on using the lifts to access trails that provide for a moderate, fun descent without a climb up. He's also looking for a low-angle single-track ride through the woods from the village to the fire station, for which Schweitzer will provide a shuttle to return to the village.

Plans also call for encouraging more conferences and groups to use the resort year-round, and an additional 5,000 square feet of meeting space is envisioned. The resort is already a popular site for weddings – last summer there was a wedding every weekend. According to Chasse, "One of the big appeals is getting married on top of the mountain. Everyone goes up on the Great Escape quad, and then comes down for a reception in the lodge."

But the biggest change planned for Schweitzer is in the expansion of residential areas on the mountain (see story, page 125). There are fewer than 1,000 homes in the basin now, and up to 4,000 more could be added. Last summer the infrastructure was installed for the first 35 of 124 lots to be developed in Trappers Creek, just above the Selkirk Lodge and the Lakeview parking lot. The hydronically heated roads of this development will be melted off through this winter, and skiers and riders will be able to pass through the area and get a sense of what it will be like.

In addition, Schweitzer is actively soliciting developers for two more condominium-and-retail buildings to be constructed on the west side of the Lakeview lot. Eventually, what aging skiers and riders will remember as the main parking lot will be an extension of the village, with shops and restaurants on the bottom floors and condominiums above. As development continues, the Gateway parking lot just below will fill with condos and residences, too.

Day skiers who in the past have tried to squeeze their vehicles into non-spaces in the upper lots may discover that they prefer the Fall Line lot at the bottom. The long-term plan includes a pair of high-speed lifts that will serve this lot as well as a new residential area called Greyhawk, which will be below the beginner hill and the cross-country trails. These lifts will take skiers onto the ridge between the ski area's two bowls; from there they can head into the village on the cat track or ski off into the runs of the Outback Bowl.

With all this development, will Schweitzer's famously uncrowded slopes get crowded? Given its 7,000 acres in total holdings, Schweitzer's managers are not concerned; there's plenty of room to build more lifts and access new terrain. "One thing that's in our favor is that we have the ability to do that, to expand up onto Big Blue and go onto the west side, so there are tremendous opportunities for the future," said Chasse. He's confident that Schweitzer has what it takes to draw snow sports enthusiasts looking for an area and a lifestyle in which they can develop their skills. "It's not necessarily the place that you're going to come to learn to ski," he said, "but I think it's the kind of place at which you'll aspire to ski."
Farewell Chair One: Mountain's original chair departs
– and gets parted out
New skiers and riders once faced a challenging rite of passage at Schweitzer: After they had figured out how to turn and stop on the beginner hill, and they were ready to move to the next level on Midway or in the terrain park, they needed to negotiate the venerable Chair One.

This was an undertaking not to be underestimated. Skiers approaching Chair One had to sidestep or herringbone (skills they thought died when their grandparents quit skiing) up to its loading station above the village, while snowboarders were faced with an aerobically intensive hop-and-drag routine. Once they were at the station, a certain reckless bravery was required to sit fast and hold on as a chair whipped around the bullwheel like a runaway ski and scooped them off to the snowy heights.

Neither meeting these challenges nor anything they had learned so far, however, prepared them for the death-defying, double-black-diamond drop of the Midway off-ramp, the steepest ramp on the mountain. Numerous new skiers and riders made this descent in a non-upright manner, and only extreme vigilance on the part of the liftie in the Midway shack prevented the ramp from becoming clogged with a tangled pile of bodies, boards and skis.

Even for the most sentimental of Schweitzer regulars, Chair One is unlikely to be mourned. "Chair One's always been reliable, like an old '56 Chevrolet," said longtime ski patroller John Pucci, but "I'm really glad it's gone." Although it was reliable when it ran, it was closed with frustrating frequency because of high winds coming across the ridge at the top of the South Bowl.

Forty-four seasons after their first ride on Chair One, Sam Wormington, the mountain's first general manager, and Jack Fowler, a Spokane dentist who first had the inspiration to build a ski resort in the basin above Sandpoint, returned for one last ride on closing day, April 8, 2007. Their words and pictures were duly recorded, and then the lift was dismantled immediately after the area closed for the season.

But even if Chair One is forgotten, it's not gone. Schweitzer President and CEO Tom Chasse and Mountain Operations Manager Bill Williamson have found some imaginative and generous uses for Chair One's earthly remains. Williamson has installed some of the old towers as anchors for winching cats, others are being used as culverts, and he gave one to the soon-to-reopen St. Bernard Pub to hang its sign on. More than 40 chairs have been donated to nonprofit organizations to raffle or auction off as fund-raisers; one of them brought in $3,000 for the Festival at Sandpoint. And Williamson has squirreled away more parts and pieces on the mountain to use as the need arises. So Chair One will always be with us. It's just working better now that it doesn't move.
Snow fuels young ski racers
He talks with passion about how he has watched it grow from conception to what it is today – a group of young racers with strong character and a love of skiing. Shep Snow, 57, a Sandpoint resident with an infectious laugh and a heart bigger than the size of the military he served for 28 years, is proud of what the team has accomplished.

The Independence Race Team, founded by Snow in 1999, gives boys and girls in Sandpoint the chance to experience the rush of race competition free of charge, ensuring that every child can participate.

Officially registering as a United States Ski Association independent team in the 2001-02 season, it has grown into a group of 15 to 20 racers that gives its opponents serious competition, with the younger racers averaging six to seven races per season and the older racers up to 15 races per season. Snow is expecting Michael Demko and Collin Jurenka, both age 11, to be reaching the podium regularly in the 2008 regional races. Amongst other achievements, two teenage licensed alpine competitors have made it to the Junior Olympics, and one member of the team is the only 13-year-old boy in the nation ranked third or better for his age group in all four alpine disciplines.

Though the rigorous training program is key to their success, the momentum is carried by the dedication of the boys and girls. "I believe the kids should learn the correlation between work and reward," said Snow, "and the kids buy into that." Part of this commitment means earning the money necessary to purchase ski gear, a ski pass and to cover race entry fees. The Saturday car wash in the Sandpoint Urgent Care parking lot (space generously donated by Dr. Robert Rust), the group's main fund-raiser, gives them the opportunity to achieve that goal.

Common threads weave through this team, such as the racers' love of speed and competition, but the strongest is their camaraderie. Through the years they develop solid friendships and have a sense of belonging to a group of peers who love skiing. For Jake Diel, 13, the best part of being on the team is making friends. In fact, one of his best friends, Raleigh Hanson, is on the team. Akin to an extended family who shares similar views on life and values, team members' families share the responsibility of training and fund-raising, with many of the parents stepping in as coaches, helping with gate setup and breakdown, and organizing on race days.

The Independence Race Team also hosts the Junior Race Series at Schweitzer, now in its seventh year, open to all local boys and girls. Over four consecutive Friday nights in January, masters-level racers coach teams of eight, focusing on improvement.

As Independence Race Team is a non-profit organization, Snow's payoff comes from seeing the racers and their families grow as a unit and as individuals. Though many of the racers "graduate" and leave racing behind, they continue to have a passion for skiing, be it downhill, freestyle or telemark. Snow said, "What we have is 100 percent of kids who come out of here with good character and love skiing, and that is our biggest achievement." To contact the Independence Race team, look up www.independenceracing.com.

SCHWEITZER MOUNTAIN STATS 2007-08
Acreage: 2,900, 84 named trails plus open bowl skiing and riding and two terrain parks
Terrain: 20% Beginner, 40% Intermediate, 35% Advanced, 5% Expert
Longest Run: Little Blue Ridge Run, 1.7 miles
Vertical Drop: 2,400 feet
Top Elevation: 6,400 feet
Average Annual Snowfall: 300 inches
Cross Country Trails: 32 kilometers
Lifts: 10 total – "Stella" high-speed six-pack; "Basin Express" and "Great Escape" high-speed quads; the "Lakeview Triple"; plus three double chairlifts, Idyle Our T-bar, a beginner's Musical Carpet and a handle tow
Total Uphill Capacity: 12,502 per hour
Hours of Operation: 9 a.m. to 4 p.m.
Night Skiing: Fridays, Saturdays and holidays from
Dec. 21, 2007, through March 15, 2008, from 3 p.m. to 8 p.m.
Season: Late November or early December 2007 to April 2008
Lift tickets: Adult $55, junior 7-17 $40, child 6 and under free, college or seniors 65 and over $45. Night rates: adult $15; junior 7-17, college or seniors 65 and over $10; child 6 and under free. Cross-country: $10 adult, $8 junior. Snowshoe: $4 all ages. Tubing: $10.
Website: www.schweitzer.com
Phone: (208) 263-9555, (800) 831-8810
Activity Center: (208) 255-3081