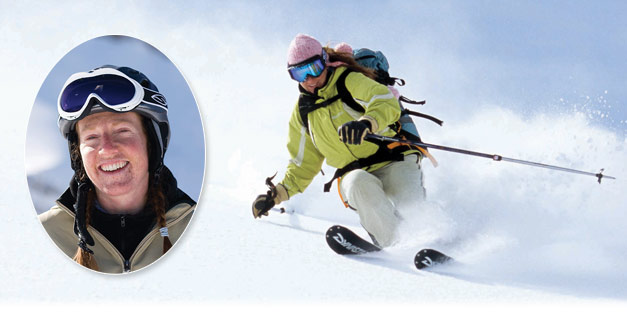 PHOTO BY DOUG MARSHALL
INSET PORTRAIT PHOTO BY GABE ROGEL
JESSICA BAKER
Up the Fall Line
Skiers, Riders Launch Illustrious Careers from Schweitzer

By Sandy Compton
The fall line at Schweitzer Mountain Resort leads to many places. Often, just down will do, down to another ride on Chair 6 or the Lakeview Triple and a gravity-defeating lift to the top for another slide to the bottom. Then down again. As long as there is snow, down we go.

But, sometimes, that fall line leads to other places and other directions: up – up into the strata of world-class snow riders. Then, to Chile. Or Canada. Norway. Italy. France. The South American Cup. The North American Cup. The World Cup. The Winter Olympics. And, sometimes, the fall line at Schweitzer leads to a life doing exactly what one wants to do: Ride. Train to ride. Train others to ride. Ride some more.

Not everyone gets to do this, but those who do smile a lot. Being at the top of the mountain – or the game – keeps you grinning. Ask Jessica Baker, 2000 North American Freeskiing Champion, 2004 U.S. Freeskiing Nationals Champion and founder of Ski Divas Women's Ski Camps. At 31, she's a Sandpoint gal gone global in pursuit of her passion. Baker's grin is infectious, as is her love for snow, which has mutated these days into teaching others how to deal with the white stuff under their skis.

Baker founded Ski Divas after skiing in La Grave, France, where she noticed that the female side of the ski equation was not being addressed. She determined to bring women to La Grave to correct that problem and also provide experiences that increase their abilities under challenging ski conditions, including touring and backcountry. This builds self-esteem and gives opportunity to establish long-term friendships based on the common experience.

She now teaches and guides for much of the year, including winter camps at Mount Baldy in Canada (owned in part by her dad, Sandpoint contractor Brent Baker); in the Grand Tetons with Jackson Hole Alpine Ski Guides and Exum Mountain Guides; and of course, at La Grave, where the 2009 winter camp is being held for six days in early February. She also runs a ski camp at Beartooth Pass in Montana, scheduled during the first half of June.

Baker learned to ride at – you guessed it – Schweitzer, but that wasn't where she had her first lesson. "We were on a family vacation to Big Sky, and my folks put me in a lesson. I hated it. I was scared to death, and they had to pull me out of ski school that day," she said. That was at age 5.

It didn't stick. By 9 years old, she was in Schweitzer Alpine Racing School (SARS), where she stayed "for the rest of my life up until I left for college."

"SARS was the start of my pro career," Baker said. "It laid a foundation for technical skills and introduced me to many people that I see in the industry all the time. SARS was a great program. I've never been anywhere else where they support racing the way Schweitzer has. I didn't know how rare it was to get two hours of practice before the lifts open."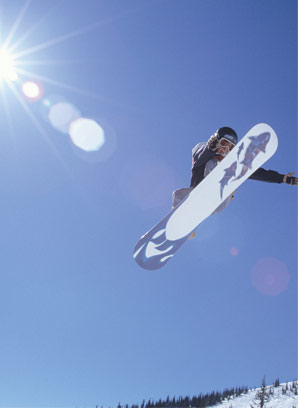 Olympian Nate Holland, above, is being pursued by younger brother Patrick in the World Cup standings. Below, they share the podium for the first time in a major snowboard cross event, in Sun Valley in March 2008. Both hope to qualify for the 2010 Olympic Team.
PHOTO BY DOUG MARSHALL


While Baker has made a life of her skiing, on the other side of the riding world are Nate and Pat Holland, sons of Rebecca and Don Holland of Sandpoint and brothers in boardercross.

Boardercross is a style of snowboard racing that was (accidentally) born in 1985 during a novelty race called the Mount Baker Banked Slalom at Mount Baker, Oregon. It began as and remains a crazy freestyle combination of downhill, banked turns, jumps, berms, steeps, flats and crash-test dummy action in which four riders start abreast (for a brief moment) and then collide trying to beat each other down the course.
If the term seems similar to "motocross," the motorcycle event, it's because everyone wears helmets in both disciplines for the same reasons. In fact, Nate Holland is a motocross devotee, trading his board for a bike when he gets a moment off from training, which is rare.

"I'm working my butt off right now," Nate said, as he prepared to go to South America in September. "There are a lot of guys trying to get past me, and any one of them might, but I'm not going to let it happen easy."

The Holland brothers, who now train and live in Squaw
Valley, Calif., were heading for Argentina, first for the Continental Cup and then the South American Cup, both sanctioned by FIS, which means they will accrue pointsagainst world standings.
Boardercross is known as snowboard cross in the Olympic community. The organization regulating Olympic skiing and snowboarding, International Ski Federation, or Fédération Internationale de Ski (FIS), is based in France. FIS dubbed the event snowboard cross when it debuted at the 2006 Torino Winter Olympics because boardercross doesn't translate well. Anyone who has ever watched boardercross from the standpoint of casual observer might think the sport doesn't make sense to them either.

Nate, who turns 30 this year, is the older of the Holland brothers. He was in the 2006 Torino Olympics as a member of the U.S. Snowboard Team, of which he is still a member. Pat, inspired by watching Nate compete, made it a goal to be in Vancouver in 2010. He's well on his way. He has since also joined the U.S. Snowboard Team.

Nate has been one of the world's top 20 boardercross racers since 2004, including third, fourth and second place in World Cup standings in 2005, 2006 and 2007 respectively. In 2007, his boardercross points alone ranked him 15th in the overall World Cup standings, which include all other snowboard disciplines: slalom, half-pipe, big air and slopestyle.

How good is that? FIS currently ranks 913 male snowboard cross racers and upwards of 2,500 male competitors in all snowboard disciplines. That puts Nate, rated 12th in the world prior to the South American Cup, in the top 2 percent of World Cup boardercross racers. His 2007 overall ranking put him in the top one-tenth of one percent of World Cup racers. That's pretty good. Really good. Stellar, in fact.
What about brother Pat?

"He's on the verge," Nate said. "He's one of those guys chasing me. It wouldn't surprise me to see him win a contest."

Nate wasn't just being kind. At age 26, Pat is ranked 52nd in the world in boardercross at this writing, in the top 6 percent of all boardercross racers on the World Cup circuit. Again, really good.

In fact, in that first World Cup event of the 2008-09 season, held in mid-September at Chapelco, Argentina, the Hollands finished No. 8 and No. 10. It was Pat's first World Cup top 10 finish. It was also Pat who was No. 8. Big brother Nate is a prophet.

The Holland brothers learned about the slick possibilities of snow by riding the old T-bar at Schweitzer – since replaced by Musical Chairs – sliding up the hill between their mom's legs at age 3, then barreling down Sesame Street to catch another ride. Their favorite quote from those days: "C'mon, Mom!"

Nate knew snow before he knew his brother. He switched to a board at age 10. At age 12, he won a half-pipe competition at Silver Mountain.

"I just figured it out with my buddies," he said, but when his parents saw his passion, they helped form Storm Riders, a snowboard team that went through a few coaches before finding Jeff Baker, "a good guy who could deal with 16-year-old kids," according to Nate.

Patrick, as little brothers do, wanted to do what the big boys were doing. "Nate boarded, so that was the cool thing to do," he said. He switched to a board at 10 and also became a member of Storm Riders, setting him on track to where he is today: racing in World Cup events.

Another Sandpoint kid who went the extra mile started out as a sleeper. "Mom and Dad gave me a one-day lesson and sort of turned me loose," Brandon Moon said. "Then, I skied with friends and hung out at Ski School a lot. I didn't have a lot of lessons. I just tried to hang out with better skiers.

"I was in SARS for about a year when I was 7 or 8, but it didn't intrigue me," he said. "Our coach made us ski The Face, which scared the crap out of me. After that, I decided to go into the freestyle world, and spent a lot of time with Dave Muccino, who became a real good friend.

"There were regional freestyle competitions. If I could find a ride, I would go compete. The local freestyle competition was the Hamm's Bear Cup, a local series that predated the Starlight races. I did pretty well in that."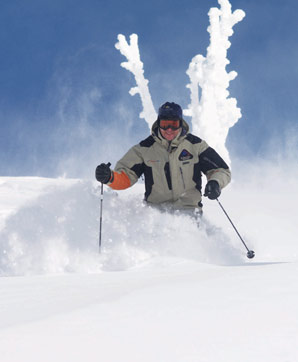 Brandon "Moondog" Moon rose to the top ranks of telemarkers, making the U.S. Team for three consecutive years before being sidelined with an injury. PHOTO BY BOB LEGASA


Moon did indeed become a very good skier – and unafraid to ski The Face. In 1986, he joined Schweitzer Ski Patrol, where he worked for 10 seasons. After a few years on patrol, though, the thrill was gone. Five to seven days a week on skis reduced alpine skiing to basic transportation, so, in 1989, Moon learned to telemark. "Leather boots and very skinny 210 centimeter skis. That put the scare back in Midway," he said.

A few years later, he was racing in the Selkirk Classic, Schweitzer's annual telemark race – most often won by visitors, he noted. Within a few seasons, he progressed from the novice category up to advanced. Then he was encouraged by visiting members of the U.S. Telemark Team – who seemed to be winning the classic on a regular basis – to compete in the elite division. He did well, which led to an invite to try out for the team. He made it. At age 39, he became the oldest rookie to ever make the team.

Moon raced in FIS events on the U.S. Telemark Team for three seasons, 2005, 2006 and 2007, before shattering a leg when he hit a gate just a little bit wrong – on his home turf, during Schweitzer's first World Cup event. It was his friends on Schweitzer Ski Patrol who hauled him off the course.

His best moments? A No. 10 overall finish in the 2005 U.S. Nationals – and winning the Selkirk Classic. He and Jon Waldrup are the only local winners in the event's history.

It's not always about the World Cup or the Olympics. Sometimes, it's about an alternative job choice made on the basis of passion rather than economics. That pretty much describes Chris Thompson's career track as a ski instructor clinician.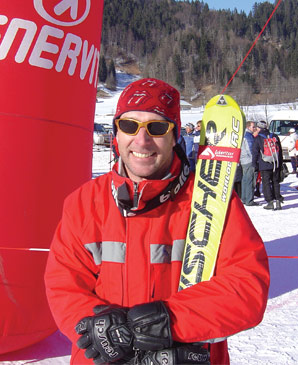 PHOTO BY JEN FORSYTH
Thompson grew up in Sandpoint and learned to ski at Schweitzer at age 15, in the month the area first opened. "I went to work at Schweitzer in the rental shop in 1963 and learned to ski that year. I wasn't involved in any other athletics in high school, and I got passionate about skiing," he said. "In 1967, I went to work for (then ski school director) Al Voltz. Five years later, in 1972, I began teaching instructors." Thirty-six years later, he's still at it.

His degree from the University of Idaho is in finance. In his senior year of college, he worked for Idaho First National Bank and taught skiing part-time. Or did he work for IFNB part-time and teach skiing? When it came time to make the choice, it was obvious to him what was the right way to go.

"As a consultant to the Schweitzer Snow Sports Center, all I do is clinic ski instructors. On a more full-time basis, I work with Schweitzer Alpine Racing School, and I coach Masters on Wednesday and Thursday. Last year, I spent 115 days on the snow." Good career choice, Chris.

And now to the final question: What was it about growing up in Sandpoint and learning to ski at Schweitzer that gave these people the edge they needed to follow the fall line to someplace not many other folks have gone?

The answer seems to be two-fold: community and conditions.

Anna Nystrom, who came to Sandpoint from Sweden as an exchange student in the 1980s, did a bit of bliss-following along her personal fall line when she took a year off from engineering and helped coach SARS kids last season at Schweitzer. She gave her own summation of why Sandpoint and Schweitzer might give kids a leg up. "Sandpoint is a North Idaho, no-bullsh-- town," she said (imagine her saying that with a bit of a Swedish accent). "Warren Miller's not at Schweitzer filming. So, when things aren't perfect, it's just go ski in the fog, the occasional lousy weather, the sticky snow, the off-the-beaten path. The kids who aren't dedicated quit and go bowling."

Nystrom added that the coaches at Schweitzer are also the same: free of BS. "No glamour, just a good program. A good program has competent coaches who know their business and know which races to take kids to. They come here to just do it, and the kids also come out very competent," she said.

"Sandpoint is a four-season playground," Nate said. "We played on the lake and the mountain, and I picked what I was best at. Schweitzer was a good, safe place, as well as a free rider's mountain. Boarding with my friends taught me a lot, as did being involved with Storm Riders. It taught me that I enjoyed competition and that I enjoyed winning."

"I don't think the resort makes the rider," Pat said, "but Schweitzer gave me the opportunity to be the best rider I can be. It allowed me to build skills I need to compete. Also, there was a lot of support – from my parents, from our friends and from Storm Riders and from the community. Thom Thayer of Ground Zero was great. We both worked for GZ through high school, and Thom was always helpful with the pro deals."

Moon said: "Skiing at Schweitzer – when it's great, it's as good as any resort in the world. Some of the time, though, it's just 'deal with it.' We have a variety of conditions, and you have to adapt to what's thrown at you. I think that makes the bar higher when it comes to the quality of skiers we have – and the terrain's pretty darned good, too. Then, growing up in Sandpoint afforded me the opportunity to pursue an active, outdoor lifestyle. Skiing is a natural extension of that."

Thompson agrees. "The opportunity I had to be involved in the community at Schweitzer as a kid made the difference. … One thing about Schweitzer that's made a difference: You have skiing opportunities and weather opportunities. That teaches you a lot," he said.

Baker added: "For me, Schweitzer offered the perfect mix for a budding skier. It was family owned then, and the community support on and off the mountain was terrific. In many of the other areas I have visited, the terrain would intimidate young skiers just learning how. Schweitzer had just enough variety in terrain, plenty of acreage and just enough infrastructure."

Baker thinks she would like to do a Ski Divas camp at Schweitzer. "I will always consider Schweitzer my home mountain," she said. "When I see what else is out there, I realize what a great mountain it is."
This from a woman who has made a life of following the fall line all over the planet.


New for the 2008-09 season at Schweitzer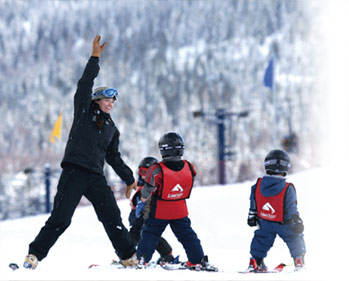 Jodi Taggart, the Schweitzer Ski School director, leads a department that covers instruction for all ages.
PHOTO COURTESY OF SCHWEITZER MOUNTAIN RESORT



Winter 2008-09 at Schweitzer will have a tough time outdoing preceding seasons for exciting developments. The 2006-07 season brought the Idyle Our T-bar and phalanxes of new runs and tree skiing accessed from Little Blue Ridge. Last year, two new lifts – the Basin Express quad and the Lakeview Triple – replaced original Chair One, making the trip to the top of South Bowl more comfortable, safer and a bit faster, even with the unload between chairs.

However, there are ways to freshen things up besides building new lifts. "This year," General Manager Tom Chasse said, "including a new bus, we only spent about $5 million on improvements." Only.

"We spent about $2 million on infrastructure," Chasse said. "Much of that was improvement to water, sewer and television systems. We're getting ready to move our lagoon to a better spot. We also gave Taps a facelift and put in big-screen televisions to offer a better après ski experience in the day lodge and play up televised sports more. We rebuilt the bathrooms in the day lodge basement, which was badly needed. Anyone who experienced the old ones will be impressed."

On-slope improvements include brush mowing and tag-alder control (trail clearing). A new grooming machine was also added to the fleet. Improved trail signage was installed, and a new snowmaking system – the most visible and effective change made this year.

"We'll be able to cover a 300-foot swath from the top of the Basin Express down Midway to the village with 18 inches of snow," says Schweitzer Communications Manager Jennifer Ekstrom. "Our hope, of course, is to ensure that Thanksgiving weekend opening."

A number of Techno Alpin M18 fan snowmaking "guns" can be moved among 23 retractable hydrants to cover the area. These guns produce 25 percent more snow per energy consumed than other systems. The gravity fed installation is the most energy-efficient, low-impact snowmaking system available, able to sense when conditions favor snowmaking and turn on automatically. They also turn off automatically when conditions aren't ideal.

Ekstrom noted that Schweitzer Magazine debuts this season, a 48-page annual "house" publication released Oct. 16 and designed to add to the resort's marketing punch at national and regional ski shows.

Dani Demmons is the new Activity Center manager this year, moving over from Ski School. The center will maintain its snowshoe tours, the tubing hill and reintroduce air-boarding come spring. The center also added some after-ski activities for teens, including Rock Band video game sessions, all-new craft sessions for younger kids and family night adventures. Call 255-3081 for details.

Ski School Director Jodi Taggart announced a new program for her department, the Schweitzer Adventure Posse, an all-season inclusive package designed to maximize the experience of 7- to 12-year-old Schweitzer skiers and snowboarders. For a single price of $999, participants get an unlimited junior season pass, a bus pass, gear check, race arena privileges and 29 days of coaching, which includes all weekend days from Dec. 20 until March 15. The program runs from 9:30 a.m. to 3:30 p.m. on Saturdays and 9:30 a.m. to 12:30 p.m. on Sundays.

"The Posse program is a great way to see that your kids are supervised while on the mountain," Ekstrom said, "and gives them a boost on skills at the same time."

On the Web, Schweitzer added an interactive trail map (www.schweitzer.com/mountain/trail_maps) that leads skiers on a virtual tour of selected runs. Schweitzer-bound folks will also be able to generate and print their own daily grooming map in addition to the ski report.

Improvements for 2008-09 may be a bit more subtle at Schweitzer than in the past few seasons but improved it is.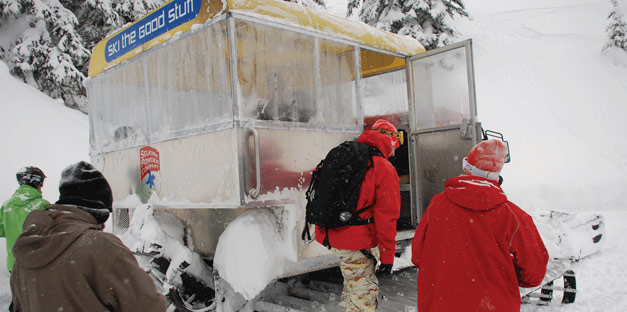 PHOTO COURTESY OF SELKIRK POWDER COMPANY
Powder hounds hit Schweitzer's backcountry
Cat skiing with Selkirk Powder Company

By Becky Lomax
A "whoop, whoop" resounds through snow-laden silvered trees. Powder hounds smeared with grins pop from the woods, drawn to the call. There's no such thing as a whooping Selkirk bird of the woods, but you'll hear it cat skiing along the three-mile-long ridge behind Schweitzer Mountain.

Here, Ken Barrett, chief guide and president of Selkirk Powder Company (SPC), corrals skiers at the bottom of pitches with his trademark "whoop." In a day with Barrett, skis float through glades, draws and white bowls. As he paints the upcoming route, words tumble out like a fire hose at full pressure.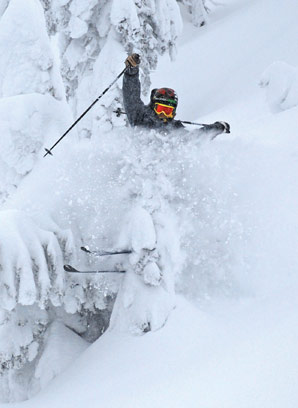 PHOTO COURTESY OF SELKIRK POWDER COMPANY
Cat skiing here is simple. While your travel companions who are not ready for the off-piste ski Schweitzer's groomed slopes, you hop the Great Escape Quad at Schweitzer Mountain Resort and go directly to SPC's terrain door. The guides, all avalanche and National Ski Patrol certified, lead off, picking good aspects for the snow conditions. You don't need a trail map – just follow the guide's whooping.

Behind Schweitzer Mountain, the sweeping Priest River drainage stretches north toward Canada. From this aerie ruled by Selkirk Powder Company, you can spy two countries and three states. More than 50 west-facing runs – some dropping down 2,200 feet – stretch across six bowls of state and private land.

SPC's permit terrain is so huge, that it is nearly on par with Schweitzer's acreage. That means we don't repeat runs, and we don't stack our tracks. Telemark, alpine skiers and snowboarders fan out across powder, plucking enticing lines with nobody but our group in sight.

Barrett's six-year-old company is inching up to rival the famed Canadian cat skiing grandfathers. Covering seven to 10 runs per day, many skiers approach heli-skiing's 14,000 vertical. "It's true vertical with not much benching out, a truly great skiing experience," Barrett says. "Plus, since we're relatively new, we're not sold out a year in advance."
In fact, Boris, the PistenBully with a 10-passenger, tent-covered coach, sometimes runs half full, making real the option of jumping aboard at the last minute when a big dump hits.

Every year, Barrett notches his operation up. Boris is his second rig – much more powerful than its predecessor, which translates into faster cat rides. Clearing and brushing opened up more lines, expanding the run roster. With a streamlined day beginning at 8 a.m. with avalanche safety training and a quick chair ride to the summit, you're eating up the powder by 9:15. Barrett can arrange for Thor's pizza to be delivered straight to the cat for private groups.

"We're at the cutting edge of the industry," says Barrett. That may just be an understatement.

Look up www.selkirkpowderco.com, call (866) 464-3246 or (208) 263-6959, or stop in at Lakeview Lodge for more information on snowcat skiing or snowmobile tours. Reservations are required.