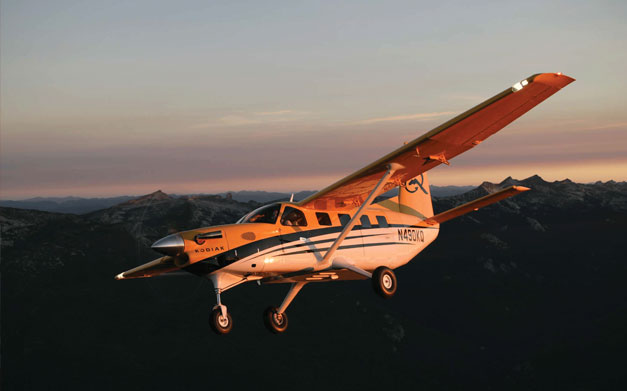 PHOTO COURTESY OF QUEST AIRCRAFT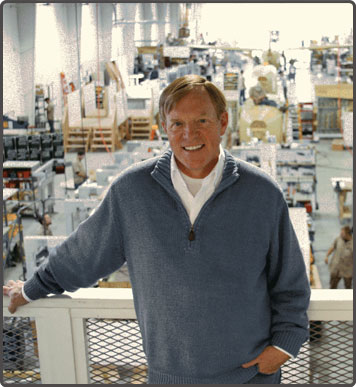 Quest Aircraft CEO Paul Schaller moved from his corner office to a spot where he can see the Kodiak assembly line at the Sandpoint manufacturing plant.
PHOTO BY DAVID GUNTER


Paul Schaller,
CEO of Quest Aircraft Company

Sandpoint start-up brings Silicon Valley exec full circle

By David Gunter
Paul Schaller does something that would scare the hell out of most CEOs. On a regular basis, he mentions God in the context of his business. Not obliquely, mind you, but very directly.

"When people ask me, 'Who owns Quest Aircraft Company?' it's kind of an awkward question, because there really isn't any stock outstanding as you would normally think of it," he said. "My response is, 'God owns Quest,' because that's the purpose that we're here for."

Schaller, 60, can afford this theological luxury because the business model for Quest is founded squarely on a field of religious and humanitarian outreach called "mission aviation." Within that field, numerous church-funded groups and international aid organizations have helped the Sandpoint-based airplane manufacturer move from a pie-in-the-sky start-up in 2001 to a bustling business that employs more than 250 and plans to turn out a couple of planes a week as production continues to ramp up.

The aircraft, known as the Kodiak, is a barrel-chested workhorse designed to drop into remote airstrips that other planes couldn't navigate and get back out of them just as easily.

Four years ago, Schaller, a pilot himself, left a senior executive position in Silicon Valley to come on board as Quest's CEO. In a way, the move meant coming full circle for the man who grew up in Iowa in a family that loved flying almost as much as life in the outdoors. After a four-year stint in the Navy ended in 1972, he moved to Cleveland, where he met his wife of 34 years, Mary, and finished school not long after the end of the Vietnam War. He received a Bachelor of Arts in management and a Bachelor of Science in Computer Science from Cleveland State University, and then he went on to earn a master's degree in management science from the Massachusetts Institute of Technology's Sloan School of Management.

Schaller is not the only chief executive in the family – Mary is CEO of a ministry organization called "Q Place." The couple has three children, Kristin, Michael and David, all of whom are grown and either finishing their educations or well into careers and families of their own.

With more than 125 orders stacked up for the $1.45 million Kodiak aircraft, Schaller anticipates it will take three years for the company he now leads to catch up on back orders. In response, he has shifted much of his focus from the corner office to the manufacturing floor, where employees have completed about a half dozen Kodiaks and have the next half dozen moving down the line in various stages of completion.

Looking relaxed in jeans and a zip-neck sweater, Schaller talked about balancing the demands of constantly increasing efficiencies with those of communicating to his people that the Quest mission is more than just a mission statement. It is, as he said, God's work.

It's not often that you run across someone leading a company that might best be described as "faith-based manufacturing." Are you aware of anyone else using a similar business model?
Well, certainly there are organizations led by people who have a strong faith commitment. Typically, it's a partnership or individual owner who will dedicate their company toward mission types of activities. Very seldom is the product that they produce also the vehicle for providing that vision. Their purpose is to make money so that they can then take a portion of it and provide it to missionaries. In our case, our product is really the service we're providing to fulfill the vision.

Is that part of the reason you're here?
That was one of the things that attracted me to the organization – the opportunity to bridge the two between a commercial, for-profit company and something with a mission and ministry purpose associated with it.

The Kodiak is a sexy airplane, as far as its recreational applications. Do you ever foresee demand from that audience taking focus away from the mission aircraft side?
The sole purpose for the company has been to build a substantial and credible production activity that provides aircraft for mission aviation but, at the same time, builds aircraft that can be used for cool and sexy, if you will, commercial operations as well. Our business model, right now, has us providing nine aircraft for commercial purposes in order to be able to provide the funding for the 10th aircraft that we would "pay back" as part of the deposits from the mission organizations. Under that model, we would be building several hundred aircraft in order to pay back those initial deposits. At the end of that period, when we've paid back that amount of money, plus our loans, we would be in a position where we'd have to make a decision about how to continue.

How different is the commercial side of the business, as far as the customers and how they plan to use the Kodiak?
It has actually been kind of exciting to be in the commercial business, because we're seeing a lot of different uses. Through a close interaction with the mission organizations, we're building a very rugged aircraft that can get into and out of very remote regions. That generates an aircraft with lots of power that can be easily repaired and maintained in the field. From there, our commercial activity branched into some of our early adopters – people who want to take it into the backcountry, or the Bahamas or the Amazon, for their own personal use. Beyond that, we've had orders from a variety of other segments like air taxis, which take people into remote areas on a for-hire basis. The jump plane market could be a substantial one from our point of view. We have prospects from customers for medical evacuation applications, and we have people who are very interested in an aircraft like ours that can fly very slowly and in a stable fashion to be used for border patrol and other types of surveillance.

It's rumored that Harrison Ford has ordered a Kodiak, though I know you can't confirm that due to confidentiality agreements. But would it be safe to say the plane has the kind of cache that attracts that kind of buyer?
Absolutely. That's really our launch customer – high net-worth individuals who have a remote location they need to get in and out of with lots of gear or people. And they want to do that safely and with high reliability. We've had quite a few people order the aircraft that are of that ilk.

Is the backlog for new orders – which seems to keep growing quickly – any cause for concern?
There are well over 100 aircraft on order at this point, and our next delivery slots are in early 2012 based on our current manufacturing ramp-up plan. We've had more acceptance for the aircraft than we initially thought, so our business model has changed, and we're going to ramp up sooner than that.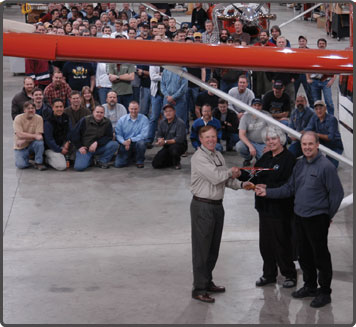 Paul Schaller hands over the keys to the co-owners of Spirit Air, the launch customer, on Jan. 25, 2008, at the first Kodiak delivery ceremony. PHOTO COURTESY OF QUEST AIRCRAFT


Will the things you're learning as the company grows manifest themselves as changes in the actual airplane, or just the manner in which it's being built?
Just the manner in which it's being built. We did a pilot run of five and now we're putting systems in place that will allow us to build them in more of a production fashion, but it's all around the same aircraft.

Looking out your office window at the planes lined up on the assembly line, it's reminiscent of what Henry Ford developed – a continuum of specialists who do their thing and hand the product off to the next production stage. Is that an apt analogy?
Well, certainly it's a large product assembly, not unlike cars were at the time. Many of the principles he came up with ended up being incorporated into the high-volume production that went into World War II, which was then borrowed by our friends the Japanese, and we're now learning back again. So it's kind of an interesting turnaround. The Quest production system has borrowed heavily from a lot of things that have worked in other places, but are appropriate for this kind of product, in this kind of location, at this kind of a volume rate. We're not going to be building three planes a day here. We're trying to get to a point where we might be able to build two a week, and that would be about 100 a year. This is not going to turn into Boeing, but if we can build 100 planes a year, we think we'll have a pretty good-sized business. Much bigger than we had initially thought.

Have you cleared all the necessary hurdles with the Federal Aviation Administration?
Pretty much. In another month and a half or so, we should receive our production certificate. There are two major milestones that the FAA has for you. One is called type certificate, which we got about a year and a half ago and includes all the flight tests, the structural analysis and testing of the aircraft. Since that time, we've been taking that airplane design and getting the processes and procedures in place in our factory in order to reliably produce a quality version of that plane that was tested. By doing that, you end up with a production certificate, where the FAA, with their oversight, allows you to produce the aircraft in a more mass volume kind of way.

How long will this Sandpoint facility be adequate to keep up with higher rates of production?
When we moved in here, we had about 17 acres, and we've gradually acquired property to the point where we have about 30 acres now. We expanded our initial facility from about 27,000 square feet to the current 84,000 square feet. We're comfortable that we can deliver one plane per week out of this facility as it is right now.

What level of employment do you see the company reaching a couple of years out?
Well, we're at 250 now and, without too much trouble, one could see doubling that number with a second and maybe a third shift.

You've changed offices and lost the coat and tie since you started the job. Do you feel more comfortable in your current executive incarnation?
I transition back and forth between the two. As president and CEO, you need to fulfill the role with a tie on once in a while. But having moved to Idaho, I'm more comfortable in this kind of a role. With the importance of the production part of the organization, stepping in and helping out in that area was an important thing that I needed to be able to do. So I've moved my office away from my view of the runway, and I now have a great view of the production facility.

You've spoken openly about how you brought your own faith to this endeavor. How has the job informed your faith, if at all?
My background, from a business standpoint, was doing start-ups in the Silicon Valley. And faith was not a strong component of doing business there. When I started this, it was interesting to apply my work skills to achieve a mission that had Kingdom purposes and, therefore, feel like you were contributing to faith, generally, in the world. When I got here, I realized that my goal was to also help provide that same capability to people within the organization. So, in a way, it shifted from being a job with a mission purpose to being more of a ministry to help those who felt called here develop not only their skills, but also their faith.

Moving to Sandpoint was a big change for you, personally and professionally. How do you like it now that you're here?
I had been in Silicon Valley in that kind of fast-paced lifestyle for some time. As long as you are very busy with companies and in the pace of it, it's OK. When you start thinking about retiring and not spending as much time in the deal flow of start-up businesses, it changes your perspective a little bit. I'm glad I was able to have been there and glad to have moved on from that.

Realizing that most CEOs don't have a lot of free time, what do you like to do with yours?
We've got a plane and I fly that. We have a daughter who lives in the Portland area and a brand-new granddaughter, our first grandchild, so we like to fly down there. We also like to use the plane to fly to California. We have a son, our second child, who lives in Palo Alto and is a design engineer for a medical device company, doing heart bypass devices. And then flying down to Davis, Calif., which is where our youngest son goes to school. He's a junior in mechanical and aeronautical engineering. He was up here for the summer in an intern program at Quest, which was great.

Did you come from an aviation family and did you pass your passion for flying along to your kids?
My dad was a general aviation pilot and liked to take care of planes. He was a partner in a little club and was able to take the family flying occasionally. My youngest son is working hard on getting his pilot's license, and his brother already has his. So, we end up, as a family, being able to fly around a little bit.

Are you involved in any volunteer work in the community?
I'm involved in our church here in town, Cedar Hills Church. Starting this fall, I'll be teaching Sunday School for fifth- and sixth-graders. That's exciting, because it's kind of a different age group for me from what I'm used to at work. I like kids at that age and I like helping out with teaching, so I got involved as a volunteer.

How did the death of Quest's founding chairman Bruce Kennedy (in June 2007) affect both the organization and you, personally?
From a company standpoint, Bruce was the original chairman and he helped set a lot of the tone for the culture of the company. In that context, it was a loss of the rudder that helped keep us on track with our mission. Fortunately, we've had Joyce Godwin step in as chairman. She had been there side by side with Bruce in the early days of the start-up, so she provided a very smooth transition of leadership. On a personal level, Bruce was a mentor to me. I certainly have others to fall back on with the board, but any time you lose someone you have a close, personal relationship with, someone who has helped you through lots of difficult times, that's a huge change. The good news is that we know where he is and we know we'll be together again someday and talk about Quest and that'll be fun.