Hooked and happy skiers and riders reflect on their Schweitzer baptisms
By Sandy Compton
There are epic moments – and days – in the life of a Sandpoint "newbie." Perhaps first is the "Long Bridge epiphany." Many have confessed to having a similar realization, that this is the place. A first entrance to the span across the Pend Oreille River ceases car conversations. That sweep of blue water spreading from Dover to Kootenai Point hovers into view, backed by green shores and Baldy Mountain's rise into the sky. It's too much to take in completely on a first crossing, for there is no stopping on the Long Bridge, but the observant might take note of another moment to come.
There, on the right, just past the shoulder of Baldy, peeking over the edge of the South Bowl, looms the forerunner of that second moment – openings falling through the trees at the end of the next ridge north. An inveterate snow rider will identify with these, and should they stay in Sandpoint, they will come to know them as Abracadabra, Quicksilver, Loop Hole and the line of Sunnyside Chair.
The next moment occurs on Schweitzer Mountain Road, at the roundabout at Fire House corner, the welcome point for Schweitzer Mountain Resort, where the mountain begins to truly reveal itself. And, the one after that might be standing in Schweitzer Village for the first time and gazing up toward the top of Schweitzer Peak and the ridges falling from it, witnessing 1,000 acres of skiing opportunity, and thinking "This is incredible." But wait, there's more – another 1,900 acres hide behind Schweitzer Peak.
And there are a hundred more moments like that in a first season at Schweitzer.
Every Schweitzer skier or boarder remembers their first season on the mountain. Even though I'm a long-term local and my first trip across the Long Bridge may have been in utero, I too had the pleasure (and some associated pain) of a first season on the mountain. It was not as long ago as some but long enough that my neophyte experiences were considerably different from those of skier Donnie Mendez; snowboarder Sara Hansen; and ski patroller Emily Roser.
These folks had their first full winter at Schweitzer in one of the past two seasons. The commonalities of their experiences – and mine – have not to do so much with uphill lift capacity, which significantly increased since 1990, when I took my first trip to the top of the Great Escape Quad. They have much more to do with that incredibly important, intangible "community" and the tangible downhill aspect, the joyous, exhilarating and sometimes daunting task of returning to the lift line.
Wait a minute, what lines?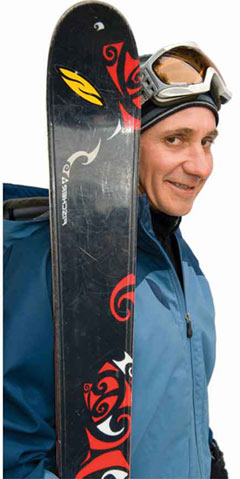 Six weeks into the season, friends convinced Donnie Mendez to start using his ski pass (Doug Marshall photo)
Donnie Mendez, whose first season at Schweitzer was also 2007-08, learned to ski in a large area, at Kirkwood near Lake Tahoe in California – 2,300 acres with an uphill capacity of well over 10,000 skiers per hour. He was 16 and, well, not too impressed with snow sports.
"I wasn't very good," he says. "I got cold. Skis were very different then, and I couldn't ski with my friends, because they were all much better skiers. In six years, I might have skied a dozen times."
After that, he didn't ski for 18 years. Then, he moved to Sandpoint.
"My friends here told me, 'If you're living here, you have to get a ski pass.' I finally bought a pass on the last day of the discount," he adds.
He still didn't go skiing. It was his friends, again, who finally got him to use the pass about six weeks into the season.
"I didn't have any skis, no equipment. Finally, Jeff Nizolli and Rob Goldworm just said, 'C'mon, let's go.' Jeff made some phone calls and when I got to the village, Johnny Hutto (NASTAR manager) was waiting for me. He took me to see Kirk Johnson (manager of The Source rental shop), and Kirk set me up."
That's what friends are for, after all. I should know.
In my first season, oh, so many years ago, it was my friends who finally shamed me into trying skiing. I was a waiter at Jean's Restaurant in Green Gables, Schweitzer's then brand-new hotel. Chairs One and Five were still in place and the concrete holding up the towers of the Great Escape Quad was still curing. Like Mendez, I hadn't tried skiing in nearly two decades – not since a disastrous first day at age 19 that involved very long, very straight skis, leather boots, cable bindings, a rope tow, blue jeans, a leather jacket and the "R" word – rain.
No wonder it was a 20-year hiatus, but my fellow waiters insisted. The season pass and lessons were free, part of the employee package. When I cried poor, they threatened to pay for my rental equipment.
I finally acquiesced – and acquired a new addiction in the process.
After a first lesson and some hints from friend Kenny Mayginnes on the physics of skis ("By putting pressure on one ski," he instructed very patiently, as he still does, "you create a curved edge upon which to caaarve a turn across the surface of the snow.") I couldn't stop. This doesn't mean it was all fun, for there were days when my face was often upon that surface I should have been carving across, but the slopes continued to call. They still do, and always will, I hope.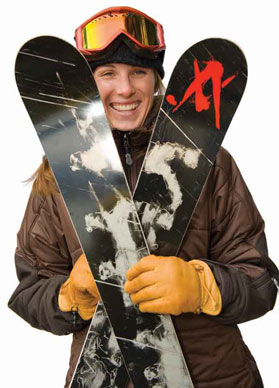 Emily Roser spent her first full season at Schweitzer as a ski patroller (Doug Marshall photo)
Emily Roser, whose first full season at Schweitzer was last year as a patroller, learned to ski at a much earlier age than I. When asked at what age, she got a funny look on her face and mused, "When do kids learn to walk?"
Roser grew up in Durango and learned at Purgatory. Her approach to Schweitzer was a back-and-forth dance. "Durango to Missoula to Durango to Missoula," she says. "Finally, I was living in Missoula and not skiing enough, and I decided 'I'm moving somewhere where I can work and ski all winter.' "
Somewhere turned out to be Sandpoint. Work turned out to be skiing. Perfect.
How did she get on patrol in her first year on the mountain? She is very persistent, which is a good thing for a patroller at Schweitzer.
"The weather here makes it a challenge. I came from Colorado – solar powered, you know," she says. "If I hadn't been skiing with someone who knew the mountain on my first couple of days, I would have been totally lost. The first time I actually saw the whole mountain – wow!"
Yes, inclement weather – particularly the "F" word, fog – is a factor in the ski experience in northern Idaho. It settled in about a month after I began learning and stayed and stayed – and stayed. Finally, I couldn't stand it any more. I went skiing anyway. When the sun came out again, I was a much better skier, because, when you ski by feel, you learn to pay attention to what your feet are telling you.
A few seasons ago, I was halfway down Ridge Run on a relatively rare "R" day when I saw a woman standing at the edge of the run looking off toward South Ridge in such a manner that I thought she might be having some difficulty. I was a mountain host that year, so I stopped to see if she was OK. When I asked how she was doing, she turned to me with a sort of confused expression on her face, and said, "I've never skied in the rain before." It was definitely her first season at Schweitzer.
Like the little girl with the little curl, though, when it's good, it's very, very good. And, Schweitzer can be better on a bad day than some areas are at their best.
Sara Hansen learned to ski at a little area called Badger Pass in Yosemite National Park, which isn't bad, but has its limits. "It's pretty flat," she says, "800 vertical feet with five or six lifts."
Though Hansen started out on skis, a torn ACL converted her to snowboarding. Her first season at Schweitzer, last year, was dedicated to refining that skill, which she had tried years ago at Badger.
"I went one time at Badger. A girlfriend and I rented snowboards, when nobody snowboarded," Hansen says, laughing. "We had no idea what we were doing, and nobody gave us any advice. We strapped in both of our feet. The chairlift was 50 feet away. It took us an hour to get to it. I'd wiggle up and give her a push, which would make me go backwards. When we finally did get to the top, we just went straight down the hill. We had no idea what else to do. Just went straight back down to the lift line."
She's gotten a lot better. This witness spent half a day with her last year, a day she says contained the best and worst moments of her first season. The worst was on a trip through the trees between Stella's and Springboard. She bogged down, and after all other efforts failed, she finally took her board off and postholed out to Springboard. An hour later, though, she took her first run down black-diamond Sundance.
I was amazed to learn that was just the sixth day of her first snowboard season. On a limited budget, and without a season pass, Hansen only rode about seven days in the 2008-09 season.
No matter, Hansen has a perpetually sunny outlook. "I had lots of $10-off tickets," she says.
How on earth did she make the leap from Musical Chairs to trees and Sundance in six non-consecutive days? "I had two very patient teachers on my first couple of days, Justin Schuck and our friend Rob Arrano," she says.
By the time I ran into Hansen on her best-and-worst day, she had already been on every lift on the mountain – excluding the Magic Carpet. Although she didn't know it, she had also collected her first black diamond, one that had special meaning to her, as it does to many folks who ride at Schweitzer.
"I felt pretty moved by the first time I went up the Triple and boarded down Heather's Run," she says. "It touched me emotionally."
Heather's is named for Heather Gibson, whose commitment to battling her cancer and helping others fight theirs continues to provide inspiration and real help for cancer victims in Sandpoint even after her death (See "Gibson leaves legacy of care behind," Sandpoint Magazine, Winter 2007).
It is the community aspect of Schweitzer, the same spirit that put Heather's Run on the Schweitzer trail map, that hooks all these first seasons together.
Friends should help friends go skiing.
For Mendez, the mentoring of Nizolli, Goldworm, Hutto and Johnson (sounds like a law firm, doesn't it?) was priceless. That and lessons with Schweitzer instructor Tom Brie allowed him to put in 25 good days in his first year at Schweitzer.
"Tom was able to just watch me ski – I can't remember all the things he told me – and shortly into my first lesson, I got a much better sense of how to control the skis," Mendez says.
One particular day last season sticks out in his memory. "At the end of one of my best days," he says, "when I had pretty much had the mountain to myself on a spectacular day, I stopped for a slice of pizza, and there was this guy just staring up at the mountain. I said 'Hi,' to him, and he turned to me and said, 'Is it like this all the time?' "
Well, maybe not all the time. But, in a first full season at Schweitzer – or a 20th, for that matter – you can expect to have plenty of those kinds of days.
---
Olympic hopefuls from Sandpoint
With final preparations under way for the 2010 Winter Olympics, held Feb. 12 to Feb. 28 in Vancouver, British Columbia, brothers Nate and Pat Holland – both born and raised in Sandpoint – are hopeful that the snowboard cross team's Olympic roster includes both of their names.
At press time (mid-November), the Hollands were training hard at the U.S. Ski and Snowboard Association's headquarters in Park City, Utah, in preparation for four World Cups in December and January.
Ten men are vying for four positions on the U.S. Olympic snowboard cross team, and results from the World Cup races will determine the top four. The team won't be named until Jan. 21, 2010.
"We'll be absolutely thrilled if both Nate and Pat are part of the Olympic snowboard cross in Vancouver," said Rebecca Holland, Pat and Nate's mother, who lives in Sandpoint. She added that both of her sons are ready for the challenges ahead. "Pat said that training has been going really well, and Nate echoed the same. He's ready to make his mark this season." Nate competed with the snowboard cross team in the 2006 Olympics in Torino, where he placed 14th.
Back in Sandpoint, folks who want to cheer on the United States can head up to Schweitzer and watch the Olympics among fellow snow enthusiasts on the big TVs at Taps. Schweitzer's management team is hoping that Vancouver's Olympic-sized crowds will steer Seattle-area vacationers over to northern Idaho, where they just might help cheer on the hometown boys.
–Beth Hawkins
---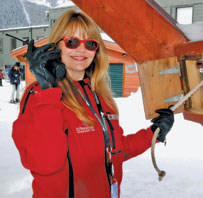 The author basking in the glory of her first (and possibly last) season as a snow reporter
First season snow reporter
Adrift in dreams of grandeur
By Sheryl Bussard
What delirium inspired me to become a snow reporter at Schweitzer Mountain Resort last winter? To voluntarily set my alarm every Friday and Saturday for 2:30 a.m. throughout the ski season, braving the lonely cold so you would know the conditions?
It wasn't the big fat paycheck, I can tell you that. Nor was it the employee discount in the Schweitzer Village shops. In fact, I spent more than I earned on Spyder and Helly Hansen apparel in order to soothe the raging shopping goddess within and take full advantage of my employee "savings." It wasn't even the free employee season pass, though there is the status that comes with flaunting your employee ID badge when swiping the time clock.

Admittedly, I had my doubts. Like being the first to drive the nine miles of unplowed switchbacks up to the resort. Having moved here from Laguna Beach, I wasn't exactly accustomed to winter driving challenges.

"Oh, it's not so bad," said my soon-to-be boss Patrick Sande during our interview. "Your insurance is paid up, right? And you have four-wheel drive? An emergency roadside kit? Then you'll be fine. Just allow an extra hour, take some blankets, and be sure to charge up your cell phone."

And what about my real job? I figured I would wrap up by 9:30 a.m. and be back at my laptop before my clients ever caught on that I was seeking greater fame and fortune up on
the mountain.

That's why I did it, of course. For the glory. The chance to be a celebrity. Yes, being a snow reporter would be the start of My Next Big Thing. A small jump, I imagined, from snow reporting at Schweitzer Mountain to leading a primetime news team. Better watch your back, Katie Couric. I envisioned a devoted radio audience, a loyal Web following, and the usual celebrity stuff: public appearances, TV interviews, movie offers, snow groupies.

Never mind that it would be only my second season of skiing and that I'd just begun to brave blue square runs without throwing up. Undaunted, I vowed to become the consummate snow reporter. I'd learn the lingo. I'd entertain. I'd inform. But I would never, ever, use the term "bullet proof" when describing surface conditions. No sirree, that directive was underlined and bolded in the snow reporter manual.

In preparation for my new career, I researched snow terms and weather phrases. As it turned out, I needn't have worried about such technical issues. "Would you say it's mostly sunny or mostly cloudy?" I'd poll the other members of the marketing team once they strolled in at 7 a.m. "Are these snow flurries or flakes?"

At 4:30 a.m. it is lonely at the top, beautifully so. I carved my own first tracks through the village, sometimes in fresh powder up to my thighs, as I made the morning trek to our highly specialized scientific snow measuring equipment, aka The Snow Stick.

Alas, being a snow reporter wasn't quite as glamorous as I had imagined. There were copy machines to unjam, phone messages to record, Web sites to update, and e-mails to write. With no assistant to bring me a caffe latte.

Looking back, I'm pretty sure I enthralled my three loyal Web devotees with such bon mots as Snowly moly! … We'll cross that cat-track when we come to it! … and my favorite, Let's not make a mountain out of a mogul!

Other days I fancied quotes that were blatantly self-referential:

To be great is to be misunderstood.
–Ralph Waldo Emerson

And some were pretty much for no reason at all:

The snow doesn't give a soft white damn whom it touches.
–E.E. Cummings

Traditionally, the snow reporter winds up his or her shift with one last bit of pomp and circumstance: the ringing of the opening bell. This is a pretty big deal, especially to hardcore skiers who keep a tally on the number of days skied each season and pride themselves on being first chair. Standing under the clocktower, radio in hand, I'd cock my head and listen attentively to the pre-opening check-offs and behind-the-scenes banter. Finally, I'd hear my cue: "Dispatch to Bell Ringer, do you copy?" If the update from Dispatch met with my educated approval, I'd give the bell a few powerful pulls. Or allow some kid the honor of doing it for me.

Bitter as I may have been that the CBS Evening News didn't discover me, I do run into fans from time to time who inadvertently gush (while I'm signing autographs) about how addicted they were to my snow reports. So there you have it – fame or no fame, there's no business like snow business. And in my case, the legendary Mae West couldn't have said it better: I used to be Snow White, but I drifted