Fleeting moments at West Fork Cabin
Backcountry skiers seek solace as they reflect on endangered caribou
Story by Chris Park, photos by Doug Marshall
Woodland caribou are scarce, but it still startled me when Doug Marshall, my photographer ski buddy, told me that biologists knew of only two or three animals in the American Selkirks.
"Where else in the Lower 48 do you find caribou?" I asked, as we made our way through the tight trees up to the West Fork Cabin.
"Nowhere," said Marshall, as the small log cabin just then came into view. "We're it."
They must be the most endangered animal nobody seems to know about, I thought, as we stood back to admire the stout cabin with its large, covered deck and finely scribed logs. I work with wood myself at Misty Mountain Furniture, so I know a thing or two about good craftsmanship. People had obviously put a lot of love into this well-built structure.
The 46 caribou that call the Selkirk Mountains home are mostly in Canada. In the United States, the woodland caribou once ranged from Maine to Washington, living in the old-growth conifer forests that suited them. The woodland caribou, just as us skiers, migrate to higher elevations in the wintertime. We want the good skiing and the caribou cows want the isolation of the mountains to have their calves.
Farther north in British Columbia, Canada, woodland caribou are faring better, but the closer you get to the U.S. border, they steadily thin out. In all of British Columbia, about 1,700 woodland caribou remain (in Canada they call them mountain caribou).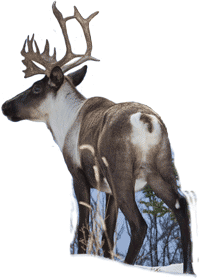 CARIBOU BY JERRY PAVIA
Woodland caribou's widely splayed hooves function like snowshoes, and their winter diet consists mainly of the weird, stringy lichen – some folks call it "Old Man's Beard" – that hangs from the spruce and fir bows. This particular lichen has about as much nutritional value as cardboard, so the caribou need to have a plentiful supply. It takes at least 70 years for a conifer forest to grow enough lichen to support woodland caribou. Not surprisingly, they have had a lot of competition for their mossy trees over the years from the timber industry.
In addition, on a moss diet, the caribou's energy can be dangerously depleted if forced to avoid snowmobiles and, yes, even skiers. For that reason snowmobiles are not supposed to venture off established roads here on Smith Creek or off the trail that goes to the West Fork Cabin. In recent years concern about the caribou's welfare has resulted in the closing of a significant portion of Idaho's Selkirk Mountains to motorized travel.

The caribou, when they were more plentiful, were popular with hunters, especially American Indians. Although they are off limits to hunting now, caribou still have to contend with poachers and predation from carnivores.
Like the caribou, it had been a tough year for me as well: My best friend, Paul Donaghue, had died in September 2008 from cancer. It felt good to get out on a backcountry trip with Doug. We were here for the next couple days to ski, explore, maybe catch a rare glimpse of a woodland caribou and to spread some of Paul's ashes. It had been six years since my wife, Lizbeth, Paul and I had last been to the West Fork Cabin. We, too, had come to stay at the cabin, explore, ski and hope for a caribou sighting. We also came with heavy hearts as earlier that winter, our dear friend Tim Parnow – father, husband and favorite mentor – had been killed in an avalanche.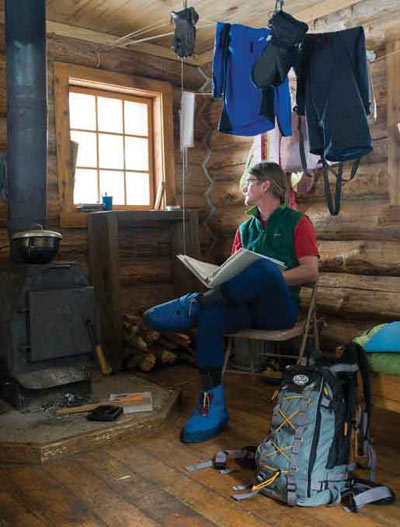 The author studies the West Fork Cabin journal while remembering his fellow backcountry skier friends who have passed on
Of course, anyone who knew Tim would know that he wouldn't want anyone down in the mouth when staying at a backcountry cabin on a ski trip. Still, we took a solemn moment for Tim, saying a few words, taking in the beauty of the night sky and lighting a candle that we placed on the snow outside the cabin. Remarkably, that candle burned through the windless night, melting a hole a foot deep by the morning. When we returned from an excellent day of skiing later that evening the hole was still deeper and there was only a tiny piece of wax remaining. Like the candle, Tim had been an inspiration, burning brightly and warmly, but in the end, not quite completely. The same was true of Paul. And it was sadly ironic that I was here again on the same mission. Also, like Tim, Paul wouldn't want anyone moping around on his account.
It was early May, and we had been experiencing a cool spring that kept the snow pack in good shape. A few days earlier there had been a big storm, and we were anticipating good powder on the north-facing slopes. Once Doug and I were settled into the cabin, we were chomping at the bit to get out for a tour. Wasting no time, we headed northwest from the cabin and found excellent ski terrain after about 45 minutes of easy climbing through well-spaced, old-growth spruce and fir trees. We were on a ridge looking down on Hidden Lake. Although it's only about 500 vertical feet down to the lake, the terrain was irresistible. We carved our skiers' signatures into the dry, boot top powder, knowing that we were getting some of the last powder turns of the season. We did several runs on those aspects, then with a little more climbing and contouring, made the summit of Joe Peak (6,743 feet) where the bigger terrain and longer runs greeted us. The sun, however, was dipping low on the horizon and it was time to head back to the cabin. No problem, we would be back tomorrow!
Turns out that the West Fork Cabin, a Forest Service cabin dating back to 1931, sits in an area known to be caribou range. The cabin we had been staying in had been built in 1999 after the original structure was burned down in 1998 by some genetically challenged rowdies. Previous visitors chastised the unknown pyros in the pages of the cabin journal.
Maybe, however, it was a blessing, as the old cabin was reportedly run down and getting more use from pack rats than people. Now we had two nice bunks, a table, plenty of windows and a big woodstove that had us in T-shirts while we sipped Irish whiskey.
The next morning we were up early and made tracks straight for Joe Peak. The sun was out in full force today, and we knew the powder wouldn't last. As we climbed, I thought about how fortunate we were to be here skiing in these beautiful mountains. My thoughts wandered: Backcountry skiing is a rare experience; it's rare in life to have good friends like Paul and Tim; the woodland caribou are now the rarest mammal in the United States. I thought, Be thankful, respectful and appreciative of all that we are blessed with today.

Chris Park releases ashes of deceased friend Paul Donaghue into the wind atop Joe Peak
As I braced myself against the stiff wind blowing across Joe Peak and raised my hand, releasing Paul's ashes to the mountaintops, I thought of the fleeting moments we experience in life, some of which we have no control over and others that we do. Tim and Paul are now gone forever, but the West Fork Cabin was rebuilt. Perhaps, if we put our hearts into it, we can "rebuild" the woodland caribou, too.
Accessed by Smith Creek-Red Top Ridge Trail No. 21, West Fork Cabin is a first-come, first-served Forest Service facility; contact the Bonners Ferry Ranger District at 267-5561 for more information.