An avid reader, Berlin native Klaus Groenke has compiled hundreds of volumes in the library of his Hope Peninsula home
Klaus Groenke
German real estate magnate
Story and photos by Ralph Bartholdt
At the entrance to Klaus Groenke's property, a 12-foot piece of the original Berlin Wall sits column-like in the lush and cool shade of trees. Once the gate opens, a paved road winds past tennis courts and throbbing sprinklers that drench the grass under tall pines on the Hope Peninsula. The pavement ends at a log and stone house that conjures images of Teddy Roosevelt and the Yellowstone lodges of a century ago.
Groenke, 69, is a fit man of medium build, balding, with white hair and dark eyebrows and casual dress. A Berlin native, he made his fortune building low-income housing in his hometown beginning in the 1960s. He and Gisela, his wife of 43 years, have lived part-time on the Hope Peninsula since the late 1970s. They came to northern Idaho at the behest of their friends Ed and Nancy Kienholz, American artists whom the Groenkes met in Berlin, and who owned property nearby.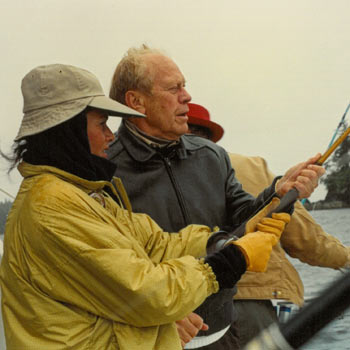 Gisela Groenke fishes with family friend President Gerald Ford on Lake Pend Oreille, while he was vacationing here in 1992
The Groenkes once owned 8 acres on the peninsula, but in the 1990s when some investments soured, they sold several parcels and formed a gated community with neighbors whose similar proclivity for peace, quiet and the beauty of Lake Pend Oreille's shoreline rival his own.
In his decades here, the über-German has been known for his generosity to the Panhandle Alliance for Education, for the powerful guests who sometimes frequent his property, the giant sculptures displayed on his land and the conspiracy theory tying him to weather-altering government plots.
His property is dotted with works by internationally acclaimed sculptors Mark di Suvero and George Rickey. They grace the lakeshore along with others, including a 30-foot set of blue, metal beams that shoot skyward near the tennis courts. It is a work called "Waterfall" by German sculptor Peter Lindenberg.
As for conspiracy theories surrounding the Groenkes and their property in Hope? Groenke dismisses them with the wave of a hand.
For many Bonner County residents, especially lake residents, you are sort of a mythical person about whom little is known. Tell us about yourself.
I was born in 1942 in Berlin. Basically all my life except for three years I have lived in Berlin. Three years I spent in the early 1960s in Rhode Island. My father owned a printing business in Berlin, a small printing business, and I, after finishing high school, made an apprenticeship as a cameraman in the printing business. I returned in December 1964 and helped my father in the printing business. Then I decided I wanted to go into real estate because I had an opportunity with some friends. We bought some land and we built basically low-income housing in Berlin, which was government subsidized. It was like low-income housing, but much higher quality. So, all my life I stayed in the real estate business. In 1968 I married Gisela; we are a happy couple now for 43 years. We have two children. Our son, Christian, is 40 and our daughter (Daniela) is 36.
As for urban legends, or rumor gone awry, one "neighbor" in particular has tied you to conspiracy theories involving the federal government. What do you make of that?
There is an individual from Sagle (Len Horowitz), who claims to be a Harvard professor who wrote something really stupid about me. I only can say it's stupid. Like I have this scheme to eat up energy resources and that we have symbols out here like swastikas and what not. I mean, it's bull----. We do collect a little art, yes, I have to say. But we're not the typical collectors. Collectors usually go in one direction and they want to enhance their money. I am not a collector like that. I go by belly feeling, by gut feeling. If I like something and I can afford it, I will buy it.
On that topic, you have several large pieces of art by well-known artists on your property. Tell us about the pieces and your tie to them.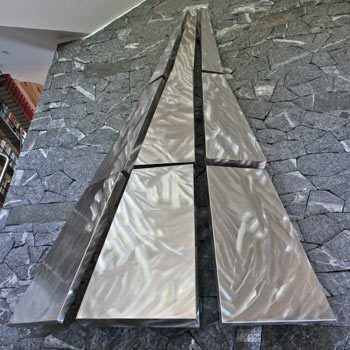 A piece by renowned sculptor George Rickey graces the Groenkes' fireplace
We have pieces from some internationally, well-known, over-the-world-known and acknowledged artists. In the front line of course is Kienholz. We own many works by him. Also, Mark di Suvero. If you ever have been on the lake here you can see on the next point of the peninsula a red sculpture. It's about 35 feet high and it's called "Tendresse." It is from Mark di Suvero. And then we have pieces from George Rickey here, as well as in Berlin.
Did your friendship with sculptor and painter Edward Kienholz – for whom much of the Hope Peninsula art scene is dedicated – inspire or introduce you to the local art scene, and how are you still involved with that?
In 1975, Gisela and I met the Kienholzes, Ed and Nancy. They were living part-time in Berlin. They were intrigued by the divided city. We decided to invite them to our house for dinner. It was a quiet, awkward dinner, sort of a blind date, but during the evening we found out that we liked each other. That was in the fall of 1975, and through the winter and spring we met each other almost every week. The following summer (we) planned a six-week trip by car from Los Angeles to Seattle to New York. That trip brought us through Idaho where we stayed at Ed and Nancy's guest cabin for three or four days. I liked it so much that I wanted to give up the whole trip. I made sure that next year we could come back, which we did. We bought a small lot across from Ed and Nancy's studio and built our first log house. That was completed in 1979. Since then, every year we came back for summer vacation, Christmas and sometimes in between. I have not met artists in the category of Kienholz or di Suvero or Rickey up here. I think one of the outstanding artists that I know in the local neighborhood here is Stephen Schultz.
You have a piece of the Berlin Wall outside your gate. Is that a novelty item, or is there greater meaning in that to you, someone who lived in Berlin when it was an island of democracy surrounded by communism?
That piece was given to me by staff that worked for me. It's a true piece with graffiti. I was 6 years old when the Berlin blockade happened. Fifteen years later I was with my parents coming back from Bavaria on a vacation trip, and we had, of course, to pass through East Germany to get to West Berlin. When we arrived in Berlin, we found out they were building the wall. … You had a feeling you lived within a threat all the time. Almost 30 years later, I was sitting with George Rickey, the artist, and with Gisela. We were having dinner when the wall opened and fell. We left our dinner and we went to the wall and saw the people coming in. It was a fabulous feeling. I think that feeling of freedom at that moment was the greatest experience I had in my life. That segment of the wall is always a reminder that we once lived on an island in communism.
You have had President Ford and his wife, Betty, as well as other dignitaries, visit your Hope Peninsula property. How did you make their acquaintance and how have those been sustaining friendships?
I was in business with one of the largest real estate developers in U.S., a family out of Dallas, the Crow family. The Trammell Crow Company was at one time, or maybe still is, the largest real estate developer in the U.S. Through him, we met President Ford, and of course, Betty Ford. On a boat trip, the Crows invited us to the Inside Passage of Alaska. We spent a week on that boat and the important guests were President Ford and his wife, and Lord Callaghan, who was the former prime minister of the United Kingdom, and his wife. On that boat we became friends. We did give a reception here for President Ford (in 1992). He was standing in that corner (of the balcony); people passed him and he said hello. It was when we had rarely seen eagles in years, and there was a bald eagle and a golden eagle that landed in that tree above the president. So, they recognized the president.
Tell us about your role in supporting the local school systems and your ties to Panhandle Alliance for Education and why that is important to you.
I do donations on a lower level. We were inspired to do that by Dan Jacobson and the alliance, and also by the Lewis family. We had twice here on our property their yearly event for fundraising. Of course I think that a good school education is very important and that there is a need to support that.
Is your business primarily a European venture, or is it worldwide including projects in the United States?
My business is strictly confined to Germany. My father always said that you must do your business where you sit with your behind; that way you can control it better. In the 1970s we tried to build in Spain, a Sheraton Hotel in Barcelona that failed. The country was going through a change from dictatorship to democracy and for a time nothing there worked. So, I stick to Germany now where you know the law, you know your rights. It's easier. We built shopping centers and have owned hotels and built hotels. Now we no longer own any. In 1992 we bought 27 of the best hotels in East Germany for 2.2 billion Deutsche Marks. We lost those through clouded titles. That cost us $300 million. We have built thousands of apartments in Berlin between 1968 and 1990.
How much time do you spend here and what is your daily routine?
We are usually the whole summer here. My son lives mainly in Dallas and Menlo Park next to Palo Alto, so we travel and see him a lot. We travel back and forth to Berlin. Next year I am going to be 70, so I will probably give the company – half of it – to employees and stay on as a silent partner. We want to travel the U.S. starting next June. We want to travel to Alaska. We love to travel by car. I love to play tennis. I play one hour, sometimes two times per day. We have lots of guests, we talk, we swim, we go for boat rides. In the winter, my family likes to ski. You have one of the best ski areas here; it's not crowded like in Europe, and the snow is powder, not icy.
Tell us about your own, private Idaho.
Except for Berlin, which is the place where I was born, I have seen few places like this in the world, where I feel at home like this. It is the most peaceful area, and it is here where I can really come to peace. My blood pressure is 20 points lower here than it is in Berlin. It is serene. That is what it is to me.