Joe Sweenwy descends in knee deep powder through Myrtle Creek's old-growth forest
6 out of control, crazy, what were you thinking, thrill seeking, for the love of snow and ice, it seemed like a good idea at the time winter adventures.
1. Climbing Chimney Rock
A wintry ascent
By Gary Johnson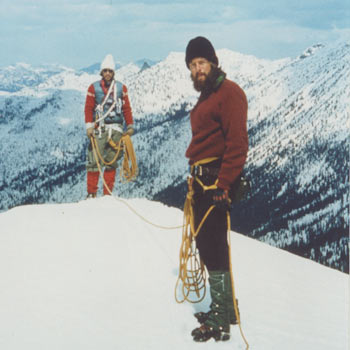 Gary Johnson, right and Dan Kurtz summit Chimney Rock in 1973. Photo by Gary Stitzinger
It was another beautiful day in northern Idaho, and I was enjoying the moment. An airplane circled above; those inside were probably wondering what the three crazy, ant-like figures were doing in the mountains this time of year. It was March 1973, and we were at 7,142 feet on top of Chimney Rock, gazing at a most magnificent view.
Earlier that winter, friends Gary Stitzinger and Dan Kurtz, both Sun Valley ski patrolmen, started planning a climb of Chimney Rock, a massive slab of granite that lies in the heart of the Selkirks. I enthusiastically accepted their invitation to join them.
A month later we started our journey at Priest Lake by skiing from the Eastside Road, destined for Horton Ridge Lookout, where we hoped to stay. Our packs were heavy, and skiing in took most of the day. Arriving at a rime-covered lookout tower, we were forced to camp another half mile up the ridge. Tired and at the end of winter's light, we drifted to sleep with thoughts of the following day's climb.
The next morning was bitterly cold. We started early to avoid avalanches on our approach to Chimney Rock. Cresting Horton Ridge, Chimney appeared like an ominous gravestone – a thought I quickly dismissed! We reached the ridge to Mount Roothaan and dropped into the Chimney drainage. The snow was stable, and in a short time we arrived at the base of Chimney's west side. We chose to climb the standard route and were anxious to proceed, due to cold temperatures in the west-side shadows. Kurtz would lead, I was next and Stitzinger last.
Our climb went slowly because of ice-encrusted ledges, but Kurtz was doing a great job of leading and placing protection, making it easier for Stitzinger and me. The exposed, icy climb required three, 80-foot pitches. At the rappel platform, it was another 80 feet to the summit. This final pitch required an "airy step" to the north side of the rock, where I contemplated returning to the safety of the rappel point and waiting for my friends to summit. This step, although less than 2 feet across, drops 350 vertical feel to the valley below!
I made that "little step" and successfully bridged the gap. I heard Kurtz yell that he had made the summit; I came shortly after, followed by Stitzinger. It was all smiles and hugs on the narrow summit, where cairns marked the exploits of past climbers. Lake Pend Oreille and Priest Lake stretched on the horizons – a glorious moment!
We spent a brief 30 minutes in the cold wind on top, taking photos and eating a quick snack before heading back to the rappel point and our return to the "real world." After two challenging rappels, we returned to camp on Horton Ridge, ate a big dinner, and went to sleep as the sun faded over Priest Lake. Sweet dreams were the order of the night.
It was all downhill the next day for the trip back to the van. We parted ways and, nearly 40 years later, as I reflect on those three challenging, adventuresome days, I still marvel at the sight of Chimney Rock and its surroundings.
Safer, saner option
Try a snowshoe climb of Gold Hill Trail No. 3. The 3.5-mile trail is easy to follow and offers fabulous views of Lake Pend Oreille and Schweitzer Mountain Resort. Roundtrip takes about three to four hours in the winter, depending on snow conditions. From Sandpoint go south on U.S. Highway 95, cross the Long Bridge and take a left on the Bottle Bay Road. Go 4.7 miles to the, trailhead marked by Forest Service signs.
Gary Johnson, 64, is a Bonner County marine deputy who retired after nearly 40 years fighting forest fires in Alaska and the Lower 48. A longtime smokejumper, he and his wife, Diane, have climbed many northern Idaho peaks at all times of the year.
2. Paddling Clark Fork
A winter's diversion of unexpected direction
By Kevin Davis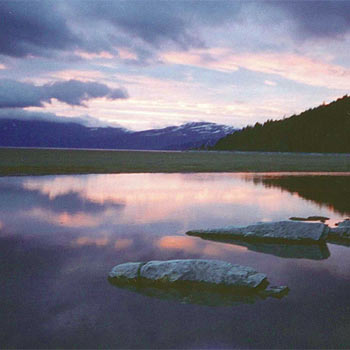 Kevin Davis captured this sunset at Deadman Point on Lake Pend Oreille during a February 1994 winter paddle
It hadn't snowed for two weeks in February 1994, and the ensuing weather pattern looked bleak; no snow in the forecast and my will to live was waning. I reluctantly retired the skis in the shed.
Walking in with an armload of firewood, I tripped on the canoe and got an idea. I stoked the fire, sat down with a map and devised a plan for a winter paddle.
Instead of being bummed out that it's not snowing, get out on the lake and enjoy the sunshine, I thought. So I rallied a couple of friends, who didn't share my enthusiasm for the plan but agreed to shuttle me, my dog Lou and my canoe to Bull Lake, where I would embark on my paddle back to Sandpoint.
We piled into my truck with all my gear and headed east. Approaching Bull Lake, I said, "Uh, problem, why didn't anyone tell me Bull River doesn't flow out of Bull Lake? Plan B, take me to Noxon."
On the road, I absently watched the scenery pass by, not registering that there was a solid layer of ice on the Clark Fork River. It suddenly caught my attention as I gazed out over a vast expanse of Arctic-looking terrain.
"Do you have a plan C?" Rick asked, with a sneer.
"Take me to the Cabinet Gorge Fish Hatchery," I said.
This was far short of my intended trip, but at least I knew the water flowed downhill from there. After much cajoling and many laughs, Lou and I pushed off downriver. That night we camped at the end of the Clark Fork Delta, where the river meets the lake, and listened to tundra swans whistle in the diminishing light.
The next day we paddled to Deadman Point. In the shadow of the looming Green Monarchs, Lou seemed content to scan the hillsides while I gained a decent respect for the grandeur of the sculpted terrain. That evening we were entertained by three loons plying the waters eastward, following their calls that echoed down the precipitous cliffs beyond.
The next day broke calm and clear, and as I looked at the cold, watery expanse before me, I realized I had paddled us into a situation.
What could go wrong? I thought. With nary a living thing in sight, we shoved off and headed right up the gut of the lake. Man, did I ever appreciate the sun that day. We stretched our legs on Pearl Island, then set a course for Anderson Point. Lou had been doing so well, especially for a big dog trapped in a tiny canoe. The wind picked up rounding the point, as did Lou's anxiety. Waves slapped the bottom of the boat and, startled, Lou stood up in the canoe, nearly capsizing us.
"Not an option!" I yelled, politely whacking him on the head with the paddle.
He sat down, and I was quickly reminded of our tenuous existence out in the middle of a big, ice-cold lake. Looking westward toward our destination past wave after wave, I decided it would be best to head for Fisherman Island. After a harrowing crossing, Lou and I landed safely in Oden Bay and strolled reassuringly on dry land at Sunnyside.
Safer, saner option
Paddle the shorelines of the many beautiful bays, deltas and sloughs on Pend Oreille where you will be closer to shore and protected from the wind and weather. Green Bay, Bottle Bay, Oden Bay, Pack River Delta and the Clark Fork Delta, and Sagle and Denton sloughs, are all places where you will find a parking area with a put-in and great places to explore on the water in the winter.
Kevin Davis, 43, is a U.S. Forest Service hydrologist and avalanche forecaster who says his adventurous days have waned. Now a husband and father of two, he is still trying to find the source of the Bull River.
3. Kite-skating the lake
To the edge of the ice
By Joshua Burt
Oh jeez. Oh no, not now. Come on Josh, release the bar and pull in one of the two lines.
The giant kite whisking me gleefully across January ice at breakneck speeds is now spinning out of control in what I call a "death spiral" and pulling me ever faster to the ice's edge.
How far out am I?
There certainly weren't any marks on the frozen portion of Lake Pend Oreille from the dozen or so folks skating between Memorial Field and the Long Bridge that blustery, winter afternoon – probably because I was much farther out than they were.
I crossed large fissures where new ice had frozen onto the existing sheets and created these frozen, bubbly mounds. I still found myself heading straight out toward the jet black, icy, cold, open water lapping at the edge. The sun fell closer to the horizon, and the cold wind continued to blow.
Come on, I've been kite-skating for three years.
This situation was sure a lot easier to control at McArthur Lake two years ago. Back then, McArthur had suddenly and completely frozen over like black glass during an early Arctic cold blast. No water's edge.
Hand over hand with the thin cord trying to slice open my gloves, I pulled on one of the 50-meter guide lines of my 3-meter traction (or foil) kite while also trying to control my ice skates that were shaking violently with speed wobbles like a boarder's skateboard careening down a large hill. This same kite – when artfully used – works just like a sail. I control it remotely to use the wind to shuttle me around the ice, like a kite-boarder does in the water or a kite-skier does on snow.
Finally, at last!
The kite surrendered; its baffles deflated, allowing it to fall gently to the ice below. It still took me about a hundred feet or more to stop because of my momentum.
Breathe.
I turned and looked back. The hockey players off Third Avenue Pier were mere dots against a backdrop of Sandpoint encased in winter on this January day. Cars slowly shuffled by on the Long Bridge, transporting working people back to their warm homes and loved ones. The sun began to fall below the horizon, leaving behind a cloudless sky with pastel hues of blue, pink and orange.
Probably no one noticed my plight that brought me hundreds of yards past where anyone else had skated on this ever-changing ice sheet that's here today, gone tomorrow. I gathered my kite and headed back toward shore, stopping just shy of the pier. I laid the control bar down and straightened the lines, then placed my little block of wood on the kite to keep it from blowing away in the evening breeze. I skated back to the bar, gave it the slightest tug and whump!
The kite inflated and took to the sky. I'm off once more, leaving the town and pier and hockey players behind for one more lap to the Long Bridge and back before darkness sets in, the breeze dies and it's time to go home.
Man, I love kite-skating.
Safer, saner option Lose the kite and skate the lake at Third Avenue Pier.
Originally from New Hampshire, Joshua Burt, 34, came to Sandpoint from Oregon to ski bum at Schweitzer five years ago – 500-plus skiing days later, he's still at it. When not skiing he entertains himself with mountain biking, skijoring, boating, cross-country skiing, backcountry skiing, hiking, gardening, kite-skating (of course) and generally loafing around with his girlfriend, Chelsie, and dog, Neha. He can be found working at Ivano's or on a barstool at Pucci's Pub after a hard ski day.
4. Skiing the ancients
Old-growth pow at Myrtle Creek
By Chris Park
We push through tangled alder, maple and brushy conifers for a short distance, concentrating on route-finding, when slowly we become aware of a massive trunk. As we venture farther, the brush thins out and travel becomes easier. Old-growth cedars, hemlocks, firs and even a few giant white pines surround us.
The snow sweeps up mammoth trunks on all sides, accentuating their graceful ascent skyward. Two massive avalanche paths shoulder up to this relatively small, secretive, old-growth forest like hulking bodyguards, sweeping clear a protective perimeter. Above are cliffs, another no-go zone, but within the forest we find a backcountry skier's paradise.
Boyish face gleaming as we begin our 1,200-foot ascent, Joe Sweeney, 51, embodies the quintessential qualities of a Northwest outdoorsman. He is as comfortable scribing fine joinery in a timber frame or dragging logs with a team of horses as he is carving neat turns on telemark skis. Compact and muscular, quick with a smile and story, Sweeney has been coming here for two decades. Years ago, his two boys, in a moment of youthful imagination, named this domineering cleft of rock looming over us Myrtle's Turtle. On this overcast, midwinter day, his wife, Jodi, 49, and her son Orion, 28, join us.
Myrtle's Turtle resides near the headwaters of Myrtle Creek in Boundary County. To get here, we drove the West Side Road north past the Kootenai National Wildlife Refuge headquarters to Road 633. From this intersection we snowmobiled to the no-motorized travel boundary and hiked the remaining 1.5 miles to our camp, about 13 miles total.
Joe gives me the lead, and I choose a route that allows us to run fingers over deeply creased bark before making a switchback between the vortex of giant cedar siblings. We hike past a great-grandfather white pine, the largest I've ever seen. The first limb on its colossal trunk is 100 feet above us.
We slowly continue up, necks careening skyward. It's quiet other than a few birds, the wind and the sizzling of snowflakes as skis slice through the powder. Traveling in this primeval environment keeps regular banter to a minimum. This fairy-tale landscape brings on a sense of wonderment, a heightened awareness of the passage of time, reminding me that I occupy this earthly realm but only briefly.
The terrain becomes steeper, snow deeper. The forest thins where avalanches pouring off the sheer flanks of Myrtle's Turtle have culled all but the toughest. We weave through boulders and small cliffs, memorizing the topography in anticipation of our descent. Snowdrifts, cross-loaded by the wind, firm on top and soft below, trigger the little hairs on the back of my neck. To go farther would be to venture into the dangerous arms of the flanking bodyguards.
We ski the ancients for two more snowy days: floating knee-deep powder turns on 1,200 vertical feet of protected 35 degree slope, interspersed with Goliath trees, spaced 20 feet apart, charging the terrain over and over until darkness or fatigue requires a happy retreat back to the crackling wood stove in the 12-by-12-foot wall tent.
Safer, saner option The next best thing would be kicking and gliding through old-growth cedars at Roosevelt Grove, accessible by snowmobile about 15 miles northeast of Nordman on Road 302 in the Priest Lake area. But the easiest to get to without a snowmobile or superhuman effort is the Ross Creek Cedars, just south of Bull Lake off Highway 56 in Sanders County, Montana.
Chris Park, 45, started adventuring early in life in the mountains of Colorado. Scenic beauty, small town charm and abundant recreational opportunities drew him to Sandpoint in 1989. He co-owns Misty Mountain Furniture and homesteads on Baldy Mountain with his wife, Lizbeth.
5. Skiing to the valley
An ill-advised adventure from Schweitzer
By Cate Huisman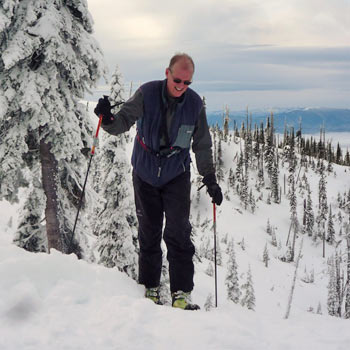 Skiers like Alan Millar, above, don't necessarily smile through all their adventures. Photo by Cate Huisman
The spring of 2008, with its plethora of snow, seemed to provide the perfect opportunity to descend into the valley from Schweitzer Mountain Resort on skis. My friends Alan and Karen Millar remember the "adventure" that resulted as something we did "because there was enough snow." As it turned out, there weren't a lot of other good reasons.
Our descent began on some lovely open slopes that we had scouted from Schweitzer's network of cross-country trails. One photo-worthy telemark turn followed another for ... well, Alan remembers this portion of the trip as lasting very little of the time, while Karen recalls it simply as about 50 feet.
What turned out to be the last (and not much past the first) pleasant set of nifty turns led us far out on a ridge that overlooked our destination in the valley below. We knew even as we were admiring ourselves during these turns that we weren't going where we wanted to go and that we would pay for it eventually.
The ridge ended in a maze of tight trees and steep cliffs, from which we had to traverse back into a gully, at the bottom of which we all had a chance to be grateful that our parents had insisted we learn to do kick turns when we were little. This was followed by an opportunity to remember fondly that they had insisted we learn to sidestep as well.
From there we were into survival skiing – somewhat unstylish, not to say desperate, turn-like motions in an attempt to move downhill on skis through a mixture of wet cement and breakable crust without running into anything.
Eventually this brought us to a narrow, unplowed road that sloped generally downhill and north and offered the possibility of zigzagging into the valley – if not to where we had left the car, at least to the same altitude. So we followed it, although even this did not prove easy going.
Frozen snowmobile tracks gave some relief from the unappealing snow conditions elsewhere. But there were few options for turning or slowing down once our skis were slotted into the tracks, a condition Alan described as "very committing." As we whizzed by in our very committed state, we gazed longingly at the attractive slopes below us. But on the rare occasions that we were in control enough to take a test turn on these slopes, our findings led us to quickly sidestep back up to the road.
Our commitment also led us into the tail end of a group of moose that evidently had decided the road provided the best option for them as well. We made several sudden and ungraceful stops as we saw brown rumps disappearing in front of us, and the annoyed ungulates registered their displeasure by leaving behind several small piles of steaming poop in the track we were careening down.
Finally, after some alarming performances around a few hairpin turns, we "skied" out into an open field west of the highway. We were way north of our car, but the snow here was well-consolidated and high enough to cover the tops of most fencing, leaving us a relatively easy route back to our parking spot.
Safer, saner option Others looking for such open-slope adventures should forget about skiing this route down from Schweitzer, no matter how much snow there is. Instead, skiers wanting a backcountry adventure from Schweitzer's out-of-bounds area would be well-served by spending a day with Selkirk Powder Company (263-6959, www.selkirkpowder.com). In addition to providing a lift back to civilization on a snowcat, their guides check the slopes and identify the best lines on any given day, so you never have to ski in wet cement or breakable crust.
Cate Huisman, 58, first learned to ski more than half a century ago, and she still finds the Arlberg technique useful now and then. She has had worse adventures on skis than this one.
6. A kayak rappel, in quest of winter whitewater
By Nick Bandy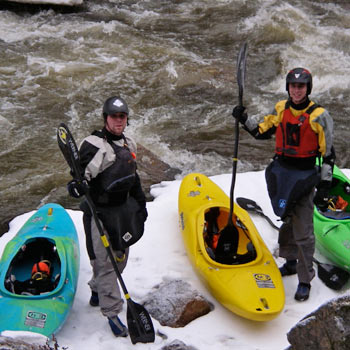 Jonah Breuchaud, left, and Nick Bandy ready for some winter whitewater. Photo by Aslan Summerday
At least once a month year-round, I kayak – rain or shine, sleet or snow. Although Sandpoint's winter season is amazingly beautiful and exciting, I'm always anxiously awaiting kayaking season. I pore over topographical maps and whitewater and waterfall guidebooks, searching for something that has been overlooked.
This impulsive behavior led me and my usual partner in crime, Jonah Breuchaud, 28 at the time, to trudge through the steep, snowy Cabinet Mountains one February morning to chase down a waterfall to kayak.
Three hours later we found it, flowing out of a small pool surrounded by granite cliffs about 35 feet down into a larger, clear pool on Wellington Creek. One problem made it just short of perfect. A log 3 feet in diameter was pinned vertically in the waterfall.
We formed a plan to go back to the pickup, get our gear, pull the log out and be flying down the falls in our kayaks by early afternoon.
Eventually we made it to the rim of the cliffs again, after post-holing our way through the waist-deep snow, thanks to the now-75-pound packs we carried. We picked a spot that was more stepped than it was vertical for our rappel down to the waterfall. The mist from the waterfall turned the cliff to ice, and the added weight of our packs threatened to peel us off the wall as we slid down the rope. I would have given two weeks' pay for a pair of crampons at that moment.
Finally, with sore shoulders and hands, we made it to the bottom of our waterfall and jumped into action, only to realize Breuchaud had forgotten his neoprene socks and booties – vital for staying warm in the bone-chilling winter water. Deciding that hiking boots were better than nothing, Breuchaud forged ahead into the pool, looking like a safety flare in his bright-orange dry suit in the midst of the snow. With every second, the icy water burned and stole the heat from his feet. After a minute or two of trying to secure the rope around the log, he couldn't take it any longer. He now had no feeling from his ankles down. I watched nervously, glad to be on shore.
With the log standing unfazed, Breuchaud stumbled back to shore, worried about how his numb feet would carry him out of this frozen cauldron.
Our exit strategy was this: I would load up with all the gear the two of us had carried in and quickly ascend the rope we rappelled down, while Breuchaud did his best to scramble up a different, slightly less vertical slope on his phantom feet. Then I could drop the rope down to him. Turns out, while I was struggling to ascend the rope with tremendously heavy gear, a rush of adrenaline induced by pain and panic propelled Breuchaud up that hill before I could even get to him. We walked together in the cold until we saw the pickup, waiting warmly and patiently for us, as if it knew we would be frozen by the time we returned.
First thing, we turned on the heat. Second, we grabbed our extra pairs of socks and the beer we had packed. Knowing that we had made it out safely, we cheered an exciting day. A small part of us still feels a pinch of failure, but the experience left an open invitation for success that will taste much sweeter the next time.
Safer, saner option Paddling anywhere around Lake Pend Oreille in late fall just after the season's first snow is truly a beautiful sight worth seeing.
Nick Bandy, 26, has spent the last eight years gaining a degree in construction management and working as a carpenter. Using kayaking as his way of exploring the beautiful Selkirk and Cabinet mountains, he spends the majority of his time outside. He is currently living in Moscow, Idaho, attending the University of Idaho to study hydrology.