Snowboarder Chad Cadnum runs out of real estate and "sends it" above Roman Nose Lakes. photo by Bob Legasa.
Backcountry 3 ways
1. Roman Nose
redneck rendezvous
By Bob Legasa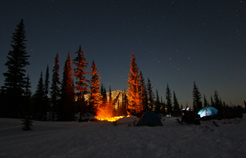 Above: The "redneck rendezvous" campfire emanates a mystical glow into the surrounding trees. Photo by Justin Miller
Late April always leads to the yearly ritual of cleaning out the garage and starting on that long overdue honey-do list that grows through ski season. Last spring, I was going through the routine and organizing the garage when I looked over at my Rossi Squad 7 skis. I just didn't have the willpower to put them away quite yet. I was constantly reminded of the 12 feet of snow visible on iconic Roman Nose on every northbound trip across the Long Bridge. The winter of 2012 had proved to be one of epic proportions for the Selkirks with La Niña dumping plenty of her precious white bounty on this mountain range we call home.
Throughout the winter I kept getting reports from my good friend Bridger Reid that Roman Nose was going off in grand style. Now if anyone knows the scoop on Roman Nose, it's Reid as he lives right at the bottom of this winter wonderland.
The abundant snowpack made Roman Nose Basin and its steep, rocky faces one huge playground for snow sports enthusiasts. As I banged one lift-serviced run after another at nearby Schweitzer Mountain, Reid had been putting the hammer down on fresh, untouched powder all season long on Roman Nose.
It was time to take Reid up on his offer and get after it on Roman Nose. After a few e-mails and phone calls, Reid and I put a plan together for an overnight trip the first weekend of May.
Together with a group of 10 good friends, we set out on what will now become a yearly spring tradition. As we all met at mile marker 6 on U.S. Forest Service Road 422, our posse looked like a mix of the cast from "Duck Dynasty," "A-Team" and "Dumb and Dumber." We loaded up all our gear and then some on five snowmobiles with trailers and an ATV quad rigged with snow tracks. We brought all the necessities from home – a chainsaw, barbecue grill, lawn chairs, plenty of food and our favorite adult beverages for the infamous Shotz Ski, an inane device with multiple shot glasses attached to it, courtesy of Scott Evans. With plenty of snow on the ground, the 15-mile ride in was fairly easy, even with some gear spilling off the ATV quad. We definitely fit the bill of some backwoods boys on a redneck rendezvous.
As we kept gaining elevation, it was pretty evident we were in for a special treat. Roman Nose had been hit with more than a foot of fresh, creamy snow only 48 hours before our arrival. With clear skies in the forecast plus a showing from the biggest full moon of 2012, we set up base camp on the east end of the lower lake around 10 a.m. By posting here we had easy access to our own mini golf course filled with features from wide-open bowls to snags mixed in with some steep, jagged chutes and technical lines.
The morning session started off pretty sweet as we hot-lapped the blanket of fresh. Everybody got in their fair share of turns as we rotated sled drivers every few runs; remarkably, the snow held up pretty well as we laid out big sweeping turns underneath the rock bands. We worked the basin over the lower lake pretty well, hitting some great lines before our crew settled in for a late lunch. Kicking back in lounge chairs underneath that warm May sun was "money." A few diehards like Chad Cadnum and Eric Einhorn, who apparently didn't get in enough runs before lunch, hiked up the bowl. Cadnum ripped a line that choked out over a nice rock outcropping where he sent it big, to be rewarded with a huge ovation that echoed throughout the quiet bowl.
A few groups of snowmobilers came through the basin that day. Propped up in chairs we witnessed some great hill climbs and gut wrenching rollovers as a few sleds tumbled end-over-end down to the snow-covered lake.
With plenty of daylight left, we rode for a few more hours. One-by-one our posse retreated to base camp where we relived the day around the campfire, knocking back a few frosty ones with an occasional run on the Shotz Ski. Tommy Frey and Dave Pecha had the grill rolling hot, and we enjoyed the previous hunting season's rewards of elk backstraps and cheese-filled elk smokies.
With our stomachs filled, we kept stoking the fire that was taking on a life of its own. The flames danced higher as the fire slowly sank deeper into the 12-foot snowpack. Between throwing more wood on the fire, we dug out an ever-widening circle. We would throw on the wood, dig and repeat. The Perigee "Super Moon" was rising from the east, but our view was blocked by the basin walls. Even though it hadn't crested yet, the bigger, brighter Perigee moon lit up the whole basin. We took a few late-night snowmobile rides to the top of the ridge to witness this phenomenon. When the moon finally crested, it looked as if someone had hit the floodlights.
It was midnight for some and later for a few others when heads hit the sleeping bags. As I lay underneath this incredible sky, I realized just how lucky I am to live in this area, not only to experience the incredible skiing and riding of Roman Nose but to witness such a sight on a quiet, crystal clear, North Idaho night. OK, the quiet part is an exaggeration. We'll be back again next spring for the redneck rendezvous!

Caribou Mountain Lodge is off the grid and situated amidst fantastic Selkirks backcountry ski terrain. Courtesy Photo
2. Caribou Mountain
boys' weekend
By Matt Gillis
About mid-October last year a group of my closest ski pals decided to plan a trip. Three months later, we were headed out by sunrise on the first of three mornings skiing and exploring the various terrain from Caribou Mountain Lodge right in our backyard.
We had talked about taking a trip to British Columbia or maybe to central Idaho for some yurt skiing or possibly cat skiing. It was soon evident that those options either required too much time, planning, money, or a combination of all three. We turned to local options and, luckily, we stumbled upon Caribou Mountain Lodge (www.cariboumountainlodge.com).
It is no secret that we live in an outdoor enthusiast's paradise, from incredible days on the lake during summer to unmatched days skiing in winter. When it comes to amazing winter getaways, we don't have to look to far-flung places for the trip of a lifetime.
Caribou Mountain Lodge is located 15 miles as the crow flies north of Sandpoint and sits just a short hike from Caribou Peak, Keokee Mountain and Mount Casey. We had yearned to ski all of these peaks as we gazed north on typical day trips from Schweitzer out to Big Blue and beyond. Our home away from home for a long weekend in January made those peaks accessible. The rustic, two-story cabin offers enough beds to sleep 10, two full baths, and a full kitchen with anything you would need to prepare a post-ski meal to feed an army of overly hungry, grown men who had just spent the day hiking their back halves off.
Lastly, we immensely enjoyed a wood-fired sauna that was a saving grace to sore feet, legs, backs, arms and, well, everything in between. Another really neat aspect of the cabin was its electrical system, a series of monstrous batteries charged by a handful of solar panels as well as a wind generator. Ironically enough, watching the power usage meter quickly turned into the blame game, deciding who was the most wasteful when it came to leaving lights on. Offenders were penalized and had to pay up in spirits.
The trip began by meeting the lodge owner, Mark Remmetter, and head assistant, Gary Quinn, at the Samuels store on U.S. Highway 95; we then traveled by vehicle on Upper Pack River Road to the trailhead. From there we loaded gear, mostly food and beverages with a little ski gear onto sleds, and caravanned to the lodge. Fortunately our group was equipped with an armada of sleds, making the seven-mile trek to the cabin a breeze for most of us. A few folks were new to snowmobiling and had a rough time getting used to things on the groomed road to the cabin.
Once settled into the lodge, which was mostly calling dibs on rooms with the biggest beds and the best views of the surrounding mountains and Lake Pend Oreille in the valley below, we were able to enjoy a few beverages, an amazing meal, and start making preparations for our first day exploring and skiing.
Our group consisted of 10 mostly experienced backcountry enthusiasts. We did a standard beacon and gear check first thing each morning and headed out by sunrise – at least on the first day. We also spent time each day digging pits and analyzing the various conditions of the snowpack prior to descents. That first day was spent skiing from the summit of Caribou Peak. We all thought the views were pretty amazing, right up until we got to the bottom and realized how good the skiing was. Lines down offered a variety of lightly treed terrain to open pow fields lower on the run.
The second day brought the awesome trek to the peak of Keokee, a maiden voyage for me. I was not only humbled by the amount of skiable lines that would most certainly result in the "pucker factor" but also the unreal elevation drop to the bottom. Our descent of Keokee resulted in the best runs of the season! From top to bottom we skied open trees on a consistent slope in almost bottomless blower pow.
Our final day was cut short a bit as it was time to make the trip home. We did not let that deter us from getting out and making some laps. We spent the bulk of our time picking lines off the ridge of Caribou Peak on what resulted in awesomely fun terrain – a few cliff drops and several pillow features – and some great wrecks.
Following each day of skiing we spent a fair amount of time exploring the surrounding area on our sleds – well, actually digging each other's sleds out of tree wells and fun things like that – to try to find access to different terrain. This was typically followed by a healthy amount of debating who skied the best line, who had the best crash, who set the worst skin trail, and on and on.
The trip was nothing less than a success on every possible level. We caught up with good friends, skied amazing lines in fantastic snow, and basically got out and enjoyed some of the best this area has to offer. Plans are already in place for what has become an annual boys' weekend, and it will always be at Caribou Mountain Lodge.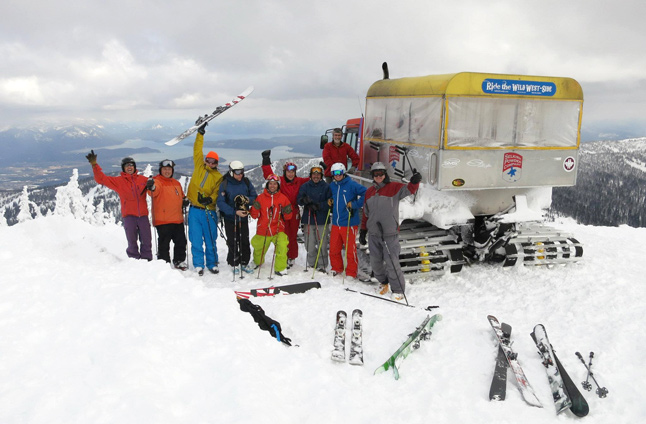 3.Cruising the Wild West Side
with cat power
By Matt Gillis
Over the past few years I have developed a passion for backcountry skiing. A group of 10 or so friends have also experienced the itch to venture into the backcountry as often as time, weather and conditions allow. Now don't get me wrong, getting out and earning your turns is hard to beat, but there are those handful of days when machine power is a remarkable thing, especially when the machine is a snowcat and you are shredding the Wild West Side! You need not travel much farther than Schweitzer Mountain to find the Wild West Side and its Selkirk Powder crew.
I have been fortunate to have skied some of the greatest resorts this country has to offer. Few resorts offer a full-service cat skiing operation off the summit. Fortunately for us, we have Selkirk Powder (www.selkirkpowder.com) right outside Schweitzer's back door. It operates along the west slope of the nearly three-mile-long ridge of the resort's boundary and beyond.
Over the past few years, we have chatted about trying to swing a midweek trip with the crew at the Selkirk Powder. We all obviously watch the weather religiously and, with our jobs, work tirelessly to be able to swing the potential last minute powder day, especially one with first tracks all day long! After several failed attempts at aligning the all-too-familiar "sick" day, we were finally able to capitalize to make a trip happen. The successful day landed on a mid-March Wednesday following three days of constant snowfall, which has seemingly become the norm around here.
The day started like any other with Selkirk Powder. We all went through the final registration process, the walkthrough of the day's agenda, and issuing of avalanche beacons in the ground level of Schweitzer's Lakeview Lodge. Following all of that we geared up for what would ultimately become a day filled with great turns and good laughs.
From the lodge our group headed out to the Great Escape Quad and on up to the top where the lead guide of the day gave a brief yet informative walkthrough of the day's snow conditions, what to watch for and an overview of backcountry safety. His report was just what we all wanted to hear: fresh pow on a stable snowpack and the ability to ski anything we came across!
Following the safety debriefing, the real fun kicked off by skiing through the glorious gates into the world of the Selkirk Powder Company. Each day is obviously a little bit different, but one can expect to ski eight to 10 laps ranging in vertical feet of 1,200 to 2,200. Fortunately for us, we were able to log a solid nine top-to-bottom runs, about three times as many runs as we usually log on a normal day in the backcountry. As the day pressed on and the laps tallied up along with the face shots, lunch rolled around with a fresh hot pizza delivered from the boys at Powder Hound Pizza. With our stomachs full but the hunger for more pow turns still present, we hit the afternoon full steam ahead.
It started a lot like the morning and finished off with nothing short of epic pow turns and endless laughs on the cat ride back to the top. As with any trip to the backcountry, there is certainly bound to be a handful of stories that make it out with the crew. In our case that included accidental collisions that resulted in some tree well acrobatics. The said accidental collision was chalked up as "rubbing is racing" and "I did not want you to steal my line." Another good one involved a wind drift the size of a Volkswagen bus, way too much speed and a yard sale to compete with some of the best ever.
All good crash stories on this trip also come with stories of amazing turns, airs and lines. Some of the more memorable were the variety of pillow lines, a few that seemingly lasted forever with a healthy face shot on each touchdown. Another group favorite was the numerous high speed airs into wide-open pow fields. I think the group favorites were the endless glades full of white-room turns that left everyone grinning from helmet strap to strap.
As we made our way back to the front side, we were all certainly sad to see the day come to an end. On the way back through the village, we made the inevitable stop at Pucci's Pub to relive the ups and downs of the day over some good ol' brews.
The following day, as we were all back at work, it was easy to think how lucky we are to have a place like Schweitzer as our playground. We are that much luckier to have an outfit like Selkirk Powder in the backyard of our playground. No matter what, there is certainly no better way to spend a "sick" day with a group of buddies!