Ned Brandenberger, president and founder of the Sandpoint Nordic Club, is an avid skate skier who is a tireless promoter of the sport. Ph
Nordic explosion
Sport growing, evolving in our private Idaho
By Billie Jean Gerke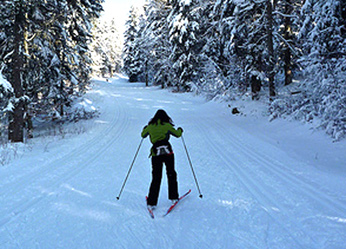 Trails at Western Pleasure
Between new Nordic terrain at two local ranches and the advent of the Sandpoint Nordic Club, the local cross-country scene is gaining steam and drawing hordes of new converts to join confirmed addicts. Add an enthusiastic couple newly settled in Sandpoint from the Nordic mecca of the Midwest, and the stage is set for a winter sports revolution in northern Idaho.
Hark! Selle Valley snowbelt
Come winter, cow trails and horse pastures transform into Nordic trails in the pastoral Selle Valley, Bonner County's snowbelt north of Sandpoint. The valley's winter wonderland now contains the newest terrain open to cross-country and skate skiers at two working ranches – Tauber Angus Farms and Western Pleasure Guest Ranch.
Both are set up as easy, park-n-ski outfits on Gold Creek and Upper Gold Creek roads and feature beginner-friendly terrain.
"It's funny to see who comes and goes to our little private Idaho," said Cassie Tauber, who with husband Tim Reed, worked at the 2002 Olympics in Salt Lake City. As a groomer for the Olympics, Reed is familiar with the snow quality needed for skate skiing. The couple's Utah connections came in handy when they scored a used Piston Bully groomer, one that Reed had actually operated at the Olympics.
"The grooming at the Taubers is absolutely beautiful," said Ned Brandenberger, 49, president of the Sandpoint Nordic Club (www.sand
pointnordic.com). "The Taubers and Western Pleasure are really doing a service for the community. It takes wherewithal to own equipment and maintain trails."
Tauber's Ski the Farm began last year with three miles of trails that follow the same paths their Angus beef cattle tread across pastureland and into the forest. They hope to secure a grant and acquire a full rental fleet so that local schools can introduce K-6 students to the sport at Ski the Farm.
"Getting equipment is paramount to the success of the program," Tauber said.
Their goal is to increase the community's interest in Nordic skiing and nurture the sport in Greater Sandpoint.
"It helps immensely getting young people into the sport," Brandenberger said. "They can go ski on gentle terrain close to town. It's also good for Schweitzer because it will introduce more people into the sport, and they will go to Schweitzer for dependable snow conditions and more terrain."
Ski the Farm is now operated as the Selle Valley Ski Club, whereby skiers automatically join the club when they purchase a day or season pass. Rates are $5 per day, $60 for an adult season pass and $35 for a child's season pass. Phone 263-6400 or find Tauber Angus Farm on Facebook.
"We're just trying to cover costs basically," said Tauber, who is working with adjoining landowners to add another three miles of trail. On loan from friends, an Airstream travel trailer serves as a warming hut. Tauber said their Nordic trails see a solid two months of suitable snow conditions.
One local was able to get seven days of skiing in at Tauber Angus Farms last year, close to the 10 days he had at Schweitzer. Bob Phillips, 73, retired here 10 years ago from Michigan and still skis competitively despite getting "long in the tooth."
"Skiing at Schweitzer is scary for someone new at the game," he said. "It's really nice to have a flat place for beginners and for people who want to work on their form. It should provide a venue for folks to try it out at a nice, gentle place."
Up the road a few miles at a slightly higher elevation, Janice and Roley Schoonover, at Brandenberger's urging, opened their vast horse pasture to Nordic skiers two years ago. Together they created a big loop that runs two miles around the whole perimeter of the field visible from the county road.
"Ned encouraged us to try it and came up with his own equipment and set tracks the first year," said Janice Schoonover, who operates Western Pleasure Guest Ranch on land that has been in the Wood family since the 1940s. Last year the ranch took over trail maintenance with a four-wheeler that can set tracks and the groomer that maintains its sleigh trails. The cost is $5 per person or $25 for a carload per day. Season passes may be available. Phone 263-9066 or find Western Pleasure Guest Ranch on Facebook.
"It's really great that we can all work together and get more people involved in it," Janice Schoonover said.
Brandenberger agreed: "It's good for the community as a whole. We have the lake in the summer, but really skiing is the draw in the winter." He adds that expanding the Nordic ski terrain in and around Sandpoint will bring more people here, and that will benefit retailers, restaurants and Schweitzer. "Plus, it's good for people. It's healthy, outdoors and affordable," he said.
Nordic skiing ambassador
Ned Brandenberger has been Nordic skiing since he was a little kid. He grew up in Missoula, Mont., and raced for the Nordic team at Montana State University in Bozeman. A Sandpoint resident for 20 years, Brandenberger said of the Nordic scene here: "It keeps getting better and better. The sport is growing, but it's not inexpensive to run a groomer around the trails. We are so grateful and lucky to have Schweitzer support Nordic skiing."
In the old days, Brandenberger said they just used to shuffle off to Picnic Point and not see anyone, but now they see a lot more people on Schweitzer's Nordic trails.
"It's just a great sport – an endurance winter sport. I hardly ever alpine ski anymore," he said. "I don't know how I'd get through a winter without cross-country skiing."
When conditions are right, the Sandpoint Nordic Club grooms trails in town at the University of Idaho Extension property on North Boyer and within parks in cooperation with the City of Sandpoint. Director of Parks and Recreation Kim Woodruff says the town's elevation at 2,100 feet makes it a challenge, however. "You have to be an opportunist. Be ready to mobilize. When it happens, go," he said.
Enter the Longhinis
Sandpoint's Nordic scene is sure to see even more momentum build as two proponents of the sport moved to town in January 2012. A couple in their 50s, Ross and Vicki Longhini are passionate skate skiers who moved here from their homes in Minnesota and Wisconsin. They have raced in the sport's largest, Olympic-length Nordic event in the United States, the Birkebeiner, every year for the past five years, with plans to continue. The couple brought their grooming equipment with them to northern Idaho and plan to develop trails around their Hidden Valley property, also in the Selle Valley, about five miles north of town.
Vicki Longhini was already working on her personal training certificate and gathering troops for dryland Nordic training before the leaves began to fall in September. The couple aims to train and coach a cadre of Nordic skiers and ultimately build a team to represent Sandpoint in competition.
"People are coming out of the woodwork. We have a lot of interest," Vicki Longhini said. "What I find exciting is the more I talk about skiing and dryland training, the more people say 'I just started doing that' or 'I want to try that.' Having accessible areas to learn and train on is really important." The Longhinis can be reached via e-mail at [email protected].
Sagle resident Rick Price also has several Birkebeiners under his belt. A member of the Sandpoint Nordic Club, he hopes to take advantage of the Longhinis' dryland training to get in shape for the Birkebeiner in February. The 54-year-old meets his two brothers at the Birkebeiner so they can race the 50 kilometers from Cable to Hayward, Wis., together.
"It's just a fun sport, and everyone that tries it gets addicted. Physiologists say there's no better workout than cross-country skiing," Price said. He has cross-country skied his whole life, but he only took up skate skiing seven years ago. "It feels like it doubles here in Sandpoint every year."
His favorite place to ski in town is on the lake with two or three inches on top of ice. "It's the most wonderful feeling," said Price, an elementary school teacher.
Moreover, skate skiing helps him get through Sandpoint's longest season. "It gives you a whole new outlook on winter," he said.
Vicki Longhini agrees and adds that Nordic skiing also gives people an aerobic sport that can keep them in shape and flexible for a lifetime.
"We have so much potential here because we have snow," Vicki Longhini said. "I'm excited to see what will happen this year, to see it grow and be a part of it. To be able to move somewhere and be part of a grassroots movement is super exciting."
Sandpoint will definitely be put on the map for Nordic skiing, if Tauber and Reed, Brandenberger, the Schoonovers, and Longhinis have anything to do with it.