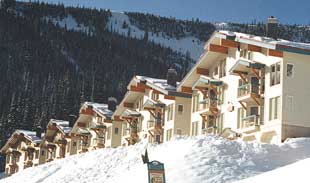 Highland Village, an earlier condo development by Evergreen Realty at Schweitzer.
On the mountain, circumstance may be breeding opportunity
For a lot of people who love skiing at Schweitzer Mountain Resort, owning a condo on the mountain would be a dream come true. "It would be perfect," said Zachary Snyder, an enthused 17-year old who spends as much time as he can there at a friend's. "Skiing out your back door, straight to the lifts. What could be better?"
According to several Realtors in Sandpoint, right now might be the best time to turn that dream into reality. "People who don't take advantage of (buying now) may regret that decision in the future," said Steve VanHorne, an associate broker with Coldwell Banker Resort Realty and the communications director for the Bonner County Association of Realtors. "This may turn out to be the good price time."
That prediction is based on an assumption that Harbor Properties, a Seattle-based company that owns both Stevens Pass and Mission Ridge ski resorts, will be the new owners of Schweitzer by the time the 1998-99 ski season begins.
Harbor Properties made an offer to buy the resort more than two years ago, an offer since tied up in a series of legal questions over ownership. The Brown family, as legal owners of Schweitzer, has relied on a series of legal motions, including a bankruptcy filing in federal court in Spokane, to maintain control of the resort. Local attorney Ford Elsaesser, however, was appointed trustee of the resort's operations in 1996 when it went into receivership, and he brokered the deal with Harbor Properties.
The expectation among the local Realtors is that the deal will close by early November. And that should turn mountain real estate from a buyer's market into one for sellers.
"In our office we're very optimistic and excited," said Debbie Ferguson, an associate broker with Panhandle Kaniksu and a former president of the Association of Realtors. "Harbor Properties is already in the ski business elsewhere, so they're experienced. They understand the industry and how to market it, and they're well-financed."
Charlie Parrish, owner/broker of Evergreen Realty, and the 1997 President of the Association of Realtors, agrees. "We've been told they're planning some fairly sizable improvements," he explained. Parrish visited other resorts owned by Harbor. "I was very impressed with their staff and with their hospitality," he said, and also in what he sees as Harbor Property's commitment to be "environmentally friendly." Put that all together and, "I see us becoming a leading regional resort."
Parrish, who has over a decade of experience in the local real estate market and 14 years of experience as a developer on the mountain, has sold all but one unit in the first phase of a three-phase project, the Cornice Condominiums. Phase II, another 8-unit building, will begin next summer. Parrish is not expecting a sale of the resort this fall to instigate any immediate change in the mountain's real estate market. "I think the first ski season would be a period when prices stabilize," he said, "and new inventory (will) enter the market." Though he currently has "quite a few listings" on the mountain, he believes many property owners are waiting for a decision on the sale before listing their property. But "once the current inventory works through," he anticipates prices will go up. He stated he wouldn't be surprised to see prices increase "10 to 15 percent a year," for the next few years with the resort under new ownership.
Ferguson concurs. "There's a lot of psychology in real estate," she explained. "When there's doubt about the future, people are hesitant to invest. With new energy, new capital and an experienced company, it creates a good atmosphere for investment."
At the time Harbor Properties made an offer to buy, "we initially saw a large number of people here from Seattle for the first time." Ferguson would expect that trend to continue, "bringing us an absolutely new market. Historically, the people who moved here to Sandpoint came first as tourists."
VanHorne also sees new ownership of the resort as an impetus for growth in the real estate market on the mountain, and believes that growth has already begun despite the ownership issue. "A unit closed this year for $525,000," he said. "That's a whole new price territory for a single-family residence." He says there are also "serious lookers at the mid-$300,000 range."
He points, as well, to the success of the Lazier Center, a commercial development on the mountain that includes two levels of retail space, one floor of business offices and eight condominium units on the top floor. Both Pend Oreille Brewing Co. and the Ground Zero snowboard shop are opening stores in the center, along with a small deli. The mountain offices of Coldwell Banker are located there and only one office space remains vacant at this time.
While VanHorne believes a final sale at Schweitzer will help to "stabilize the market everywhere," he doesn't believe the uncertainty over ownership has had a lot of impact on the market below the mountain. "I think most people recognize (Schweitzer) as a valuable asset that will not be left to wither on the vine," he said.
Parrish has also heard Harbor Properties invests in the community. His hope is there will be more of an emphasis on the local airport. "People could get from downtown Seattle to the top of Schweitzer in two hours," he explained.
All three Realtors believe Harbor would bring more skiers to the area and, as Ferguson explains, "Sandpoint has always tried to maximize its initial exposure to people here as visitors, to show we're a great place to live, to start a business or to re-locate a business." If they're right, a lot of new people will soon be exposed to our area's quality of life.

Trish Gannon is a writer and jack-of-all trades at the River Journal.
---
Going up, again
For the Bonner County real estate market, "1995 was our last really big year," said Steve VanHorne, associate broker with Coldwell Banker and communications director for the Bonner County Association of Realtors. "In '96 we went right to the edge of the toilet, if not completely into it. 1997 ended up slightly ahead of '96." That upturn continued, and during the first quarter of '98, "it was going gangbusters," he said. And then it died. "In April, May and June (this year) you could have fired off a cannon in any real estate market in town and not hit a soul" he joked.
But in July and August the market picked up. "It's picking up fast. And it's fueled by good, strong buyers."
The strongest sales are in the area of "residential with a little bit of land around it," he said. "We've got some serious action on waterfront. Homesites (bare land) are moving, but they're not a red-hot ticket." In the biggest change since 1995, however, "Commercial is beginning to take off." More than 144 commercial properties in the county are classified as "active listings" by the Multiple Listing Service (MLS).
The MLS reflects sales by members, and doesn't include homes sold by owners. As of Aug. 5, year-to-date gross sales volume was over $56 million, and almost 40 percent of that entire market was in the class of all residential in Sandpoint and surrounding areas. Average sale prices for all residential were $75,049 in Priest River, $91,080 in the Hope/Clark Fork area, and $127,758 in Sandpoint and surrounding areas, slightly above the national average. Average sales price in all categories, which includes residential, waterfront, condos, commercial and acerage, was $94,055. There are currently 1,270 active residential listings in Bonner County.
While it's a buyer's market today, VanHorne says that can change tomorrow. "The worse things get in the 'real world' the faster people want to get here." Most of the buyers he sees have enough money to be comfortable and come here because "they've retired, they're 'lone eagles,' were transferred here or are looking to start a business of their own." A surprising number discover the area "through the Internet."
– Trish Gannon