Wednesday, December 28, 2005
Episode date announced
Posted by BJP, SandpointOnline.com staff
The Extreme Makeover: Home Edition show on building the Hebert home in mid-November in Sandpoint will air on ABC at 8 p.m. on Jan. 22, 2006, as reported by the Daily Bee in Sunday's paper. Eric Hebert himself wrote a letter detailing the series of events that led to his family being chosen by the show. Local organizers have pulled together and planned a fund-raising party at the Panida Theater that night beginning at 7 p.m. to benefit the local chapter of the Habitat for Humanity. The show will be projected on the big screen live at 8 p.m., followed by an hour-long special by KXLY. There will be silent auctions and other fun activities going on at the airing party.
Click to read
the recent story in the Daily Bee, or to see Publisher David Keyes' column,
click here
.
We'll provide more details as they are revealed. Be sure to mark something on your calendar for Jan. 22. In the meantime, we trust the Heberts are enjoying their new home, staying warm and dry in this rather wet weather.
Saturday, November 19, 2005
A 'spectacular' reveal
Post by MG, freelance writer
Went up the hill at 7 am this morning and found lots of last minute work being done. Spectators were already coming in with chairs to get a good spot to see the reveal later in the afternoon.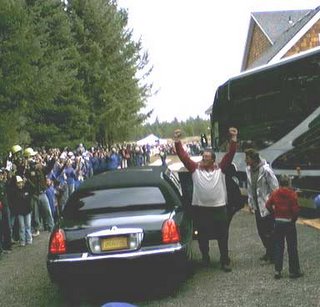 Most of the time was spent doing last minute clean-up, laying of the sod and finishing up the castle with Ed. Every volunteer was being used and made it a lot easier for the crew to get caught up and done with time to spare. The entire design team was working really hard to get the job done. Michael was seen with breakfast getting coffee and you can tell from his face and his hair that he didn't get much sleep, but was still chipper and in as good a mood as Michael can be. Ed was all about work and getting the job done. He did some last minute measurements and had to borrow a sharpie to draw lines for the castle floor.
At 8 am every bus coming in was completely full. The spectator section was completely full by 10 am with still more buses on the way. Bonner County Sherrif Deputies were there only to see better, but did not assist security in dealing with the break in the tape and the crown merging on past the spectator area and onto the grounds. Some spectators had to be asked by volunteers if they could move as the tractors were speeding through flattening out the yard preparing for sod. Once Security found out about the breach they responded very well and joked with the spectators so they complied very well when he asked everyone to move back.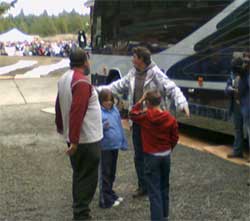 The yellow VIP passes were not being used, but a new whitel VIP pass for the Sullivan homes employees and their families. I left my jacket in the VIP room, but it was removed and put in a car somewhere and will never be seen again.
The bus did get stuck and towed out by a Dodge 450 4x4 owned by the studio though it did create a hole in the driveway. The joke around was tow that bus instead of move that bus.
All the volunteers that were able to be there were lined up the driveway to welcome the limo and the Herbert family back home. Ty got out and fired up the crowd, but he just has to show his head in a window to do this. The mostly seen person behind the scenes was the assistant director who had everything set up just right. Every once in a while Michael would come out on the deck and wave at the crowd. This was easy for him since he was designing the room near the deck which is the master bedroom. Ty designed the girl's room upstairs and Page designed the room for the boy.
Before the family came home the limo tested to see if they could drive through then they left to pick up and bring the family back.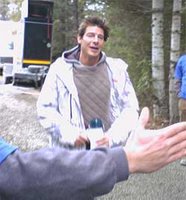 Finally right before the limo came through Ty walked past the crowd giving 5's all around very happy and cheerful. Before the family actually arrived he concentrated on what looked to be a script. When the limo pulled up the crowd went wild. The family got out of the limo and Mr. Hebert raised his hands and the crowd cheered wildly. This was even before moving the bus. When the bus was moved the look on the faces of the family was priceless. Then the design team ran out and gave the family big hugs all around.
Getting out was more difficult then getting in as the number of people was overwhelming. Lots of people got tired of waiting in line waiting for a bus and sheriff's deputies were telling some people that they could not allow them to walk back to the staging area as they would not want to be held responsible for their safety. After an hour of waiting for a bus many people gave up and walked
I was very happy in helping with the house - and now I am prepared to do something more, and that is go help with the house for Habitat for Humanity.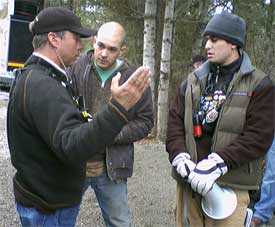 So it is concluding
Post by BJP, Sandpoint Online staff
The Hebert family is expected to come home at any time now, and at the Extreme Makeover: Home Edition shuttle parking lot, there are more cars parked in one spot than I have ever seen in Sandpoint. The response to this project in Sandpoint and the surrounding region has been incredible, to say the least. Last night when I was there I could see the electricians hanging a large antler chandelier that had just been picked up by the design team at Sandpoint Furniture. I spotted Michael being filmed in one of the rooms. My boss and his wife had gone up earlier in the day "just to check it out" and ended up spending six hours there. Chris donned a blue shirt and a hard hat, and went to the other side of the spectator fence to start volunteering. He moved landscaping bark around by wheelbarrow and later helped to carry mattresses into the house. He saw Paige and Ty, et al, while he was in there. Later his wife was asked to volunteer, and for a brief time she helped install window coverings. It's all been quite the experience and one that will keep us talking for a long time. After the crowds are gone and the family has settled in, I look forward to meeting them and seeing the home. We'll be covering it in the Summer 2006 issue of Sandpoint Magazine, to be sure. Welcome home, Hebert family, and thanks EMHE for choosing this local family and for allowing so many of us to participate.

Friday, November 18, 2005
Post by MG, freelance writer


The end is coming! Only part of one more day is left until the end of the hectic pace that has been brought to our small town by Extreme Makeover Home Edition.

So – not much was really going on today, but at the same time everything was going on. From the spectators' point of view people were working, but it seemed like a lot less than what we have seen in previous days… It seemed a lot less busy, and probably because most of the work was being done now inside the confines of the house.

As a worker, there was plenty of work to be done and there were plenty of volunteers on hand to do it. I came prepared with my volunteer shirt stuffed in to my sweater in case they wanted, or needed an extra set of hands. I was told that I was to be up here today… that's how I got my hands on a VIP pass… with a promise. So, here I was. After "finding" a hard-hat I was ready to go to work.

Instead I saw a friend in the crowd, who hadn't yet had the opportunity to do any volunteering, and told him to take my shirt and take the hat and to get in there and get to work. And work he did until late in the evening. I almost felt bad 'cause I had caught him right before he was going to leave. Hopefully he enjoyed his night.

Got to ride on a bushell-hog (I think that's what it was called) – basically it was a golf cart, but a lot faster and with four wheel drive. And then, to top it off, I got to drive it back That was probably the best part of my day.

The crowd was crazy today. Catching a glimpse of a head in the window that might have been Ty would throw them in to a frenzy. It's never been so loud up there that I can remember. Michael popped out frequently to wave at the crowd and pacify them. I think they realized that Idaho is a little crazy and thought they probably needed to make sure that we saw someone "special" every now and then. Michael was surely a hit with the crowd.

After almost freezing myself to death I used my VIP pass to cut in front o the people in line to get on to the warm heavenly bus. I was never more thankful for that yellow card then I was right then.

Many people were still waiting for the last couple of busses that would be running up for the night. I'm sure that a least a few of them were turned away.

The family comes home tomorrow and everyone is excited to see the end of this episode. Hope everyone has a blast!

A kudo to spirit
Post by CB, Sandpoint Online staff
The lunchtime buzz: Ran into Dan Fogarty, a local contractor who's been volunteering at the site, at Truby's on Main Street (where you can get a terrific enchilada soup on Fridays). Dan says working on the project has been an amazing experience. There have been almost too many volunteers at times, leaving some with not enough to do, but the job has been running like clockwork on its very accelerated schedule. Dan said the extreme schedule means some parts of construction are definitely rushed - think, paint drying and caulk curing - but overall he thinks the family is getting a very well-built home. And the spirit of the volunteers and everyone involved in the job has been great. Dan's got his own website at
DanBuilt.com
.
The buzz from the spectator site is, the crowds are growing and some have had a bit of a wait to catch the buses out or back. Despite the anticipated crush of spectators for the "reveal" tomorrow, a few calls around town show that as of the moment, several local hotels still have vacancies.
Timing of Saturday's reveal
Post by BJP, Sandpoint Online staff
The question on everybody's lips seems to be, "When will the reveal be on Saturday?" We called the communication company working with Sullivan Homes for media relations. There is no time given for the reveal, in case there are issues having to do with when the family arrives home from vacation. Shuttle buses will be running, and a large crowd is expected. People are encouraged to get there early if they want to be ensured a spot in the reveal's welcome-back crowd.

Ed and Paige at work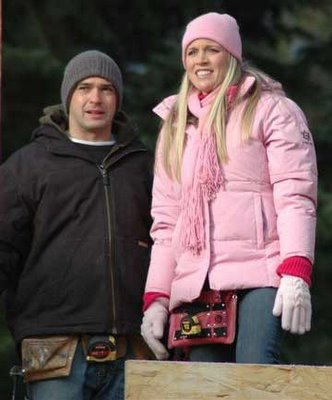 Photographer K.C. Potter was at the site of the Extreme Makeover: Home Edition building site in Sandpoint Tuesday when she took this photo of two members of the show's design team. Wrote K.C.: "Paige and Ed were trying out the new stairs right after a crane lifted them into the home." In other star sightings, yesterday show host Ty Pennington was at Kootenai Elementary School with his familar bullhorn, leading third- and fourth-graders in a jump-ropeathon to raise money for the American Heart Association.
Thursday, November 17, 2005
From the Bus and Beyond...
Post by MG, freelance writer
I was sent out today to speak with the people on the bus and on the hill to find out what their thoughts were on EMHE being in Sandpoint. Below are a few thoughts that the "locals" have... Please keep in mind, that all of these people considered themselves "locals" - everyone wants to be a part of Sandpoint, it seems. :) Please be aware that one of the quotes is a little on the colorful side.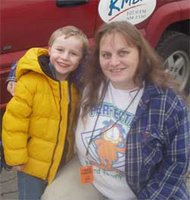 Rachel (29) and her son Ruben (5) from Bonners Ferry (at right):
"I think it's wonderful. And I think it's about time that people realize that North Idaho is one of the neediest places around."
Pete (50's) from Sandpoint who works for Watson Security:
"I think it's a wonderful thing for Sandpoint."
Cheryl (50's) a homemaker from Priest River:
"We're tickled that it's here. I enjoy watching it. Everybody is helping a lot and that's good to see."
Pat (60's) from Newport / retired:
"I think it's exciting for the family. I like what they do. All the companies that provide materials, food, donations should be commended. This show is better than any other reality TV show that is on."
Hope, a kindergarten teacher from the Selkirk School:
"Oh, I am so excited! We have such a great town. To help a family like this is so great. I'm really in to seeing people help each other. So many people I know (In construction) are up there."
Alicia (32) cashier at Exxon in Sandpoint:
"I think it's awesome. The only concerns that I have is that I think Sandpoint is already big enough and I don't want it to get any bigger. But all in all... it's good."
An un-named passerby who is an RN and lives in Sagle:
"I think it's fantastic. To give people the opportunity to help someone who needs it is really special."
Kathy from Dominos:
"As a business owner they came in and hit up all the local businesses and it's kinda weird. It's good what they're doing, though."
Sharon and husband, who live in Priest River and work in construction:
"I think it's good. I think it's good for our area."
Bill, who is a single father of two and lives in Oldtown.:
"It's cool"
Another local who remained anonymous:
"I don't know what is the big **** about this show. There isn't anything special about it. I really don't give a rat's **** about it. I'm having second thoughts about even going up there, I wouldn't be going up there but one of my friends is working up there"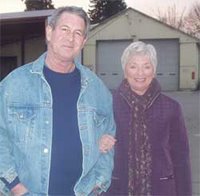 Jim and Bonnie, employed at Schweitzer (at right):
"I think it is the best thing - it brought our community together in ways that it normally wouldn't have. We needed this."
All in all, people "on the bus" have a pretty positive outlook on what's going on in our little town. Some however do have a different opinion.
As far as construction today: They were hanging some of the siding on the place today and basically doing a lot of finish work. It's all starting to really come together and looks like a house. I'm not sure what other work there is to be done on the inside... now that the walls are up its a lot harder to see what's going on.
Spoke with a couple different volunteers up there though who said that everything is running smoothly and that they are caught up timewise. They did catch a little problem a couple days ago when a well was put in to place and bolted down and they later figured out that they couldn't get in to the room because the wall was too long. I'm not sure what steps they took to remedy that, but something was done about it.
I'll be up there tonight from 12-4 a.m. Friday morning...maybe later if I don't freeze first. Hopefully I'll have more of an insider's idea of what's going on at that point.
More diverse perspectives
Post by BJP, Sandpoint Online.com staff
As promised, we did more "man on the street" interviews today. I took a trip to Yoke's in Ponderay to ask people what they thought of the Extreme Makeover project, and this time I got more mixed reviews, with some voicing concerns about dual burdens – the effects of more publicity on Sandpoint and the financial impacts on the family. Here is a sampling of what eight people I interviewed had to say:

Cindy, age 56, teacher
"It brings a lot of people to Sandpoint and gives us a chance to shine and show what we're all about. The down side is the publicity, of course, because everyone will want to move here."

Heidi, age 47, soils scientist
"I know some electricians working on it, and some are upset because local people are not being paid, but some think it's positive. It's kind of a pain in the neck that they've closed off Baldy ... but it's a one-time thing, and I think it's a worthy family."

Bill, age 61, retired
"The house is too big, too much. It's all done for the Extreme Makeover people, and I don't think they've considered the future ability of the family to afford the house – the utilities, insurance and taxes."

Barbara, age 73, retired
"I think it's a nice thing, and the world could use more nice things. The only thing I keep wondering about is the taxes."

Claire, age not disclosed, retired mother of 10
"I'm delighted that someone who's done what he (Eric Hebert) has done be appreciated. It just makes my heart feel warm that they're (the children) being taken care of."

Debbie, age 39, massage therapist
"I hate to see Sandpoint get more notoriety, but I'm happy to see the family getting the house, and I hope they'll be able to pay their property taxes in the coming years."

Judy, age 61, nurse
"I think it's wonderful. There are people who can use that, so if people apply and get accepted, more power to them."

Michele, age 38, bookkeeper
"I think it's great for the family, and I think it's a great project for Sandpoint to be involved in, but I wish they would have used more local contractors and suppliers."

We'll be seeking more comments from people on the street and more views from the building site, so, once again, stay tuned.

Downtown: Overwhelmingly positive
Post by BJP, Sandpoint Online staff
We wanted to find out what residents thought about the Extreme Makeover: Home Edition project going on in Sandpoint this week, so I took a walk around a couple of downtown blocks this morning doing "man on the street" interviews. My mission was to talk to 10 people. Not many people were on the streets this morning, so I ended up walking into several businesses to find people. The responses were overwhelmingly positive. Only one person expressed some misgivings. Here is a sampling of what they had to say:

Bruce, age 55, attorney
"I think it's been great for the community, a good experience and obviously beneficial for the two children involved."

Carol, age 60-plus, health care consultant
"I think it's wonderful, and it certainly shows Sandpoint's heart."

Cheryl, age 48, store owner
"I'm awfully proud of the town, because any time you can do something to help someone out, it's a good thing."

Dann, age 58, store owner
"I think it's wonderful, and it's ironic how similar this family's situation is to the family in the novel 'Housekeeping' by our own Pulitzer Prize-winning author, Marilynne Robinson."

Nancy, age 58, retired
"It's nice to have something like that happen in our small community; it's a phenomenal thing that they do for people."

Laura, age 37, sales associate
"I think what they're doing is wonderful, but when I read on the same page of the newspaper about families losing everything in fires, I wish they could spread the wealth more."

Klover, age 30, Realtor
"I think it's neat that they're tying in other ways of helping the family, such as the Kootenai School holding a Jump Rope-a-thon to raise funds for the American Heart Association."

Melanie, age 43, homemaker
"It's great to see the community come together, and the generosity makes me proud of Sandpoint."

Eric, 28, store owner
"It's awesome – a good group of people doing good things with their time."

John, age 58, retired
"They do such a wonderful job, and they really pulled the community together."

By the way, numerous store owners I talked to this morning have been approached by staff members from the show and have generously donated items for the home, everything from lamps to candles, and mattresses to artwork. One of the members of the design team, Eduardo Xol, was in a group of about eight people filming scenes from inside Vanderford's yesterday. Vanderford's donated office supplies for Eric Hebert's home office. One store owner said you can't resist the people they send to ask for donations.

We'll be doing some more "man in the street" interviews at other locations around town to see what residents think, so stay tuned.

Wednesday, November 16, 2005
An interview with Sullivan
Post by MG, freelance writer
Up to the site today to do an interview. Talked to someone in California who gave me some names of people to talk to in order to get my press-pass, etc. Of course, when I got there nobody knew any of the names I was tossing out.
For a while I ran around, took some photos and tried to listen to what people had to say. There is siding on most of the house, they're laying some of the flooring and finishing up some roofing. They've also got some sort of secret project going on to the side of the house - you can't really see it from the spectators' area, but I was able to poke around a bit and you could see something going on out back.
Called my contact lady and left a message for her that I couldn't get ahold of anyone, so I guess she got ahold of them for me. As I was standing up by the bus area, feeling a little let down, I got a call from Sarah Taylor who just happened to be about 20 feet away. We waved as we both noticed that we were talking to each other on our cell phones.
So she took me back, got a press pass and then set me with Mark to talk a little about what's going on. Mark works for Sullivan Homes and spoke with very high regard of his employer and of EMHE. "When we first got the call, we were all excited to be a part of this," he said, though of course "we worried about whether or not we could do it, but we're the 53rd build for Extreme Makeover, and if the other 52 could do it, we were sure that we could."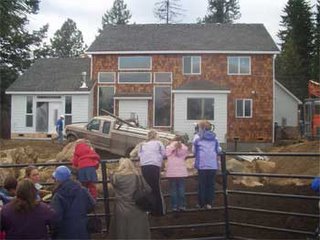 He wanted to put out a big thanks to all of the volunteers and businesses that have made it all possible. From the workers that are in there building, to the restaurants that have donated food, construction materials, etc. There seems to have been no problems getting people to put their heart and their pocketbook out for this cause.
It was verified that Ty and them are gone in Seattle. The reveal is set for today for that one though, so they should be back and on our site again soon.
Also, a big note:
www.SullivanHomes.com
has a spot where you can donate to the two kids' college funds. They want to make sure these kids are taken care of. A house is a house, and that is something special - but Sullivan Homes would like to make sure that the children are set up for after they leave this home. Any donations, large and small are wonderful.
Looks like this is going to be another long one... sorry :) There is too much that has gone on since my last post.
Ed Sanders was on site today. He did take the time to come over and talk to the people, only to give a short talk and let them know that as soon as it wasn't so hectic that he would be back to talk and meet and sign autographs. Nobody seemed to care too much as almost everyone there said if he would just keep talking they would be happy. Ed is originally from England and has a wonderful accent.
Found out that the reason they were running behind in the beginning was because of the filming of the "Braveheart" scene. This is the well-known march that the contractors, volunteers, etc. make up to the worksite - and a few takes of this put them hours behind schedule.
I may have some more information later tonight. I've been given an assignment for tomorrow to speak with 10 people and get their take on this project - so there's definitly more to come.
Halfway through and on schedule
Post by BJP, Sandpoint Online staff
First of all, let me say that volunteers are still needed,
skilled
volunteers, that is, who work in the construction industry. So if you're a finish carpenter, tile setter, carpet layer, a painter maybe, etc., and want to work on this exciting project, by all means volunteer, say staff from Sullivan Homes.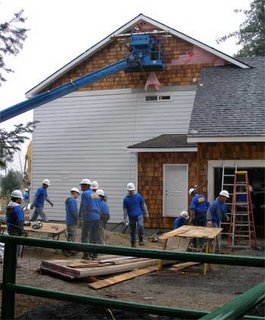 At this point, the exterior work is done, other than landscaping, so weather won't be much of a factor for the rest of the project. Today is the halfway point, and the general consensus is that the project is one time or maybe even ahead of schedule. As I talked to Sarah Taylor in media relations and Mark Montgomery, sales and marketing director for Sullivan Homes, I overheard that pretty much all of the mud and taping was done on the drywall.
Today was my first trip to the Extreme Makeover home building site on Baldy Road. I was surprised at how close the homesite is to Boyer. It was a short shuttle ride from the parking lot to the site, but it was interrupted by a stop for a train on Baldy and then at the site, as we waited for work trucks to get out of the way so we spectators could be dropped off right at the spectator tent and bullpen area. The bus was almost full, and as we reached a point where the building site could be seen from the road, there was a collective "Oh!" on the bus. I was surprised to see how finished is looked compared to the photo in today's Daily Bee that show the framing done overnight. Now the home is sided with an attractive mix of cedar shakes, white boards and cultured stone. I sat with Marianne Love on the way. She has visited the site each day since the shuttles began on Monday. She enjoys the "side shows," she says, talking to folks on the bus and in the spectator pen.
After a stroll up and down the fence to check out the overall scene and take photos, I asked a security guard to direct me to Sarah Taylor. In just a couple of minutes, Katy with Lock & Key Productions, the company that owns the show's producer, Endemol USA, arrived to escort me from the spectator area to the VIP tent set up on the other side of the house. On the way I met volunteer Lisa Richards from Bonners Ferry, who has been working for three weks with Barbara Eacret to oversee food service. She says they are "going with the flow" and have learned to expect the unexpected. It's been pretty smooth, with only a few logistic problems, Lisa said, pointing out that there is no instruction manual or dress rehearsal for an undertaking such as this. "You just go for it," she said.
Next, I met up with Sarah, who gave me a quick tour of the spectator and staging area. She was excited about the rapid progress. Yesterday morning, one wall was up when she arrived. Now the whole house is framed and sided. The interior work is in full swing. Drywall is up, mudded and taped. The crew was making a template for the countertops. Cabinets were soon to be installed. The garage door had been installed. There were 170 people working there overnight.
I asked about Saturday's reveal. A time is not yet set, but people are encouraged to show up early at the shuttle parking lot for a chance to be one of the spectators when the family is welcomed back to their new home. Sarah introduced me to Chad, a photographer taking still shots, who has come from Dallas to work in northern Idaho. He and his associate say it's been a long time since they've seen snow. We chatted about Dallas' amazing win against the Eagles on Monday Night Football.
Sarah and I talked about some of the precedents on the Sandpoint Extreme Makeover: Home Edition project. The moving crew of 11 people headed up by Tito Tiberi of Handyman Services moved the old home's belongings out in record time, two hours and 45 minutes. This was most likely the first underground "berm" home on the show, and it is the first demolition by a tree.
Next, Mark Montgomery comes under the white tent. He's been with Sullivan Homes for a year and a half. He talks about the progress and how, at this point, skilled volunteers are needed. He thinks they may need volunteers for clean up, too. I asked about the challenge of landscaping in the middle of November. He said they will be bringing in a lot of sod, as well as cobblestones to do a courtyard, and there will be a water feature, "if it doesn't freeze." The design team on this home includes Ed, Paige, Eduardo, Michael and Ty, who is the only member going back and forth between here and another project just finishing up in Washington's Kitsap County. He says Ty's energy level is an advantage, because he's able to do two at once, and he keeps others inspired. One of the people working on the project said that this is "like war or childbirth. You don't know what it's like until you go through it."
Sullivan Homes Supervisor Charles Payne stopped in next, and Mark asks him if he got any sleep. "Five hours," he answers, in a noticeably hoarse voice. He talked about how it felt to wear a tool belt for 19 hours and how at 1:30 a.m., no one wanted to leave because they wanted to have everything ready for drywalling. He said they got the fireplaces in last night – one big one in the living room, one in the master bedroom. The third one, out on the back deck, is next. Charlie introduced me to a couple members of his crew, and then excused himself, so he could get back to work.
Mark said he wanted to emphasize how gracious the entire town of Sandpoint has been, and Sarah chimed in with a list of contributors, all types of businesses from restaurants to suppliers. I noticed the time was slipping away, and I had to get back to the office and check in before going to a noon appointment. So I picked up my media kit, notes and camera, and grabbed a cup of coffee from the VIP tent before making my way back to the shuttle. It was only half full this time, but we still had to stop for a train on the way back, although it was the tracks across Boyer that delayed us this time.
The view from there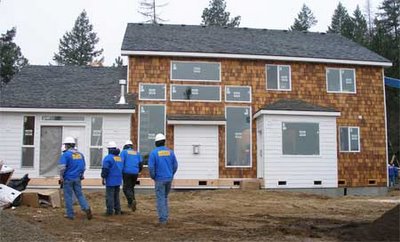 Sandpoint Online photographer Billie Jean Plaster caught the action at the construction site as of noon. The house is now framed and roofed and work has shifted to exterior and interior finishing. At right, the view from the spectator holding area. There's no shortage of volunteers - in fact, the volunteer rosters are now full. As local writer Marianne Love reported in her blog "Slight Detour" today, one of the builders told her that "volunteer workers sign on for 12 hours, but many of them are exceeding that. The adrenalin generated from all the excitement just keeps them going."
Tuesday, November 15, 2005
Rumor milling
Post by CB, Sandpoint Online staff
OK, I have this on pretty good authority. Despite some buzz, the actor Jack Black is not in town. Our source at the 219 Club, current hangout for EMHE crew, says there WAS a Jack Black-lookalike in the tavern on Monday but he wasn't the real deal.

Post by MG, freelance writer
The 1 p.m. report:

Went up the hill for a short stop. There was a line today for the bus, and it was full going up. Fortunately we have three different drivers that I have ridden with, and two of them I like very much. Schweitzer has done themselves good to hire such friendly drivers.

Talked to a few of the workers who informed me that they were only about an hour behind schedule, which is really not too bad, and definitely workable. Good thing 'cause yesterday they were way behind schedule with not getting those house torn down until late in the afternoon.

To my eye there were over 40 people working within the house, mostly putting up pre-built walls and roofing. There were many more workers scattered around the property doing various things.

Ty, Paige and Michael were nowhere to be seen. Makes me figure that the Seattle story is a true piece of gossip and that they probably do have another home going on in Seattle.

It's a cold one today – more spectators up there then I figured were up there braving the weather. We have a larger area to wander now while we are watching this all happen. Wondering what it's going to look like up there with the bits of snow that are starting to fall…it will probably dissuade more than a few.

Well that's it for now, not much to report, going to try to get up there again later.

Knocking hard hats
Post by MG, freelance writer
Just a quick update. Went back up to the worksite again last night about 7 p.m., figured I would get one last glimpse of it before the day was over for spectators. Not very many people up here watching anymore. It's cold! I rode up on the volunteer bus and the place was just lit up. It was an awesome thing to see as you're driving up Baldy.

Snuck around a little. There's a bit more freedom it seems at night-time. People are more laid back after a long days work. Got to see the plans for the house *Oh My God* It's awesome. Looks like they're still a little behind on things, but I'm sure that will change within the next few days - or at least we'll hope so. Don't think I was really supposed to be back where I was, but you could definatly see things better - and they have heaters :)

They're building the roof up - getting all the pieces ready so that once they have a base for it all they can just start throwing it up. Once that concrete dries it's a pretty quick process it seems. I don't know what other parts of the house they've already started work on.

Everyone seems to be in a good mood. Guys are running around yelling and literally knocking hard-hats together. Hopefully it will stay like that for the duration - I'm sure there are going to be times when it's hectic.

That's all for now - will write more later. Hopefully will get a chance to go up this afternoon.

Note from the night crew
Post by AW, a Sandpoint High School junior:
Last night from 9 p.m. to midnight the Sandpoint Youth Council helped hand out food to the workers at the Extremem Makeover Home Edition set on Baldy Mountain. We collaborated with E.M.H.E., to give back to the community, a common goal of both SYC and E.M.H.E. It was frosty but there was a bright moon. There were a ton of volunteers working, and a lot of food too.

Monday, November 14, 2005
Monday, and off to the races
Post by MG, freelance writer
Around noon I made my way over to the old LP site, where I would be parking my car and catching the shuttle bus to head up Baldy. Not very often would you have to catch a shuttle to go up in our neck of the woods, but today…and for the next 5 days it should be an expectation if you plan to get anywhere up there, unless of course you live in that area.

As I got there I was instructed to park my car at the back end of the lot and await the arrival of the next shuttle. They're running about every 15 minutes or so, up and down the hill.

The shuttle showed up fairly quickly and after unloading a group, quickly filled up again. Everyone on the bus was talking about something. "Rumor has it that they're doing the foundation now," or, "My friend donated a bunch of tables for the food tent," or maybe even some "I saw Michael out at Café Trinity on Sunday, we found out they were going there and we followed them around town."

As we get up to the train tracks, looking to your right is another thing that I didn't expect to be in Sandpoint Idaho. A cute little van, which has been transformed to a sheriff's van. And on the side, with their insignia is "COMMAND POST." I couldn't help but to laugh, that we had a command post sitting on Baldy.

Up the road a ways you start seeing a huge mass of vehicles. Kinda hard to miss it and we all figured we were there. We pulled in and unloaded off the bus. We were told by a not-so-happy-looking security guy that we were to stay to the right of the porta potties and follow the road straight down.

After getting there I was surprised to find that the house was still standing, and yes we were able to have cameras... many people had them, and still others even brought their camcorders to capture this event. I made my way to the front of the not-so-large group of people who were already there and camped out to see what was going to happen.

So, there was a lot of gawking ... a lot of waiting, but surely enough we all caught sight of Michael, Paige, and of course Ty. There was a large semi truck in our way for a lot of this, so, fortunately for myself and the other short people that were present, I could see under the truck and we could spot them here and there running around doing their part.

The serious security guard (seriously good looking, and the only one in this spot) stood in front of the crowd of people and kept a straight face as those of us in the crowd told stories of rushing him ... there was only one of him and, though not a lot of us, we thought we could probably take him. Eventually as I was speaking to another onlooker about ways that we might convince Ty that we needed mouth to mouth resuscitation we got the security guard to crack a smile.

Then the bulldozers came to life. People were hollering as they picked up a cut down tree, and dropped it on to the roof of the house and the adjacent buildings. It took a few tries, but eventually it came down. Screams picked up even more as Michael and Page took a short break to come over to the crowd and sign autographs and talk to the group. Then people again went wild as Ty was seen sliding down the roof of the house on his stomach as he made his video to send to the family as they watch their house be destroyed.

Ty didn't have a lot of time on his hands today. Word has it that he has another makeover going on in Seattle right now and had to get there. Don't know if that's true or not, but he didn't make it over to us to say hi ... although he did give us a smile and a wave before disappearing in to the mess that was their house.

Another twenty minutes or so passed and not much was seen as they moved in a truck to haul away all the debris from the tear-down of the house. So I decided that I would make my way back down into town. In to the line again to wait for the bus.

I got back down and went to the volunteer tent as I had heard that they were still needing volunteers for the late night shifts. I did get a slot for Friday morning – or late Thursday depending on how you look at it ... midnight to 4 a.m. And I was told they had so many volunteers that they wouldn't be able to use them all. They have started a book of all the people who want to help out in case they need it and so that they can show how many people want to help in this process.

So, that was the end of the trip for today.

I heard Jack Black is also in town living it up with our local nightlife ... so I might have to go out a few times this week. On the prowl.

Sunday, November 13, 2005
And so it begins
Post by CB, SandpointOnline.com staff
The buzz was on around town for a week -- or few -- before the TV crews rolled in. Extreme Makeover: Home Edition was considering a local family for the hit show in which a deserving family is gifted with a deluxe remodel of their home.

But it still managed to stay a secret, mainly, until Saturday when the crews did actually surprise a local family - who up to that point only knew they were in the running. We liked the way Susan Drumheller of the Spokesman Review got into the story on Sunday when finally the local media could get involved. Susan wrote:

"The mayor knew.

"Several contractors in town knew.

"The sheriff knew.

"The publisher of the local newspaper knew.

"An espresso maker and baker downtown knew.

"Schweitzer ski area knew.

"In fact, it seemed like just about everyone in town knew that "Extreme Makeover: Home Edition" was coming to town to build a home for a local family down on their luck. But Eric Hebert didn't know for sure until about 9 a.m. Saturday when Ty Pennington and his design crew from ABC's "Extreme Makeover" reality TV show knocked on his door."

Now the juggernaut is here and the race is on to build a 3,000-square-foot house in just one week, utilizing the veritable army of volunteers that is materializing seemingly out of thin air. In a world and at a time when it's hard to even agree on what, really, is "reality," it promises to be a reeeeal interesting week. We hope to catch the flavor of it with this blog, a compilation by the folks who produce and contribute to SandpointOnline.com. We invite comments, too, so be sure to use the comment feature of this blog.