dd
The author pauses to enjoy the view and Snow Creek Falls
High Steppin' to water falls

By Trish Gannon

It's said that if you fly over Idaho's Panhandle in a small plane, water is the predominant feature of the landscape. That's fitting for an area that was created by water. During the last Ice Age, a mere 12,000 or so years ago, water filled valleys from Clark Fork to Drummond, Mont., in depths up to 2,000 feet. All that water was dammed at the Clark Fork River where it merges with Lake Pend Oreille by a sheet of ice almost a half-mile thick. When that dam broke, somewhere between 500 and 600 cubic miles of water passed through this area on its way to the Pacific, scouring the landscape and leaving the mountains dotted with small lakes.

Water still makes its way to the Pacific, though it does so in less cataclysmic fashion than it did 12,000 years ago. The passage of water from the high mountains to Lake Pend Oreille and points west offer some of the most beautiful hiking trails to be found anywhere in the Panhandle. And when it comes to falling water, those trails are some of the easiest and most accessible around. In fact, in one simple day trip north of Sandpoint, the hiker can visit three spectacular waterfalls: Snow, Myrtle and Copper Falls.

Just a few folds north of Schweitzer in the Selkirk Mountains, and a short way down the road from gates leading deeper into Forest Service timberlands, Snow Falls is accessed via a wooden boardwalk. The trail leads hikers to two stupendous waterfall views.

Park at the trailhead and travel downward less than a mile to the water. This is a quick and easy hike featuring short spur trails and benches for resting and viewing the water. The upper falls pour into a quiet pool before traveling on down to the lower falls and on to the Pack River. Hardy hikers can enter the water here, but be aware that water temperatures, even in late fall, seldom climb above 55 degrees.

Just a short drive down the road from Snow Falls is the Kootenai National Wildlife Refuge and the trailhead for Myrtle Falls. Open daily to visitors from 8 a.m. to 4:30 p.m., the Refuge is home to 45 species of mammals and more than 230 different species of birds. The Myrtle Falls trail is located just opposite the Refuge Office on the Auto Trail Road.

A new trailhead was just finished that is ADA-compliant; the old trailhead and the new one both offer quick access to Myrtle Falls. The trail is fairly steep, but only a quarter-mile long before reaching an observation point approximately midway up the falls. The trail is embedded with mica-packed shale that glitters in the filtered sunlight.

Leaving the Refuge, it is almost an hour's drive to the final hike of this day trip, Copper Falls. Located just a few miles from the Canadian border, Copper Falls also has a campground.

This is another short hike of less than a mile that is suitable for families; informational pamphlets are located near the trailhead for a self-guided nature hike. This is a looping trail along Copper Creek with a spectacular viewpoint of Copper Falls.

These falls, said to be the most consistently formed in the area, freeze solid each winter and offer ice climbers a chance to practice their skills.

All three of these hikes lie within the Bonners Ferry Ranger District. Phone (208) 267-5561, or stop at the office on Highway 95 in Bonners Ferry for trail updates, maps and information. Directions to Hikes

Snow Falls: Take Highway 95 to just south of Bonners Ferry and turn left at Mirror Lake Golf Course. Take old Highway 2 and go south to County Road No. 13; go about 2 miles to Snow Creek Road or Forest Service Road No. 402. Go up Snow Creek Road 1.2 miles to a turn out in the road. There is a sign marking the waterfalls.

Myrtle Falls: Reach the refuge by heading west on Riverside Road at Bonners Ferry; drive five miles to the Refuge entrance. The trailhead to Myrtle Falls is another two miles beyond the entrance. Myrtle Falls is open to the public year-round.

Copper Falls: Head north of Bonners Ferry on Highway 95 almost to the Canadian border. Turn right on Road No. 2517 and follow it approximately 2.3 miles to the trailhead.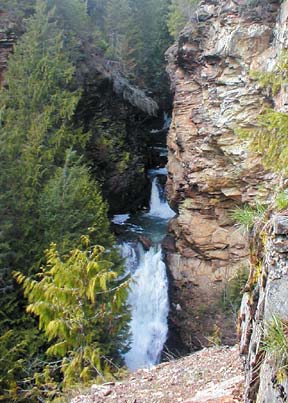 Myrtle Falls