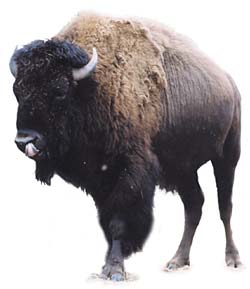 Tiny is considered a pet by his owner, Gary Spade of Cocolalla.
Highway 95 South: Where the buffalo roam
Used to be that buffalo didn't roam Bonner County grasslands. In fact, when Great Plains herds once numbered in the six digits, this area served as "Road to the Buffalo" for the Salish and other tribes. Nowadays, though, Cocolalla's Gary Spade and a handful of area livestock owners have caught the eyes of passing motorists with their small herds of bison. Since starting his hobby two years ago, Spade has owned up to 16 head of bulls, cows and calves on his 127-acre spread off Highway 95 South.
"People are out there all the time taking pictures and movies," he says.
After reading an ad for a Nebraska buffalo hunt, Gary, brother Jerry and friend Bill Brown joined the hunt and bagged three bulls. "When people tasted the meat, we decided to buy some cows," Spade recalls. The growing herd now includes two bulls, Tiny and Tonka, both pets. Spade looks forward to winter and watching Tiny show his talents at rolling snowballs against the fence. He's happy with his hairy critters. "I like watching them," he says. "They're part of the past, I guess, and they are delicious on the plate."
– Marianne Love