This Week in Sandpoint

Holiday happenings. Despite the challenging year, there's still so much to be thankful for ... namely that we're in beautiful Sandpoint! Schweitzer opens Friday to passholders and lodging guests only, but if that doesn't include you there's still more to check out - including the K&K Thanksgiving Fishing Derby - on the Entertainment Calendar»
Entertainment Events:
Civic Calendar Highlights:


Test your Sandpoint savvy. To celebrate the new 30th-year issue of Sandpoint Magazine we have a fun quiz on what's changed 'round here since 1990. Whether newbie or oldtimer, you could win $50 at MickDuff's Brewpub or even win $300 in cash! Take the "What's Changed?" quiz»


Get the Town Crier. Our FREE weekly e-news dishes on all the Sandpoint events, news and insider info. Go get it»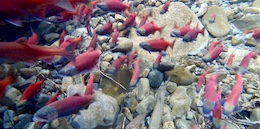 Colorful kokanee. Pete Comstock got this terrific shot of the kokanee salmon spawning in Trestle Creek. To see more local pics, or submit your own neat photo, go to Sandpoint in Pictures»




Books to explore by. Find detailed guides to our Cabinet and Selkirk Mountains, Lake Pend Oreille, the Ice Age Floods – plus history and local writings, and more. Click to Keokee Books»


New or notable online. Check out these websites from Sandpoint ID and our region.