Information, news and resources on the COVID-19 coronavirus response in Sandpoint, Idaho, and Bonner County, Idaho. Links are provided to relevant information on local, state and national websites and news sources including local Sandpoint-area newspapers.

Coronavirus news & resources
Local news, announcements and actions concerning the coronavirus.
Current local and state coronavirus case reports 10/20/2020 @ 5:25 p.m.
One new case of the COVID-19 virus was confirmed in Bonner County, while there were 141 new cases among the five northern Idaho counties and one new death in Shoshone County, the Panhandle Health District reported Tuesday. The new cases in Bonner County bring the total here to 449, of which 86 are classified as active. The total case count in the five counties covered by the health district to date as of Tuesday is 4,539 cases. Of that total, 956 are classified as active. There have been 247 hospitalizations to date with 33 currently hospitalized. Statistics by county in our region are as follows:
  • Kootenai County: 3,581 total cases, 794 active | 45 deaths
  • Bonner County: 449 total cases, 86 active | 2 deaths
  • Benewah County: 166 total cases, 16 active | 3 deaths
  • Boundary County: 104 total cases, 41 active | 1 death
  • Shoshone County: 237 total cases, 19 active | 20 deaths
The health district provides assessments of each county's risk levels to provide guidance for business and school district operations. On Tuesday, the four counties of Benewah, Bonner, Boundary and Shoshone remained assessed at yellow, or minimal risk. Kootenai County's risk level remained at orange, or moderate. Click for risk level criteria. The health district asks all citizens to be vigilant in distancing, use of masks and sanitation. For Panhandle Health District's latest news releases, click to its News page or Facebook @PanhandleHealth.
Statewide, on Tuesday Idaho state reported 873 new cases, for a total of 54,663 confirmed cases to date. Statewide fatalities are reported at 535, an increase of four from Monday. An additional 2,451 were tested statewide in the past day, for a total 357,833 tested to date. Of the total confirmed cases around the state, 26,549 are estimated recovered. There have been 2,277 cases hospitalized to date, with 509 admissions to ICU. Washington state on Tuesday reported 99,150 confirmed cases, an increase from 98,661 the previous day, with 24 additional fatalities for 2,282 deaths to date. Total tested statewide is 2,252,788, an increase from 2,244,336 the previous day. Spokane County on Tuesday reported 64 new COVID-19 cases for 8,659 cases to date, with five additional deaths, for 191 fatalities to date. A total of 109,262 have been tested in Spokane County, an increase from 108,883 the previous day.
Idaho stays in Stage 4 as case loads remain high 10/15/2020
Idaho will remain in Stage 4 of Idaho Gov. Brad Little's Idaho Rebounds reopening plan, while the governor on October 15 asked Idahoans to ramp up personal actions to slow the spread of the virus to protect lives and economic prosperity. In mid September the state hoped to be able to move beyond Stage 4, but Little said Idaho will continue to evaluate statewide metrics every two weeks to determine when the state can move past Stage 4. Currently, the state's case numbers remain high, with the greatest rates of spread occurring in eastern Idaho. In Stage 4 all businesses can open, though some must meet distancing and disinfection requirements. Little has not instituted mask mandates but has called for individuals to step up their personal protections by maintaining distancing, wearing face masks in public, taking care to wash hands and sanitize surfaces, and staying home if sick.
Canadian border closure continues until at least October 31 9/16/2020
The CBC reported Canada is extending its border closure until October 31 and said "Canadians should expect the possibility the border will remain closed for longer." Story from CBC. The Trump administration on March 18 closed the border with Canada to all non-essential travel, and Canada subsequently applied its own closure. The closures stop all non-essential travel through the two Idaho border crossing stations at Porthill and Eastport, 60 miles north of Sandpoint.
Personal health resources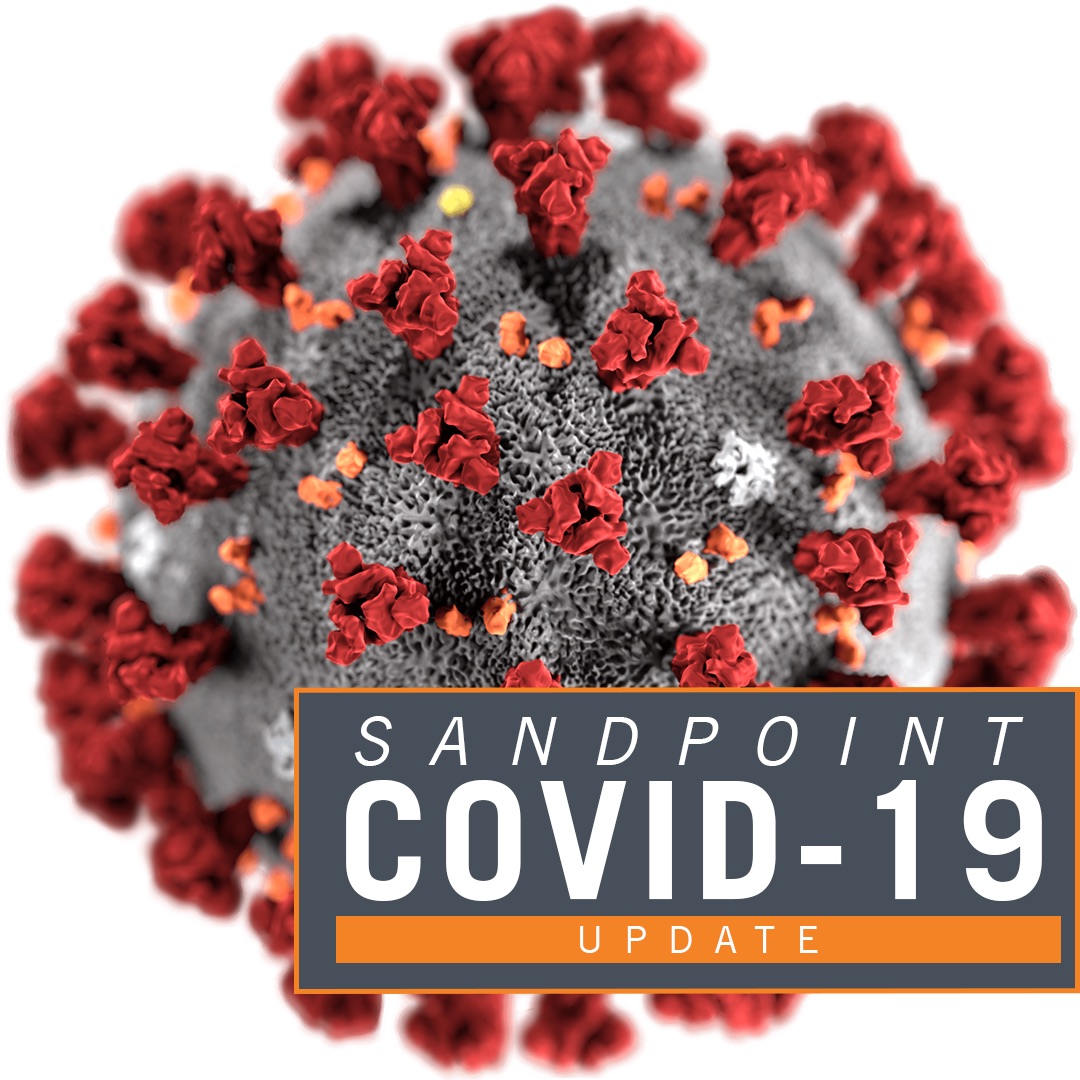 If you believe you may have the coronavirus, the Panhandle Health District has a hotline with operators to discuss symptoms and potentially provide a referral for testing. The PHD COVID-19 Hotline is 877-415-5225.
Links to help manage personal and family health:
Free food resources for local families and residents 10/15/2020
Here are food resources for those impacted by the coronavirus outbreak.
Expanded student meals. The Lake Pend Oreille School District provides free breakfast and lunch on weekdays, to those 18 years and under regardless of household income utilizing federal funding from the USDA. Details and applications at the district website, LPOSD.org.
Bonner Community Food Bank continues services but click to Food Bank website to check any changes in operations.
Free weekly meals. Everyone is welcome to take part in these free meals provided each week by churches and businesses:

North Summit Church provide free meals to families in need. Pick up Mon-Fri 4-6 p.m. at 201 N. Division St, or Sagle Community of Christ Church, 950 Sagle Rd. (208) 263-4818
Hoot Owl Cafe, Highway 200 in Ponderay, serves free dinners to go Mondays, 4-7 p.m. Just swing by.
Agape Cafe hosted by the Seventh Day Adventist Church serves free lunch Tuesday 11 a.m.-1:30 p.m. at 221 S. Division (Church of God). (208) 263-3648
United Methodist Church, 711 Main St, offers free to-go dinners Thursdays 4-6 p.m. No need to call ahead.
St. Joseph Catholic Church, 601 S. Lincoln in Sandpoint, has free packaged to-go meals Fridays 4-6 pm. No need to call ahead. Enter at side door.

Other businesses and service groups are offering free food and meals. Go to Sandpoint Community Resource Center for current info and daily schedules.
'Support Local' listings of business operations 9/18/2020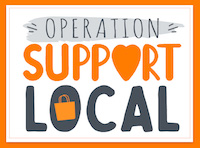 Sandpoint's restaurants, shops, services, and churches have re-opened! With the state progressing through the governor's Idaho Rebounds stages to ensure safe re-opening of economic and social activities, most Sandpoint businesses have opened their doors. Click to the Support Local business directory to find info on hours and operations. Provided by the Sandpoint Chamber and Sandpoint Online. All businesses are invited to add their information with the form on the listings page.
Current information from county and city; links to info sites 5/28/2020
Bonner County and the City of Sandpoint release periodic information relating to the coronavirus outbreak.
Innovia Foundation provides grants to community groups 6/16/2020
The Innovia Foundation has announced a second rounds of grants from its COVID-10 Community Response and Recovery Funds, allocating $39,000 to 12 nonprofit organizations in Bonner and Boundary counties that are working to meet community needs raised by the virus. Innovia in April awarded more than $40,000 in a first round of grants to 15 area nonprofit groups. In Innovia's entire two-state region, several dozen major funding partners including the Equinox Foundation of Sandpoint, have contributed more than $2.7 million
SBA loans and help for businesses from state, Chamber, City, EDC 4/3/2020
The U.S. Government has enacted the Coronavirus Aid, Relief and Economic Security Act, aka the CARES Act, a $2 trillion economic stimulus bill to assist businesses financially impacted as a result of the COVID-19 pandemic. The Small Business Administration effective April 3 is accepting applications for Paycheck Protection Program loans for staffing and payroll expenses, as well as Economic Injury Disaster Loans. Locally, the Greater Sandpoint Chamber of Commerce, City of Sandpoint and Bonner County EDC are taking steps to help businesses impacted by the coronavirus.
Relief bill enacted, provides $2 trillion for citizens, small businesses 3/27/2020
Congress passed, and the president today signed, a $2.2 trillion relief bill dubbed the CARES Act, to provide economic stimulus and aid to citizens. It expands unemployment benefits, will send direct payments of up to $1,200 to individuals, and provides federally guaranteed loans to small businesses.
Free public Internet hot spot activated downtown 3/27/2020
Ting, in conjunction with the City of Sandpoint and Matchwood Brewing, has activated a free drive-up hot spot for wi-fi Internet in the city parking lot directly east of Matchwood at 503 Oak Street. The free Internet is available 6 a.m.-10 p.m. Click for more information and map.
Contribute your computing power to find a cure 4/7/2020
Want to chip in on the computing power to stop the COVID-19 virus? You can help scientists solve world problems - like a cure for COVID - by adding your computer to a global network for research. See more at World Community Grid; locally you may email Roger at [email protected] to learn more.
Idaho governor extends stay-at-home orders 4/15/2020
Idaho Gov. Brad Little has extended his order for Idahoans to stay home to April, in the effort to prevent the spread of the coronavirus. The order was initially imposed for 21 days, to end April 15. Essential activities, like going to grocery stores or picking up food from restaurants, still are allowed. Outdoor exercise near home is, too.
Idaho state parks remain open, but operations are reduced 3/25/2020
Visitor centers at Idaho state parks closed March 19, and camping was ordered suspended as of March 27. However, parks remain open for day use. All activities, group events and cabin rentals are discontinued. Visitor centers will stay closed through April, possibly longer. Read more at Idaho Parks.